Why Was Capitol Security Inadequate?
A large, well-trained police force was unprepared for a foreseeable crisis.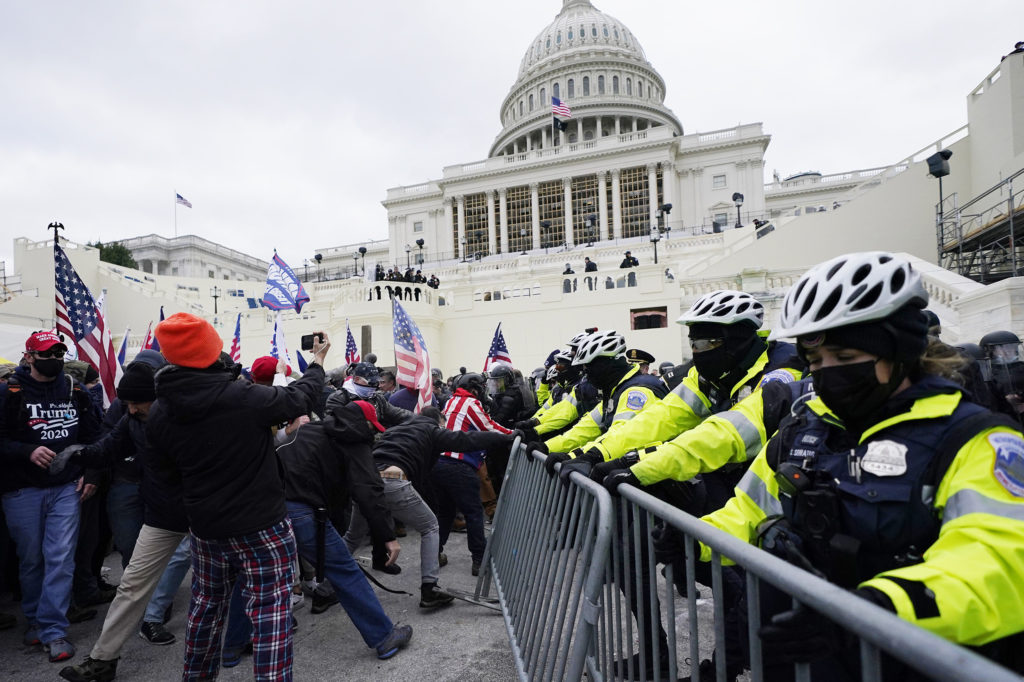 As we sort through the aftermath of Wednesday afternoon's breaching of the Capitol as the Electoral Votes were being officially tallied, we're still getting mixed reports as to why security was so lax.
Aside from conspiracy theories about sympathetic Capitol Hill police simply letting protestors storm the building, which is rather refuted by scores of injuries to said police, we're seeing contradictory reporting as to whether adequate forces were asked for and whether the Federal government denied requests for said forces.
An Associated Press report late last evening claims "Capitol Police rejected offers of federal help to quell mob."
Three days before supporters of President Donald Trump rioted at the Capitol, the Pentagon asked the U.S Capitol Police if it needed National Guard manpower. And as the mob descended on the building Wednesday, Justice Department leaders reached out to offer up FBI agents. The police turned them down both times, according to senior defense officials and two people familiar with the matter.

Despite plenty of warnings of a possible insurrection and ample resources and time to prepare, the Capitol Police planned only for a free speech demonstration.

Still stinging from the uproar over the violent response by law enforcement to protests last June near the White House, officials also were intent on avoiding any appearance that the federal government was deploying active duty or National Guard troops against Americans.

The result is the U.S. Capitol was overrun Wednesday and officers in a law enforcement agency with a large operating budget and experience in high-security events protecting lawmakers were overwhelmed for the world to see. Four protesters died, including one shot inside the building.
Given the rhetoric by politicians, including the President himself, and various prominent activists and talking heads—and what we now know was open organizing on various websites and social media platforms—it's nuts that there wasn't enhanced security.
And, I'm sorry, but this doesn't cut it, either:
Army Secretary Ryan McCarthy said that as the rioting was underway, it became clear that the Capitol Police were overrun. But he said there was no contingency planning done in advance for what forces could do in case of a problem at the Capitol because Defense Department help was turned down. "They've got to ask us, the request has to come to us," said McCarthy.
It's absolutely true that the US military is used to augment law enforcement only under unusual circumstances and tight constraints. But that there was "no contingency planning" is just dereliction of duty. Hell, the Chief of the National Guard Bureau has a seat on the Joint Chiefs.
U.S. Capitol Police Chief Steven Sund, under pressure from Schumer, Pelosi and other congressional leaders, was forced to resign. Senate Majority Leader Mitch McConnell asked for and received the resignation of the Sergeant at Arms of the Senate, Michael Stenger, effective immediately. Paul Irving, the longtime Sergeant at Arms of the House, also resigned.

"There was a failure of leadership at the top," House Speaker Nancy Pelosi said.
The firing of the people directly responsible for the security of the Capitol seems more than reasonable. Especially given their extraordinary resources.
It is not clear how many officers were on-duty Wednesday, but the complex is policed by a total of 2,300 officers for 16 acres of ground who protect the 435 House representatives, 100 U.S. senators and their staff. By comparison, the city of Minneapolis has about 840 uniformed officers policing a population of 425,000 in a 6,000-acre area.
This comparison is surely misleading. One imagines that figure excludes the Hennepin County Sheriff's office and Minnesota state police. Then again, the Hill figure excludes the DC Metropolitan Police Department, US Park Police, and others who are presumably able to assist.
This, too, seems unfair:
Barricades were set up on the plaza in front of the building, but police retreated from the line and a mob of people broke through. Lawmakers, at first unaware of the security breach, continued their debate. Soon they were cowering under chairs. Eventually they were escorted from the House and Senate. Journalists were left alone in rooms for hours as the mob attempted to break into barricaded rooms.
All indications are that Members and their staff were quickly secured. Once the barricades were stormed, it made absolute sense for the officers to retreat.
While there is all manner of commentary that, if these people were Black they'd have been shot on sight, it's just absurd. Police all across the country allowed statues to be torn down and whole city blocks burned down over months of protests. Well-trained police don't use lethal force to protect property.
And I tend to side with David Ignatius here:
D.C. Mayor Muriel E. Bowser (D) and Gen. Mark A. Milley, the chairman of the Joint Chiefs of Staff, both tried to avert a militarization of the response to protests, similar to what happened in D.C. and many other cities during the racial-justice protests that followed George Floyd's death. Wanting to avoid overreaction, they probably underreacted. That carried costs, but also benefits.

[…]

Thinking about Wednesday's events, it's useful to indulge in what Harvard professor Ernest May liked to call "Applied History." What if the situation had turned out differently — and force had been used more aggressively, as in past efforts to deal with civil strife? We can think of some obvious examples: Police brutality against Chicago street protests during the 1968 Democratic convention gave new energy to the Vietnam antiwar movement; so did the tear-gassing and mass arrests during the 1970 "May Day" protests. Police overreaction to unrest following Rodney King's death left a permanent stain on Los Angeles.

The 1989 Tiananmen Square massacre is an extreme example. The Trump anarchists don't deserve comparison to the brave Chinese pro-democracy activists. But they wanted similar images of a brutal government crackdown, even martyrdom, that could have energized their movement for years.

Trump's fanatical followers didn't get their wish. Instead, they got what they deserved — public revulsion and failure.
He also echoes numerous reports that security has vastly been stepped up in preparation for the inauguration.