Will Fewer Soldiers and Marines Come with Fewer Wars?
My latest for The National Interest, "Hagel's Defense Cuts: The Least Bad Choice," is out.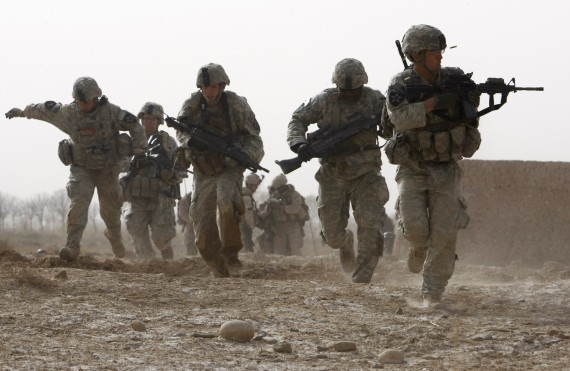 My latest for The National Interest, "Hagel's Defense Cuts: The Least Bad Choice," is out.  It focuses mostly on the landpower impact.
Defense secretary Chuck Hagel announced Monday force cuts that would leave the United States with the smallest Army it has had since 1940. While the Pentagon concedes that this comes with strategic "risks," the biggest risk is that a future president will nonetheless commit our country to wars that require a massive ground presence.

[…]

Several times in his speech, Hagel acknowledged that these cuts—along with those to weapons and other acquisitions programs also announced—come with additional "risks." That's DoD parlance for being unable to secure the objectives set by the president as quickly as would otherwise be possible and/or getting more troops killed than would otherwise have been the case. Nonetheless, he pronounced that the Pentagon's leaders had found these risks acceptable given the projected strategic environment.

More importantly, given the realities of the fiscal environment, risk is unavoidable. Hagel and the Joint Chiefs have repeatedly emphasized—correctly, in my judgment—that it's far preferable to take the risks associated with a small but highly trained and well equipped force than those associated with a larger but "hollow" force that is unprepared for the fight. Accordingly, they "chose further reductions in troop strength and force structure in every military service—active and reserve—in order to sustain our readiness and technological superiority, and to protect critical capabilities like special operations forces and cyber resources." That's a difficult but necessary trade-off.

[…]

Alas, infantry duty is still performed by infantrymen. While our current grunts are much better equipped than their Vietnam, much less World War II, counterparts, occupying territory still requires a lot of not-so-proverbial boots on the ground. So, displacing men with high-tech systems only works so long as we're not planning to stick around doing counterinsurgency, stabilization operations, peacekeeping, disaster relief, and other manpower-intensive missions on a sustained basis.

[…]

There's real danger, that despite declarations from the Obama administration that we're through with "long and sustained stability operations," a subsequent administration will decide otherwise, either intentionally or through mission creep. After all, Rumsfeld's boss, who led us into both Afghanistan and Iraq, ran for office on a platform of "a more humble foreign policy" that eschewed "nation-building." I have no doubt that he meant it at the time.
More at the link.