Will Would Force Gay Man To Marry A Woman To Preserve Son's Inheritance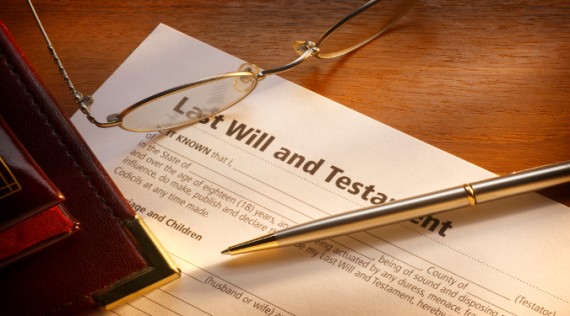 A truly bizarre probate case out of New York City:
The gay son of a deceased New York City businessman is fighting a stipulation in his late father's will that required him to marry the mother of his child or risk losing the child's inheritance.

Robert Mandelbaum, who is a Manhattan Criminal Court judge, said in court documents that his father, Frank Mandelbaum, knew he was gay and included his male partner in family activities. The elder Mandelbaum died in 2007 at the age of 73.

Mandelbaum, who amassed a fortune after founding the ID-verification firm Intellicheck, died before his grandson, Cooper, now 16 months, was born.

Cooper's fathers, Robert Mandelbaum and Jonathan O'Donnell, married shortly after his birth via surrogate in 2011. It's unclear which of the men is Cooper's biological father.

The late businessman's will left behind a $180,000 trust for his grandchildren, including those who would be born after his death. The heirs will receive installments from ages 25 to 30, although the amounts will be contingent on the performance of the investment.

But Cooper will not be eligible for his inheritance because he has two dads, according to the terms of the will.

The words "child," "grandchild" and "descendant" include natural and adopted children and children born out of wedlock, according to the will, which was filed in Manhattan Surrogate's Court.

"However, such words shall specifically not include an adopted child of Robert, if adopted while Robert is a single person, or a biological child of Robert, if Robert shall not be married to the child's mother within six months of the child's birth," the will states.

(…)

Attorney Anne Bederka wrote that the stipulation Robert Mandelbaum marry a woman was "tantamount to expecting him either to live in celibacy, or to engage in extramarital activity with another man, and is therefore contrary to public policy."

"There is no doubt that what [Frank Mandelbaum] has sought to do is induce Robert to marry a woman," Bederka wrote.
Not just marry a woman, but since Mandelbaum is apparently legally married under New York law, he'd be required to divorce his husband too.
While I'm unfamiliar with New York Probate Law, I've got to believe that a Court would have authority to set a provision like this aside on the ground that it is against public policy. Otherwise, a decedent could say that a grandchild would not inherit if one of its parents was a member of a specific racial, ethnic or religious group.
The other thought is that Frank Mandelbaum really must have hated the fact that his son was gay.