Wisconsin Police and Firefighters Didn't Endorse Walker
Of the 314 police and firefighter unions in Wisconsin, only four endorsed Scott Walker.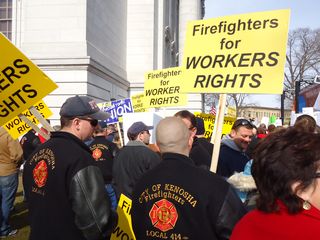 Among the many problems when a local debate goes national is that outsiders have little knowledge of the background facts and frequently labor under grossly mistaken ideas.
For example, in the Wisconsin showdown, most of us have been laboring under the notion that Republican Governor Scott Walker exempted police and firefighters from his plan to strip collective bargaining rights from public employees because they endorsed him for election whereas the teachers' unions and others backed his Democratic opponent.
It turns out that this is completely untrue.  Walker tells CBS News' Chris Wragge:
There are 314 fire and police unions in the state. Four of them endorsed me. All the rest endorsed my opponent.
NewsBusters' Noel Sheppard has an impressive roundup of newspaper headlines and other proof for those not inclined to take Walker's word for it.
And it makes sense, once you get past the erroneous factoid that got us on the wrong track to begin with. After all, despite being exempted from the change in the law, firefighters and cops have been marching in solidarity with their union brethren.
Yesterday, my colleague Steven Taylor asked a perfectly reasonable question: "If it is a fundamental principle that public sector employees ought not to have the right to collective bargaining, why are the police, firefighters and state troopers of Wisconsin not part of the package?"
On NPR this morning, Walker answered that he couldn't take the risk of cops and firefighters going out on strike and allow mayhem to ensue. But that's an appeal to consequences — and a very dangerous one — rather than a principled reason.