Without Mentioning Trump, George W. Bush Rebukes Trumpism
Without mentioning his successor by name, former President Bush delivered a stinging rebuke to Trump and Trumpism.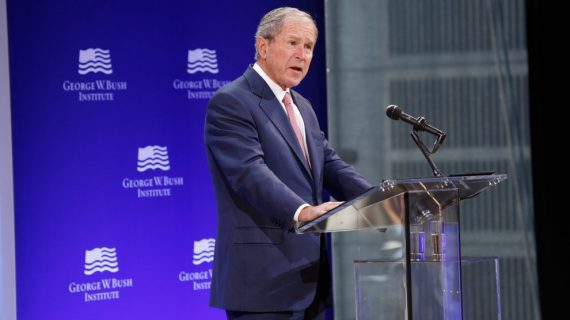 Former President George W. Bush was mostly silent during the eight years of the Obama Presidency, but this afternoon in a speech in New York City he stood up and clearly rebuked the politics of Donald Trump:
Former President George W. Bush never mentioned his name but delivered what sounded like a sustained rebuke to President Trump on Thursday, decrying nationalism, protectionism and the coarsening of public debate while calling for a robust response to Russian interference in American democracy.

In a speech in New York, Mr. Bush defended free trade, globalization and immigration even as Mr. Trump seeks to raise barriers to international commerce and newcomers from overseas. He condemned the "casual cruelty" he sees in public discourse and denounced white supremacy two months after Mr. Trump suggested that "both sides" were to blame at a neo-Nazi rally that turned violent in Virginia.

"We've seen nationalism distorted into nativism, forgotten the dynamism that immigration has always brought to America," Mr. Bush said. "We see a fading confidence in the value of free markets and international trade, forgetting that conflict, instability and poverty follow in the wake of protectionism. We've seen the return of isolationist sentiments, forgetting that American security is directly threatened by the chaos and despair of distant places."

The former president said these afflictions have created a crisis of confidence in the United States that has endangered its historic ideals. "In all these ways, we need to recall and recover our own identity," he said. "Americans have great advantage. To renew our country we only need to remember our values."

Mr. Bush addressed these issues at a bipartisan conference that his presidential center sponsored in New York to promote democracy and freedom. Since leaving office in January 2009, he has largely sought to avoid engaging in current-day political struggles, even as he promotes issues he has long cared about like the spread of democracy around the world.

His speech on Thursday seemed a clear rejoinder to Mr. Trump in various ways. Asked by a reporter as he left the hall whether his message would be heard in the White House, Mr. Bush smiled, nodded slightly and said, "I think it will."

The Bush family has never been fond of Mr. Trump, who beat former Gov. Jeb Bush of Florida for the Republican presidential nomination last year. Neither the former president nor his father, former President George Bush, voted for Mr. Trump last November. But advisers said the younger Mr. Bush has been deeply troubled by the state of the national debate under a president who routinely demonizes his adversaries on Twitter.

"Bullying and prejudice in our public life sets a national tone, provides permission for cruelty and bigotry and compromises the moral education of children," Mr. Bush said in his speech. "The only way to pass along civic values is to first live up to them."

Mr. Bush, who issued a statement with his father condemning white supremacists after the violence in Charlottesville, Va., in August, returned to the theme. "Bigotry or white supremacy in any form is blasphemy against the American creed," he said.
Bush also made apparent note of the issues regarding apparent Russian attempts to interfere in the 2016 election:
 "America has experienced a sustained attempt by a hostile power to feed and exploit our country's divisions," he said. "According to our intelligence services, the Russian government has made a project of turning Americans against each other." He added: "We must secure our electoral infrastructure and protect our election system from subversion."

The former president acknowledged the forces of discontent that have given rise to Mr. Trump. "We should not be blind to the economic and social dislocations caused by globalization," he said. "People are hurting. They're angry and they're frustrated. We must hear and help them. But we cannot wish globalization away any more than we could wish away the agricultural revolution or the industrial revolution."
In some respects, Bush's speech was reminiscent of the takedown that Mitt Romney delivered to Trump during the Presidential campaign, although the main difference between the two is that Bush did not mention Trump by name. Nonetheless, from the context of the speech it was quite clear who and what Bush was talking about in his attacks on leadership and bigotry. And that's certainly the way that the media is interpreting the speech and the way that it is being received by the public at large. In that regard, Bush should be applauded for choosing to speak out even in these more guarded words than we might expect from a hardcore Trump critic, especially given the fact that it's unusual for a former President to speak negatively about a successor except under extraordinary circumstances. It also provides a marked contrast and demonstrates that, for all of his political faults, Bush was a far more decent person that Trump can ever hope to be, something also demonstrated by his interaction with the troops that were injured under his command and the family members of the fallen. As I've said elsewhere, I have many problems with George W. Bush and the decisions that he made, just as I did with his father, President Clinton, and President Obama, but I've always believed that he was a fundamentally decent and kind person. That fact could not be more apparent now that we have a narcissist apparently incapable of feeling empathy for his fellow human beings sitting in the Oval Office.
Not everyone is cheering Bush on, though.
Over at Slate, Ben Mathis-Lilly criticizes the former President for, well, I guess for not going far enough:
For this speech be a "takedown," though, someone would have to get taken down, and oblique remarks about being tolerant and elevating the discourse—given more than a year after Bush stayed quiet while his party nominated a candidate who openly cultivated the support of white supremacists and belittled his brother Jeb in personal terms on a daily basis—are not going to move the needle.

To be cynical, and to put it in orotund, indirect terms like George W. Bush might, you could even suggest that, for many powerful figures in Republican politics and the business community, rejecting alt-right white supremacism is more of a matter of maintaining one's personal reputation in polite society than it is an actual political goal. Actual opposition takes time, money, and effort; saving face only requires a microphone, a few clichés about American values, and a cable news camera.
On some level, I suppose Mathis-Lilly has a point here, but I don't think it amounts to nearly as much as he apparently thinks it does. Yes, it's more than appropriate for Republican politicians and others on the right to speak out against Trump and the naked appeals to bigotry, white supremacists, and xenophobia that encompasses both his campaign for the White House and his Presidency today. George W. Bush isn't the person to fight that battle, though. He's a retired politician who hasn't spoken about national politics much since leaving office more than eight years ago now. While his words will have at least some resonance, they aren't going to become the rallying cry for an internal Republican revolt against Trump and what he represents, assuming that such a rebuke ever comes. If that role is to be played, it's going to be others, such as Senators Jeff Flake or Ben Sasse, Governor John Kasich, or other Republican and conservative thought leaders who are going to have to lead it. What one can hope is that Bush's words will resonate within that portion of the Republican Party that remains sane and that they will spur others to speak out against Trump more forcefully and to stand up against him, against Steve Bannon, and against the forces that seek to turn the entire party in a direction that can only mean bad news for not just the GOP, but for the nation as a whole. For my part, at least, I welcome Bush's remarks and hope others are willing to join him.
You can read the transcript of Bush's remarks at the link, or watch the video below: