Donald Trump Is A Culture Warrior, Not A President
Donald Trump's entire modus operandi involves pushing divisive cultural hot buttons.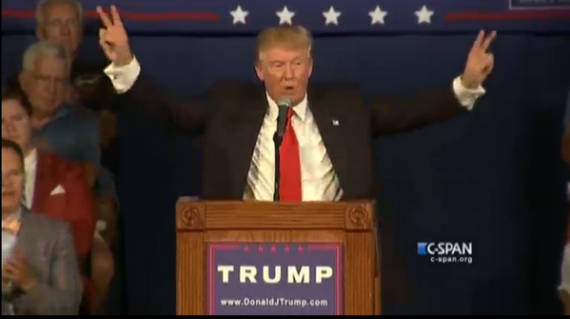 We're just about three weeks short of Donald Trump's 300th day in office, and there are no real legislative or policy wins that he can point to as signs that he's living up to the promises that he made. The border wall remains unbuilt, is not funded in the current Federal budget, and Mexico isn't going to pay for it. The Affordable Care Act hasn't been repealed and replaced and is likely to remain the law of the land at least until 2019 if not longer. Tax reform remains a theoretical concept at best notwithstanding the announcement of two very generalized outlines for the such a bill that have yet to be put into final legislative format let alone ready to be voted on in either the House or the Senate. His travel ban has been hacked away and stayed by the Federal Courts at all levels despite three attempts to get it right. There's been no real proposal made by way of infrastructure spending, which Trump cited as a priority on the campaign trail both in the race for the Republican nomination and the General Election, remains entirely a theoretical idea. And, finally, the only real legislation that Trump has signed into law has consisted of a handful of measures that rollback a handful of Obama-Era regulations.
As Elena Johnson notes at Politico, the President doesn't seem to either notice or care and instead seems intent on fighting a different battle:
President Donald Trump was expected to spend the fall pushing his ambitious tax reform agenda and helping devastated regions in Texas, Florida and Puerto Rico recover from hurricanes.

Instead, over a period of three weeks, Trump has hammered the NFL into submission over the national anthem protests, repeatedly attacked the "fake news" media and now reopened a fight over his — and his predecessor's — handling of Gold Star families.

But these seeming distractions are the president's substance — and the legislative agenda his predecessors have approached with a singular focus is, for him, largely a diversion.

Since his inauguration in January, Trump's sideshows have dominated the news coverage of his presidency, with his fellow Republicans often left struggling to understand why he insists on stoking major cultural battles rather than working to advance a traditional legislative agenda. It's perhaps the fundamental misunderstanding of the Trump presidency — and helps explain the yawning chasm between the president and official Washington.

"His 'issues' are a series of episodes where he has a fight with some person who doesn't want America to be great, like the NFL or Colin Kaepernick, and he wins," said Bill Kristol, editor at large for The Weekly Standard.

While congressional Republicans have committed to repealing Obamacare, passing tax reform, and moving an infrastructure bill, Trump has staked his presidency on identity and culture — hence his Twitter rebukes of Senate Majority Leader Mitch McConnell for his failure to bring the GOP's health care bill over the finish line. "I'm not going to blame myself, I'll be honest," Trump said earlier this week in the Cabinet Room.

If Trump is an inconsistent warrior on health care — he has flip-flopped several times over the past few days on the administration's position on the cost-sharing reduction the federal government has doled out to insurance companies under the Affordable Care Act, for example — he has been remarkably steady on the sort of cultural issues that animate his base. Indeed, the president has mounted the sort of disciplined public communications campaigns on issues many have labeled distractions — the sort that his predecessors have devoted to legislative initiatives.

(…)

From the beginning, Trump has staked his political career on "cultural competence, not on policy competence," according to Amy Walter, senior editor of the Cook Political Report. "I think what he does more than anyone is keeps coming back to the cultural issues as a way to keep reminding voters why they supported him in the first place."

Like his dispute with the NFL, his dust-up with Gold Star families has now ignited a national conflagration — and is being widely condemned for drawing attention away from his party's attempt to get a tax-reform bill through Congress and to stabilize Obamacare insurance markets. The Washington Post reported on Wednesday that the president promised the father of a fallen service member $25,000 and said his staff would establish an online fundraiser for the family, but that there was no follow-through on either pledge — prompting a swift rebuttal from the White House press office, which claimed a check had been sent.

But Trump's impromptu remark during a Monday news conference that he made more phone calls to the families of fallen soldiers than did President Obama — "I was told that he didn't often," Trump said — tapped into broader notion held by part of the Trump base that the former president was less than fully patriotic.

(…)

Fights about the mainstream media, the national anthem, and the treatment of Gold Star families are cultural controversies, which sometimes, but not always, intersect with the Republican Party's policy priorities — say, on immigration or the decertification of the Iran deal.

But Trump is always likely to consider those goals a distraction from his larger cultural agenda.

"He thinks he was elected on this stuff, this is the stuff he knows how to talk about, and this is the stuff that would make the front page of the New York Post," said Jonah Goldberg, senior editor of National Review. "The problem is, is that the job is still the job."
This is all consistent with what we know about Trump as a politician and commentator on politics, of course. The vast majority of Trump's campaign for the Presidency consisted of naked and quite often nasty appeals on hot-button social issues as well as an obsession with cultural issues that have been part of the fever swamp of right-wing American politics for decades. In fact, it began long before he entered politics formally with the announcement of his candidacy in June 2015. Years before that, he became the leading voice of the birther movement and proponent of the absurd and discredited idea that President Obama was not born in the United States and therefore not eligible to serve as President of the United States. From the beginning, birtherism was always about an attack on Obama as "the other," and a stalking horse for nothing more than blatant racial animus based on the color of Obama's skin. Even when the truth about Obama's birth in Hawaii was confirmed once and for all, Trump continued to cling to the idea until he finally stopped talking about it as he prepared to return to NBC for another season of Celebrity Apprentice. Long before his time as the Birther In Chief, Trump's comments on politics as a celebrity typically hit on cultural issues rather than on policy, and when they did hit on policy it was only in the most generalistic manner that made it clear that Trump really wasn't up to speed on those issues and didn't care to educate himself either.
Given all of this, it's hardly surprising that Trump continues to hit back on cultural issues since becoming President. Not only is it the one area guaranteed to stir up his base supporters, but it's also the bread and butter of his involvement in politics and the only thing he really knows how to talk about. When it comes to policy issues, he clearly doesn't seem to care much about details, leaving those to his aides or to the Republicans on Capitol Hill. The only thing that really seems to matter to him in this regard is whether or not he can count on an easy win that will make it appear as if he's actually accomplishing something. This is why, for example, he was praising House Republicans for passing the American Health Care Act in a Rose Garden appearance back in May only to turn around and call it "mean" when the polls made it clear that the measure was unpopular with the public and that it had no real chance of passing in the Senate. Similarly, and most recently, he made positive comments about a bipartisan proposal earlier this week that would fix part of the Affordable Care Act only to withdraw them once it appeared that the measure would meet with opposition he changed his tune. The only things that Trump has remained consistent on are the cultural themes that animate his base, and he's used those to stoke the fires of political polarization several times throughout the course of his Presidency.
While all of this may work to Trump's political advantage, the dangers to the nation as a whole are rather obvious. A President who does nothing but spend his four, or God help us eight, years in office doing nothing but hitting hot-button cultural issues and using his Twitter account and campaign speeches to divide people is a President who is destined to preside over a nation in an eternal state of chaos. One can see that over the course of this week and the manner in which Trump responded to what was an entirely legitimate question about the Administration's response to the deaths of four American Green Berets in Niger. Instead of answering the question or acknowledging the facts of what happened, Trump responded by engaging in false attacks on President Obama and using his Twitter account to spread a story about Hillary Clinton and a supposed deal to sell the U.S. uranium supply to Russia that has been debunked by multiple fact-checking sources. As with so many of the other lies Trump has told, though, the truth here doesn't matter. This is yet another attack on a political enemy based in a culture war that has been going on for twenty years or more, and it's one that only serves to reinforce the pre-existing biases of the base that Trump seems intent on spending his time as President pandering to regardless of the consequences.