Women Were Nazis, Too
Wendy Lower documents the half-million women who helped Hitler carry out the Holocaust.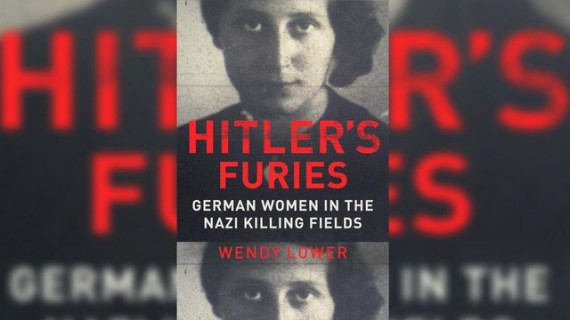 A new book documents the women who helped Hitler carry out the Holocaust.
In "Hitler's Furies: German Women in the Nazi Killing Fields," a nonfiction long-list contender for the 2013 National Book Award, Lower profiles 13 women who became Nazi killers and accomplices, and contends that these women are representative of hundreds of thousands of ordinary German women who "got away with murder."

According to Lower, a professor at Claremont McKenna College, the half-million women who participated in the mass murders that took place during the years 1941-44 in the killing fields of the Nazi East — the occupied areas of present-day Poland, Belarus, Ukraine, Lithuania, Latvia  and Estonia — have been largely ignored by historians and the criminal justice system. Pieced together by Lower from survivor interviews and archival documents that became accessible for scholarly review only after the fall of the Iron Curtain, the accounts of these women in their roles as nurses, teachers, secretaries and SS wives illustrate how they participated in genocidal violence.

But why would so many Nazi criminals be overlooked until now, 70 years later? Lower describes a German postwar consciousness of closely guarded secrets, where evidence of wrongdoing was entombed as much in the repressed memories of the living as in the passing of the dead. Embedded in this culture of forgetting were abiding assumptions about the nature of womanhood and their role in society. These assumptions functioned as an interpretive bias, fostering perceptions of German women as mostly innocent hausfraus tending to hearth and home, while attributing more notorious acts of terror and sadism to female camp guards who were viewed as deviant, marginal perpetrators.

Lower's book explores and challenges this gender bias, depicting Nazi women as immersed in the blood-soaked landscape of the "wild east," where Jews and forced laborers were shot routinely in broad daylight, and where the foul odor of mass graves was the air they breathed. "Interaction with Jews and mass murder entered into these women's everyday lives in unexpected but recurring ways," Lower writes, describing the situation of young nurses who delivered lethal injections and of secretaries who typed up death orders.

The most chilling accounts in "Hitler's Furies" are about the women whose violence was targeted at children. In unsparing detail, Lower recounts the viciousness of Johanna Altvater, a young secretary who threw one child after another to their deaths off a third-floor railing in a Jewish ghetto. Or Erna Petri, wife of an SS officer, who in a gruesome version of Hansel and Gretel fed six tattered Jewish children in her home before marching them to the pit of a nearby mass grave and shooting them one by one, execution-style.

If, as Lower argues, these were not sociopaths but ordinary women who didn't exhibit violent tendencies either before or after the war, how do we make sense of their appalling participation in Nazi genocide? What do these women tell us about history, gender, what it is to be human?
That those who carried out the Holocaust were mostly ordinary people who were just going about their daily lives has been established for at least half a century; Hannah Arrendt famously laid out the case in Eichmann in Jerusalem: A Report on the Banality of Evil way back in 1963. More recently, Daniel Goldhagen's Hitler's Willing Executioners: Ordinary Germans and the Holocaust drew attention to the sheer scope of the involvement of the citizenry. It stands to reason, then, that a lot of German women took part.
My late wife and I toured the Anne Frank House on our 2006 visit to Amsterdam. What stood out to her was the degree to which the concentration camps documented their actions, logging in by name and in as much detail as possible those brought into the camps and those who were slaughtered. Because of my professional training, I wasn't the least bit surprised by that: they thought of themselves as dutiful bureaucrats doing their job and needed to maintain records.
The twist in Lower's book is that, despite the intensity of study of the topic over the ensuing seven decades, we still think of the evil-doers almost exclusively male.
Raised on the Nazi ideal of female wholesomeness, where the rosy glow of a woman's cheeks was to come not from makeup but from robust activity, and where her worth increased with every child she bore, women nonetheless became killers once they landed on the eastern front. And this documented violence, challenging as it may be to 21st century gender expectations, if widely known at the time would have threatened Nazi gender ideology, exposing the falseness of Hitler's Aryan mythology and humiliating the women of the Reich.

But isn't this whiff of women's presumed moral purity still in the air today? So often women are held, in comparison with men, as the kinder sex, more peace-loving and relational, more committed to the protection of life. Yet the evil of the Holocaust was clearly an equal-opportunity affair, entered into by women who birthed children and loved their husbands as well as by the men who loved them in return.
But, of course, the same was true of the men. The man who designed and ran Auschwitz was a beloved husband and father who doted on his kids.