Women's March Draws Record Crowds: So Now What?
A movement motivated by hurt and fear turned into a political force eight years ago. Can another follow suit?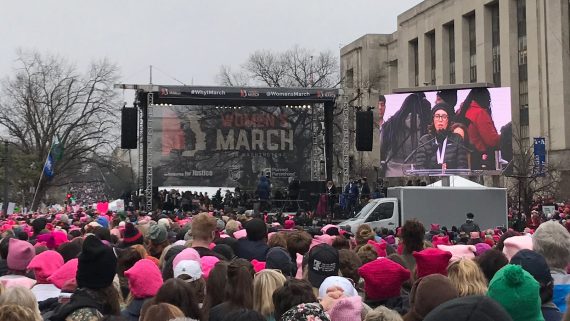 Yesterday's Women's March rallies drew massive crowds around the world, far exceeding any reasonable expectations. Aside from understandable outrage and trepidation about the presidency of Donald Trump, who had been inaugurated the day before, there seemed to be no unifying agenda. And, as many commentators have observed, achieving results will require continued, focused action in the future.
Julia Ioffe makes a particularly strong version of that argument:
The people were so cheerful and happy to be with one another, forgetting the cold and enjoying what often seemed less like a protest and more like a block party. There were families there, with grandmas in wheelchairs and babies in strollers. They were ecstatic and in disbelief at the number of people. The Washington Post reported that the organizers put the attendance at up to half a million. They had hoped for less than half that.

It was surreal how similar this all felt, and my Russian friends on social media confirmed it: "Totally Bolotnaya," one of them wrote. Bolotnaya is the square in the center of Moscow, right across the river from the Kremlin, where on December 10, 2011 around 50,000 people came out to protest fraudulent parliamentary elections. They had expected 3,000 and were stunned by their success. It was cold and gray that day, too, and the feeling of being in that joyous crowd was unforgettable, which is why I remembered it so vividly today. It is the giddiness of watching people vent their political frustrations with a sense of humor and good cheer, and the euphoria of observing people discover that they are not alone, that there are thousands and thousands of people just like them.

Women marching today wore pink "pussy hats" and carried signs that said "This pussy grabs back," echoing the 2005 Access Hollywood tape in which now-President Trump said of women that he could "grab them by the pussy" because "when you're a star, they let you do it." The Russian protesters would also reappropriate their leader's insults. When Putin finally commented on the protestors and the white ribbons they wore on their lapels, he said he thought they had been condoms. So at the next march, protestors blew up condoms and floated them like balloons over the crowd. When I saw a man marching down Pennsylvania Avenue on Saturday with a sign that said "There are more of us," I remembered the bright yellow cover of an opposition magazine that Muscovites used as posters for their rally of dissent: "There are more of us than it seems."
There were, sure, and there seemed to be a lot more people marching against Trump than came out for his inauguration the day before, but it seemed like the equivalent of winning the popular vote by about 3 million and losing the Electoral College. Sure, there were a lot of them and one of him, but he's the one in the White House, signing executive orders while they were outside under a dour sky.

If riots are the voice of the unheard, then protests are, too. It's a notion that's both romantic and accurate: People on the street have a voice, and it is often unheard even then. And sometimes it's heard in exactly the wrong way. Those protests in Moscow grew in size as the winter changed into spring and spring became summer. Putin was able to lie about the crowd sizes reported in the media, like Trump, and was still able to easily win a third term in the Kremlin. The opposition, the unheard with their witty posters in the streets, began to fracture and bicker, like the organizers of today's event, and there was no clear leader or agenda. After a May protest was violently dispersed by police, who plucked them from metros and cafes, the opposition was despondent: They felt they had come out rallied—once, twice, five times—and had achieved nothing.

That wasn't really true. They had changed Putin, just not in the way they had hoped to. He went from being a non-ideological, pragmatic kleptocrat to a revanchist, nationalist neo-tsar. He passed laws making it harder to protest, to express dissent online, to inhabit one's sexuality. And after similar protests sprung up in Kiev and helped overthrow the Ukrainian government two years later, he invaded the country, in part to show his citizens that they should stay unheard. And when his agents, masked as rioters, protested in the country's east, they didn't bring witty posters and sandwiches; they seized government buildings and the television towers, much like Bolshevik revolutionaries had made a beeline for the telegraph posts in 1917.
Protests are a tricky thing, and America isn't Russia. Protests can bring change, like Black Lives Matter did, and they can topple governments, as they did in Egypt. But in the case of the former, the protests became a movement that reached off the streets and into the presidential race, in part because there was a White House and Justice Department willing to take their concerns seriously. In the case of the latter, there was a political movement—the Muslim Brotherhood—that had been preparing for the moment for decades. Even those cases have proved fleeting: The Muslim Brotherhood took its own authoritarian turn after gaining power in democratic elections, and along with the Tahrir Square movement has since been crushed by the revanche of Abdel Fattah al-Sisi. Black Lives Matter, vilified by the Republican Party and the Trump campaign, will now potentially face a Justice Department headed by an Alabaman who has been accused of going after black civil rights activists. Both may end up back where they started: on the streets and unheard.

Talking to the protesters in Washington today, it was hard not to hear the echoes of the weakness of the Moscow protests five years ago: a vague, unstructured cause; too much diversity of purpose; no real political path forward; and the real potential for the meaning of the day to melt into self-congratulatory complacency. A Los Angeles woman showing me photos of the march afterward wondered, "Where was everyone before? We didn't do enough." Rallying and making funny signs is easy; winning real power in American politics is not.
There's much more at the link, but you get the idea.
Still, mass movements almost by definition have multiple internal motivations. Even the civil rights movement of the 1950s and 1960s had multiple viewpoints, with Malcolm X having a decidedly different agenda than Martin Luther King. There, though, the grievances were more particular, aimed at ending the Jim Crow regime that had been in place for nearly a century.
The Women's March, at least the DC incarnation, had a more diffuse rationale. Their mission statement, in its entirety:
The rhetoric of the past election cycle has insulted, demonized, and threatened many of us – immigrants of all statuses, Muslims and those of diverse religious faiths, people who identify as LGBTQIA, Native people, Black and Brown people, people with disabilities, survivors of sexual assault – and our communities are hurting and scared. We are confronted with the question of how to move forward in the face of national and international concern and fear.

In the spirit of democracy and honoring the champions of human rights, dignity, and justice who have come before us, we join in diversity to show our presence in numbers too great to ignore. The Women's March on Washington will send a bold message to our new government on their first day in office, and to the world that women's rights are human rights. We stand together, recognizing that defending the most marginalized among us is defending all of us.

We support the advocacy and resistance movements that reflect our multiple and intersecting identities. We call on all defenders of human rights to join us. This march is the first step towards unifying our communities, grounded in new relationships, to create change from the grassroots level up. We will not rest until women have parity and equity at all levels of leadership in society. We work peacefully while recognizing there is no true peace without justice and equity for all.
At present, then, the movement is motivated by emotion:  they're "hurting and scared."  The hurt, I think, is a function of their country–including a not insignificant number of women–voting in a man who seems so hostile to women. And it's a hurt that was amplified by the fact that Trump came to office defeating a woman who was very much an ally of their cause and who was so expected to win. The fear is more vague but hardly unreasonable. There's every reason to think a President Trump will work to roll back hard-won progress.
It strikes me, then, that the Women's March is quite analogous to the Tea Party movement that sprung up in reaction to the Obama presidency and his initial steps in addressing the Great Recession. Ideologically and culturally, they're almost mirror images of one another. (Although, amusingly, they're both almost entirely populated by white people.)
While the Tea Party had a few policy grievances, it was almost entirely bound by emotion. I don't know that the hurting was as intense, as Obama was long expected to defeat John McCain. But the election of a black man with a foreign-sounding name was a rather jarring passing of a demographic torch. The fear that their culture was under attack, though, was real. Obama was, of course, a much less bombastic and much more respectful voice that Trump's. But, certainly, there were enough instances during the campaign where he signaled hostility to their way of life. Most famously—and ironically, since he was demonstrating empathy rather than antipathy—there was the much-quoted line saying "they get bitter, they cling to guns or religion or antipathy toward people who aren't like them or anti-immigrant sentiment or anti-trade sentiment as a way to explain their frustrations." (Which turned out to be quite prescient; it was the basis for the Trump victory.)
The Tea Party never mobilized a single protest march anywhere near what we saw yesterday. But it spawned demonstration after demonstration. More importantly, it organized politically, putting forth candidates that defeated scores of Establishment Republicans in the primaries and ultimately won a wave election in the 2010 midterms. While I'd argue—and, indeed, did—that their extreme views likely cost them the Senate that year and the White House in 2012, they were undeniably successful. And while they faded away as a separate movement, they essentially took over the GOP, nominating in Trump a candidate who was a rejection of a large chunk of the Republican agenda from Reagan onward.
It's not inconceivable that the Women's March will do the same thing on the Democratic side of the aisle. Trump has given every indication in his first two days in office that he's going to govern in the same contentious, irritating way that he campaigned. It won't be difficult, at all, for the movement to remain galvanized. The challenge will be in putting forth an actual policy agenda, finding and funding candidates to champion it, and then getting them elected.