Working From Home and Polarization
Yet another thing driving Americans apart.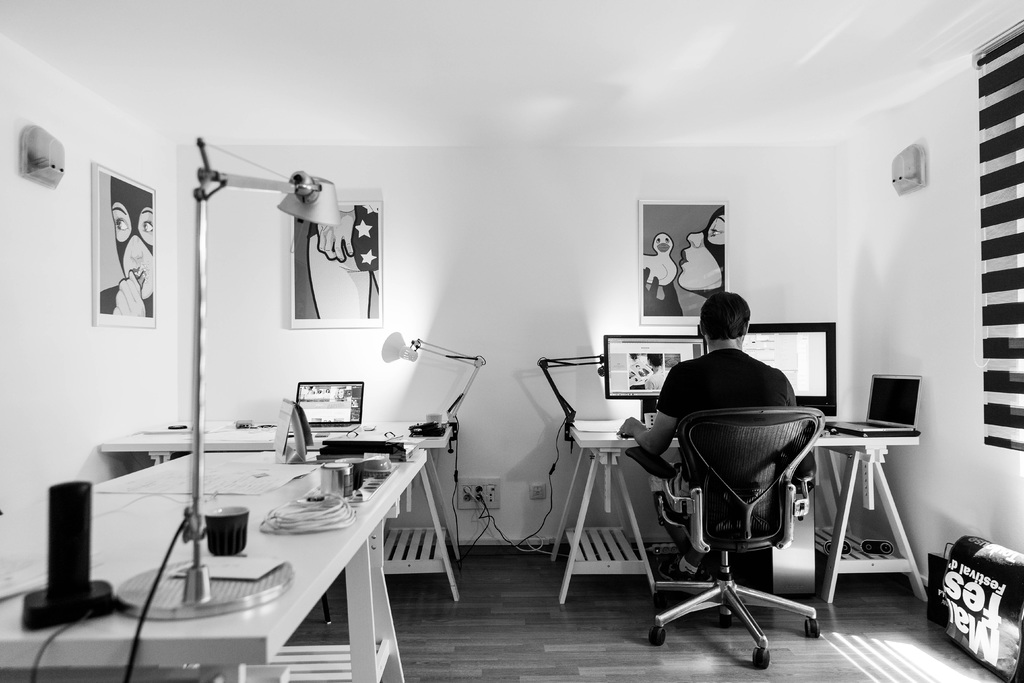 In his essay "Winners and Losers of the Work-From-Home Revolution," The Atlantic's Derek Thompson offers little that surprises me. That it's more beneficial for people like me— well-educated, tech-savvy introverts who live in the suburbs—has long been obvious. And I've certainly seen various folks speculating about the decline of downtown office space. But I've never quite made this connection before:
College is already the most important dividing line in politics. It's also the most important dividing line in remote work. More than half of graduate-degree earners can work from home, compared with less than 25 percent of people with just a high-school degree, according to Bloom. The remote-work revolution, therefore, is principally a revolution for the colleged class, which is disproportionately a Democratic cohort.

If the college-graduate workforce evolves toward a certain kind of work that is off-limits to most noncollege grads, the cultural divide between graduates and nongraduates may widen even further, pulling apart a country that is already split by a diploma gap. In 2004, the journalist Bill Bishop coined the term the big sort to describe how Americans moving into like-minded communities were driving political polarization. I've recently been wondering what that might look like online. Well, it might look like white-collar workers migrating to remote work; in perpetual contact with virtual networks of similar workers, they will create a set of online norms and attitudes that pulls them even further away from the rest of the country.

Even as remote work makes far-flung colleagues feel closer, then, it could widen the gap between college and noncollege Americans, who are already rapidly sorting into the two major parties.
The college educated=Democrat still seems odd to me, given that we've long associated the GOP with affluent voters, who are more likely to have college and even professional degrees. But as a recent Pew survey shows, that has gradually changed:
Over the past 25 years, there's been a fundamental shift in the relationship between level of educational attainment and partisanship. The Democratic Party has made significant gains among voters with a college degree or more education – a group that leaned toward the GOP 25 years ago. At the same time, the GOP now runs about even with the Democratic Party among voters without a college degree after trailing among this group at the end of the George W. Bush administration. And the GOP has made clear gains in recent years among voters with the lowest level of formal education, those with no more than a high school diploma.

A majority of registered voters with at least a four-year college degree (57%) identify with or lean toward the Democratic Party, while 37% associate with the GOP. The Democratic Party's advantage with more highly educated voters has grown over the past decade and is wider than it was in both 2016 and 2012. In 1994, a greater share of those with at least a college degree identified with or leaned toward the GOP than the Democratic Party (50% vs. 42%).

Among voters who do not have a four-year college degree, 47% say they identify with or lean toward the GOP compared with 45% who identify with or lean toward the Democratic Party. The GOP has gradually made gains among non-college voters since an ebb for the standing of their party in 2007 and 2008.

[…]

Voters with some postgraduate experience, in addition to a four-year college degree, are especially likely to associate with the Democratic Party. About six-in-ten voters with postgraduate experience (61%) identify with or lean toward the Democratic Party, while just 33% associate with the Republican Party.

The Democratic Party's advantage over the GOP is somewhat less pronounced among voters with a four-year college degree and no postgraduate experience (53% to 40%). However, both college graduates and postgraduates have seen comparable shifts toward the Democratic Party over the past 25 years.
There's more detail and some graphical information at the link but you get the idea. It's a weird shift, in that Republicans tend to enact policies that benefit high earners and Democrats tend to enact policies that favor the poor. But politics is often more about culture than policy.
It makes sense that the working-from-home trend would exacerbate the trend, further isolating the sort of folks who can take advantage. Indeed, while my gradual shift away from the Republican Party was overdetermined, the amount of time I was already spending online here and in my curated Twitter community certainly contributed.
Beyond that, though, I think this will be another point of resentment. While Donald Trump and the conservative infotainment industry were the key driving factors in Republicans tending to take COVID-19 less seriously and to be more skeptical of lockdowns, masking, and vaccinations the fact that more of them were hurt by the lockdowns was surely a factor. It's simply easier to endure a lockdown if you can continue earning a full salary while saving money on commuting, lunches out, dry cleaning and the like.