Would Americans Be Healthier If They Spent More On Food?
Are their cultural reasons for America's obesity problem?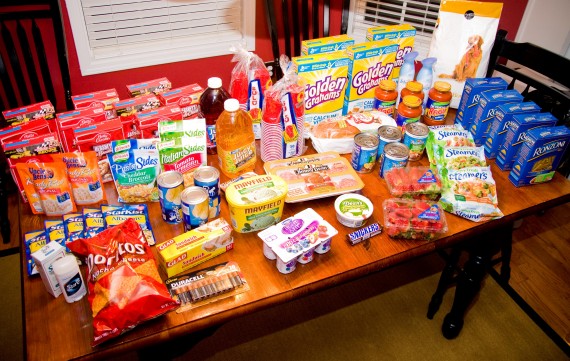 Working off an interactive inforgraphic, Cliff Kuang points out some interesting differences between the food budgets of Americans people in other nations, and what it might mean for health:
Your average American eats more calories per day than people in any other country in the world. No surprise there! But once you start delving in the data, the picture does indeed get a little weird: We don't eat that much more than Europeans. But their obesity rates stand at 15%, while ours are double that, at 34%. What the hell?

(…)

For starters, Americans only spend 6.9% of their income on food. Compare that to a country such as Italy, which has a far lower rate of obesity. Italians eat only 100 fewer calories per day than we do–but they spend more than twice their income on food

That trend holds up all across Europe: The British, Germans, and French all eat almost as much as us, but spend between 50-100% more on food.

Granted, Americans don't walk as much as Europeans do. But the obvious thing you have to conclude is that we simply eat cheaper food that's worse for us. Again, that's no surprise given the amount of fast food and processed food that Americans eat. The real question is why we eat like that. I'd place the blame squarely on the 1950s, and our wholesale embrace of mechanized food after World War II. In those days, fast food, canned vegetables, and cheap chicken became a sign of America's progressiveness: Cheap food, in the days after World War II, were a marker of the roaring economic progress we were making. Cheap food, in other words, was a source of national pride before it became a national habit. Europe, by contrast, had no such industrial miracle. Instead, they simply held onto the food traditions that they always had–of home cooking, for example.

To flip it forward a bit, I would argue that Europeans are willing to pay more for better food because what they eat is so wrapped up with national pride and cultural identity. Why wouldn't you spend the time to buy great ingredients for something homemade if that's how your beloved great-grandmother did it? Americans, by contrast, have far less of a cultural attachment to the food we eat. We don't have national dishes and food traditions that bind us together in the way of Italy or Greece. Sure, we have hamburgers, but can anyone argue that those matter as much as sardines and pasta to Souther Italians? Or fish and dolmas to Greeks? It's no surprise that we're so susceptible to cheap food: In some ways, it's because food simply means less to us.
Assuming for the sake of argument the validity of the underlying data, it's an intriguing phenomenon. Daily caloric intake doesn't vary all that much between the United States and most of Europe, and yet obesity, diabeties, and heart disease, all of which are related to diet, are far bigger problems in the United States than they are across the pond. It's also generally true that healthier food tends to end up being more expensive than the processed, frozen, and fried stuff that fills up American grocery carts on a weekly basis, especially for the average family of four.
I'm not entirely sure about Kuang's explanation for this difference between American and European food buying habits, though. On the American side at least, I'd suggest that it's not really the idea of cheap food that has become part of our culture as the idea of fast, easy to make, convenient food, whether it comes from McDonalds or a grocery store. It was the 1950s, after all, that saw the advent of the TV Dinner, the quick and easy substitute to the family dinner. As time has gone on and American life has become seemingly more busy, the appeal of convenience has come to dominate our food choices. Watch commercials for grocery products today and you'll see that the focus is on easy and convenience of preparation, not so much on price. The fact that the convenient food ends up being cheaper, I'd argue, isn't nearly as important as the fact that its easier to prepare. In a nation where two working parents and kids busy with school activities, it's easy to see why that's a major selling point.
I'll take Kuang's description of the European cultural attachment to food as true, but it's also true that Europeans tend not to live the same kind of on-the-go lifestyle that Americans have taken upon themselves. Taking two hours out of the day to prepare a meal isn't quite as big a deal under such circumstances, and the attraction of popping a frozen pizza in the oven not nearly as apparent. That, combined with the fact that Europeans don't seem to be nearly as sedentary as Americans, is likely one of the main explanations for why they are able to equal our caloric intake yet not suffer as many health consequences.
Notwithstanding all the comments about how sedentary Americans are, though, it would be ironic indeed if one of the main contributors to America's obesity epidemic is the fact that we're just too busy to eat healthy.
H/T: Andrew Sullivan