Yanukovych Out in Ukraine?
Ukrainian President Viktor Yanukovych has been forced out of Kyiv---and possibly out of power entirely.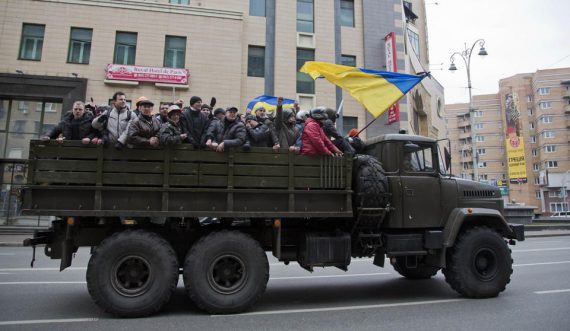 The massive protests that have crippled Ukraine's capitol have forced President Viktor Yanukovych out of Kyiv—and possibly out of power entirely.
AP ("Ukraine president exits Kiev; protesters take over"):
Protesters took control of Ukraine's capital on Saturday, seizing the president's office as parliament sought to oust him and form a new government. An aide to President Viktor Yanukovych said he had left Kiev for his support base in the country's Russian-speaking east, but that he has no intention of abandoning power.

In a special parliament session, lawmakers warned that the country risks being split in two. The country's western regions want to be closer to the EU and have rejected Yanukovych's authority in many cities, while eastern Ukraine — which accounts for the bulk of the nation's economic output — favors closer ties with Russia.

[…]

Hanna Herman, a close Yanukovych ally, told The Associated Press that the president was spending Saturday visiting Kharkiv, a city in Ukraine's east which is the heart of his support base.

"As much as some people want it, he has no intention to leave the country," Herman said. She said the president was to meet voters in the region and make a televised address.

The trip comes a day after Yanukovych and opposition leaders signed a European-brokered agreement aimed at resolving the months-old political crisis that has killed scores and injured hundreds. The agreement calls for early elections and constitutional reforms that reduce the president's powers.

The protesters, who are angry over corruption and want Ukraine to move toward Europe rather than Russia, claimed full control of Kiev and took up positions around the president's office and a grandiose residential compound believed to be his, though he never acknowledged it.

At the sprawling suburban Kiev compound, protesters stood guard and blocked more radical elements among them from entering the building, fearing unrest. Moderate protesters have sought to prevent their comrades from looting or taking up the weapons that have filled Kiev in recent weeks.
AFP ("Ukraine leader losing grasp on power; Tymoshenko set for release"):
The regime of Ukraine's president appeared close to collapse on Saturday as the emboldened opposition took control of central Kiev and key government and parliament positions and voted to immediately free its jailed leader Yulia Tymoshenko.

An emerging power vacuum gripped the charred heart of the capital a day after Viktor Yanukovych and his political rivals signed a Western-brokered peace deal to end the ex-Soviet nation's worst crisis since independence from Moscow in 1991.

Key government buildings were without police protection and baton-armed protesters dressed in military fatigues wandered freely across the president's once-fortified compound.

"We have taken the perimeter of the president's residence under our control for security reasons," Mykola Velichkovich of the opposition's self-declared Independence Square defence unit told AFP.

Thousands of mourners meanwhile brought carnations and roses to dozens of spots across Kiev's iconic Independence Square on which protesters were shot dead by police in a week of carnage that claimed nearly 100 lives.

The Ukrainian police appeared to retreat Saturday from their entrenched defence of the pro-Russian government by releasing a statement in support of "the people" and "rapid change".
While I have some twinge of concern about the ouster of a democratically elected government through mass protests, Yanokovych is a thug who has subverted Ukraine's nascent democratic institutions and reversed most of the gains of the Orange Revolution. His treatment of Tymoshenko and other opposition leaders was particularly shameful, reminiscent of the worst days of the Soviet Union. It's hard to look on the possible demise of his regime and the release of Tymoshenko as anything but good news.