Yes, The Border Patrol Can Probably Stop You and Ask for Papers
The 100-mile Constitution-free zone strikes again.
A news story that exploded across social media yesterday illustrates a longstanding problem.
Portland (Maine) Press Herald ("At I-95 checkpoint, Border Patrol agents question drivers and passengers about citizenship"):
U.S. Border Patrol agents conducted an 11-hour vehicle checkpoint on Interstate 95 in eastern Maine on Wednesday, stopping southbound vehicles near Lincoln in Penobscot County to ask drivers and passengers for their citizenship and immigration status, and to search vehicles with sniffer dogs.

Agents from the Houlton Border Patrol sector manned the checkpoint, arresting a man from Haiti and seizing drugs. Border Patrol said it didn't keep track of how many vehicles the agents stopped.

Civil rights groups have sharply criticized the practice of snap immigration inspections on highways and bus stations, and said some of the checks are unconstitutional.

The American Civil Liberties Union suspects inspections have become more common during the Trump administration, and in May it sued the U.S. government for records related to immigration enforcement efforts.

"We should all be able to live our lives without being stopped by immigration agents every time we board a bus or drive down the highway," said Emma Bond, a staff attorney with the American Civil Liberties Union of Maine. "Having (Border Patrol) constantly intruding on our lives and demanding that we show our papers doesn't make us any safer, but it will make us less free."

Border Patrol would not name the man it arrested Wednesday, but said he was a Haitian national with an outstanding deportation order from 2007 and prior arrests for cocaine possession, possession of a concealed firearm and resisting an officer, as well as a protection order from Lee County, Florida. An immigration violation was issued to another person during the checkpoint, Customs and Border Protection spokesman Steve Sapp said.

Agents made nine narcotics seizures including some LSD, a case that was turned over to Maine State Police, he said.
People are naturally gobsmacked that this could be happening in Maine of all places. But, as Phillip Bump explains, anyone within 100 miles of any US international border is subject to search—and, despite our vast size, most Americans live within 100 miles of a border.
WaPo ("Can the Border Patrol ask for your papers? This tool shows if you're in the 'border zone.'"):
We've seen other stories of Border Patrol stops in random places in recent months as media attention and the focus of the Trump administration has turned to the subject of immigration. A checkpoint in New Hampshire this week. A woman in Montana was stopped by a Border Patrol agent who heard her speaking Spanish. (She was a citizen, born in Texas.) There have been a number of stories about Border Patrol agents walking the length of Greyhound buses, asking to see people's proof of citizenship — enough such stories that Greyhound is now caught up in a political fight largely outside its control.

There is a constitutional protection against being searched without a warrant, raising the question of how such demands from the Border Patrol are legal. If you're crossing the border, you're used to having to display a passport. But when you're in the middle of Maine?

As it turns out, the middle of Maine — and much of northern Montana — are considered to be withing the "border zone" of the United States. In fact, the entire states of Maine and New Hampshire are within the border zone, which extends 100 miles into the United States from every border and every coast. According to the American Civil Liberties Union, two-thirds of Americans live within the border zone, a function of the number of major cities located near the coast.

Everyone in New York City lives in the border zone and can be asked to show identification to Border Patrol agents. Everyone in Los Angeles. Everyone in Seattle, Houston, Chicago and the District. Every single person in Florida. An extensive look at the border zone by CityLab determined that more than 7 in 10 nonwhite Americans live in the border zone.
As the headline implies, the article links a "tool" that allows you to see how close you are to an international border. While, as a Virginian, I don't think of myself as living near such a border, I'm actually a mere 6.9 miles from one. Why? Because, while most of us don't think of it that way, the Atlantic (and Pacific) Ocean and various coastal tributaries (in my case, the Potomac River) are in fact borders.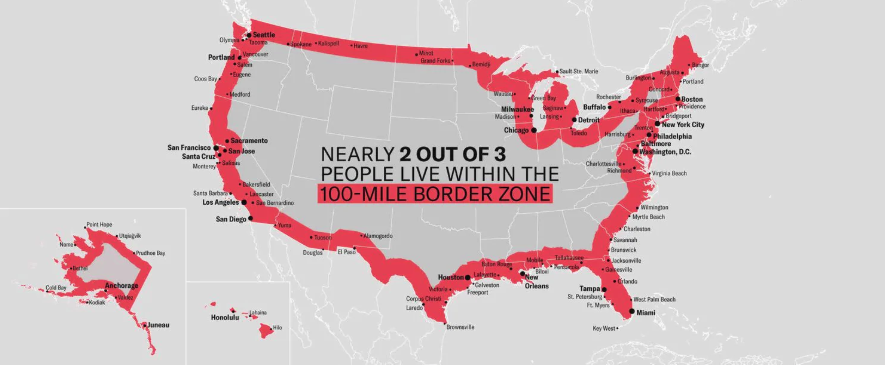 I discussed the broader phenomenon a few weeks back in a post titled "Two-Thirds of Americans Live in 'Constitution-Free' Zone." My focus there, though, was on the southern border with Mexico:
Essentially, for the purposes of border enforcement, we've redefined "probable cause" as "looks Hispanic." Combined with longstanding SCOTUS rulings that people in motor vehicles have essentially no expectation of privacy, this makes much of the country "Constitution-free."

[…]

In fairness, we're a continental nation with a two thousand mile-long border with a developing nation. Patroling that border effectively is next to impossible. To the extent that we wish to keep migrants from crossing that border in violation of our laws—and stem the flow of illicit drugs, too—there has to be some latitude given to authorities beyond hot pursuit. Effectively, though, that means choosing between enforcing those laws and living in a free society. At least, for non-white people living in vast swaths of the country.
But, as the more recent cases highlight, it's actually even more bizarre. As Doug Mataconis and I were discussing on Twitter yesterday, whatever the merits of the 100-mile zone for the southern border, it's absurd to have it for the coastlines. What sense does it make to harass American citizens driving through Maine, costing who knows how many wasted man-hours of the citizenry, in a fishing expedition that yields one poor sap from Haiti who has overstayed his visa?
It's worth noting, too, that our wrath should be reserved for the Congress, for exacting this broad policy, and for the Executive policymakers who are using their discretion in such an abusive fashion (as noted in the Constitution-free Zone post, the Obama administration had already ramped up their use of this tactic), not the low-level agents tasked to enforce it. Border Patrol and ICE agents are just doing their jobs. It's the nature of police forces to vigorously enforce the laws. It's up to us, then, to change the parameters if we don't like the results.