Young Voters Abandoning Obama
Barack Obama was a big hit on college campuses in 2008. Two years later, those same young voters seem to be having second thoughts.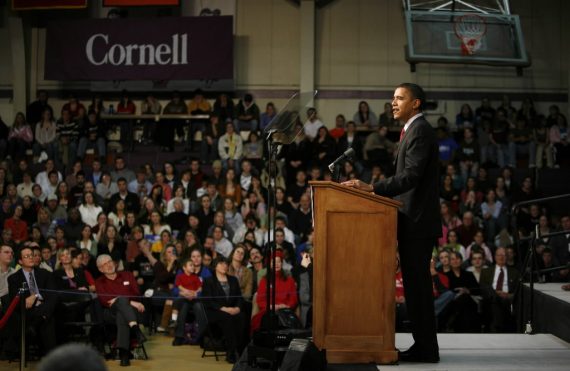 One of the notable things about Barack Obama's campaign for the Presidency was the manner in which it appeared to energize college-age and twenty-something voters, traditionally a group that's been known to stay home on Election Day. In 2008, voters aged 18-29 went for Barack Obama over John McCain by the absolutely stunning amount of 66% to 32%. According to one new poll, though, the President seems to have lost his edge with this particular part of the electorate:
WASHINGTON — Young voters who had been enthralled by Barack Obama's "Yes, we can" message are now saying "Maybe not" — and are backing away from the president in a worrisome new poll for the White House.

Obama is losing in a match-up against a generic Republican challenger by 37 percent to 34 percent among voters in the 18-34 age group, according to a stunning Quinnipiac University poll released yesterday.

In March, voters in this group approved of Obama by 54 percent to 37 percent.

"The youngest age group may be the most impatient and the most easily disillusioned among all age groups," said Molly Andolina, a youth-vote expert and DePaul University political-science professor.

For many young voters in 2008, "it was the first time they'd been really been involved, really paying attention. This is someone telling them, 'Yes, you can,' " she said.

Two years later, with a prolonged Gulf oil spill, "watching how slow it is to respond may be a little disillusioning," she added.
Part of the drop is likely explained by the ongoing unemployment problem, an issue that hits college graduates and others in their 20s harder than many other age group. As the article, notes, though, it's likely that a large part of the drop in youth support is related to the fact that Obama has failed to live up to many of the promises he made during the campaign. Transparency, an end "the old ways in Washington," closing Guantanamo Bay, ending Don't Ask Don't Tell. All of these were things that Obama told these young voters he was going to do and, eighteen months later, he hasn't accomplished a single one of them.
Perhaps they're all learning at an early age the cynical truth that some of us figured out later on. When it comes to a politician's promise, it's rarely worth the paper it's printed on.