2010 More Republican Than 1994
Gallup's final pre-election poll gives Republicans a 15 point advantage over Democrats, compared to only 5 points in 1994.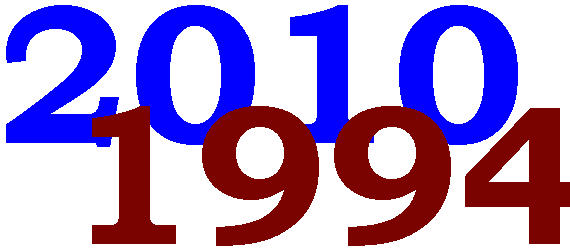 Gallup's Lydia Saad, a family friend, has a rather shocking set of comparative numbers from recent midterms, which she presents under the title "2010 Electorate Still Looking More Republican Than in the Past."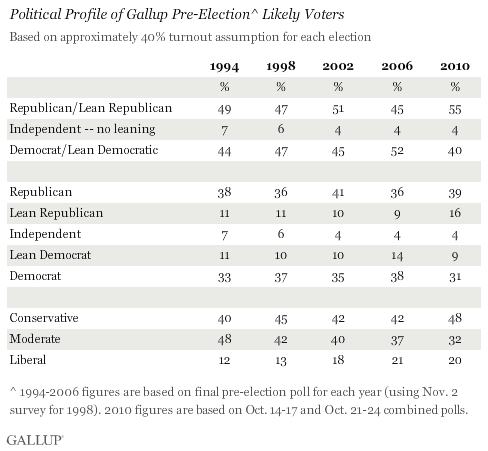 Tom Maguire suggests these numbers "suggest that 2010 will make 1994 look like 2002." But it's worth noting that Gallup predicted 2002 to be a bigger Republican rout than 1994 and, well, it wasn't.     Then again, Republicans already had the majority in 2002, so picking up 8 seats actually took them to 229 seats — just one fewer than they had in 1994.
Lydia notes some interesting trends, regardless:
Notably, this year's high Republican representation among likely voters stems mainly from a substantial increase in Republican-leaning independents in the likely voter pool — now at 16% — reflecting the broader shift toward the Republican Party among independents evident since 2009.

With respect to political ideology, the 48% of likely voters now describing their political views as conservative is slightly greater than the 42% to 45% seen in each of the prior three midterms. However, the percentage of likely voters identifying as liberal has also generally increased over this period. Both changes are consistent with broader patterns Gallup has identified in the past year.

Likely voters' demographic profile has shifted somewhat since 1994, with increases in the proportions of nonwhites, college graduates, and adults in the 50 to 64 and 65+ age brackets. These changes stem partly from larger societal trends associated with aging baby boomers and expanding minority populations.
So, we have an electorate that's polarized more than it has been in the last couple decades and also better educated, older, and more racially diverse.
I'm cautious about Gallup's "likely voter" screen, which doesn't comport with other numbers I trust.  But this trendline within their numbers over the years is interesting. That they give Republicans a 15 point advantage over Democrats, compared to only 5 points in 1994, is just astounding.
Do they mean that the Republican wave will be bigger than anyone's predicting?  I'm incredibly skeptical.   But I didn't see 1994's wave coming, either.