2012 Political Ad Spending Passes $500 Million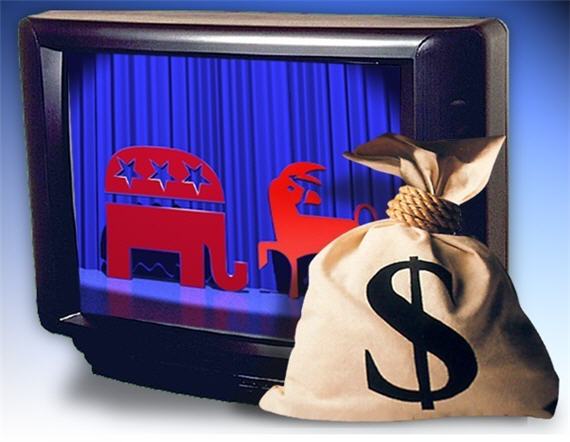 Today we learn that political ad spending so far in 2012 has already surpassed the amount spent in all of the 2008 election cycle:
Campaign spending on radio and television advertising has crossed the half-billion-dollar mark.

With the $37 million being spent this week on political advertising — including the campaigns and the Super PACs that support them — the grand total for this campaign is now more than $512 million, about the amount spent on advertising in the entire 2008 general election, according to an NBC News/Smart Media Group Delta analysis.

Almost half of that money is coming from outside groups, like Super PACs — and the vast majority of the outside money is going to support presumptive Republican nominee Mitt Romney.

Outside groups have spent a whopping $238 million on the 2012 general-election campaign. And about $9 out of every $10 – in total, $205 million – spent by an outside group is going to support Romney or hammer President Obama.

By contrast, outside groups supporting Obama have spent $33 million, accounting for 14 percent of the total ad spending on the incumbent president's behalf, including efforts by Obama's own campaign.

Put another way, just 25 percent of all the ads that are intended to benefit Romney have come from the former Massachusetts governor's campaign; outside groups, including super PACs, have made up the difference. By contrast, 86 percent of the total advertising effort meant to boost Obama has come from the president's own campaign.
When it comes to which entities have spent the most money, though, the Obama campaign still tops the list:
Obama's campaign is still far and away the largest-single spender, checking in at $207 million.

Crossroads is the second-biggest spender at $105 million — $59 million from Crossroads GPS, a 501(c)4, and $46 million from the Super PAC American Crossroads.

The Romney campaign comes in third at just $67 million. But with outside groups' help, Romney and his supporters — or Team Romney — are outspending President Obama and his allies — Team Obama — $273 million to $239 million.

For the past month, Team Romney has outspent Team Obama by nearly 2-to-1. But that margin is up to 2.5-to-1 this week — with Team Romney outspending Team Obama $25.8 million to $11.1 million.

Part of that is the Romney campaign is almost on par with the Obama campaign this week. The Romney campaign is spending $8.4 million to the Obama camp's $9.9 million.
With just 81 days left until Election Day, you can expect the pace of spending to increase and the grand total to be far higher than it is today. Some have estimated that we'd see $1 billion spend on ads this cycle. I suppose that's possible, but it seems more likely we'll end up somewhere in the $700 million neighborhood when it's all over.