A Home Is A Lousy Investment (Unless You Need A Place to Live)
Two economists look at a 30 year investment in a home versus putting the same money in the stock market.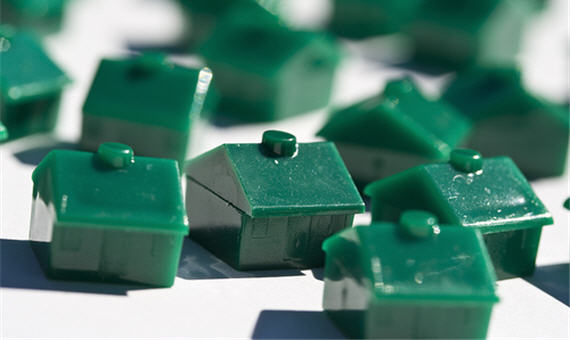 USC economist Robert Bridges takes to WSJ to explain why A Home Is a Lousy Investment.
Between 1980 and 2010, the value of a median-price, single-family house in California rose by an average of 3.6% per year—to $296,820 from $99,550, according to data from the California Association of Realtors, Freddie Mac and the U.S. Census. Even if that house was sold at the most recent market peak in 2007, the average annual price growth was just 6.61%.

So a dollar used to purchase a median-price, single-family California home in 1980 would have grown to $5.63 in 2007, and to $2.98 in 2010. The same dollar invested in the Dow Jones Industrial Index would have been worth $14.41 in 2007, and $11.49 in 2010.

Here's another way of looking at the situation. If a disciplined investor who might have considered purchasing that median-price house in 1980 had opted instead to invest the 20% down payment of $19,910 and the normal homeownership expenses (above the cost of renting) over the years in the Dow Jones Industrial Index, the value of his portfolio in 2010 would have been $1,800,016. The stocks would have been worth more than the house by $1,503,196. If the analysis is based on 2007, the stock portfolio would have been worth $2,186,120, exceeding the house value by $1,625,850.

In light of this lackluster investment performance, and in the aftermath of the recent housing-market collapse, why is there such rapt attention to the revival of the homebuilding industry and residential property markets? The answer is that for policy makers whose survival depends on economic recovery, few activities have such direct, intense and immediate positive economic impact as new home construction.
Berkeley economist Brad DeLong points out that Bridges made a wee omission in his calculation:
First of all, you get to live in a house. You don't get to live in your Dow-Jones Industrial index. The choice is not between investing $99,550 in a house from 1980 to 2010 and investing the same amount in the DJIA: it is between:

Investing $99,500 in a house in 1980 and selling it in 2010
Investing $99,500 in the DJIA in 1980, and paying rent each year–a rent of $5000 per year at the start, rising gradually to $15,000 per year.

If you have to take the rent out of your DJIA account every year, your dollar invested in the DJIA grows to only $3.42 by 2010–not $11.49.

If you invest your money in the same kind of home that you would live in anyway, the long-run historical record shows that residential housing and equities deliver roughly equal returns as asset classes once you take account of the fact that you get to live in your house.
Now, this only works if you actually live in your house for 30 years. If you move every few years, you've got to factor in realtor commission and various loan and preparation fees and the inconvenience of needing to unload the house. And there are not insubstantial maintenance costs and the seemingly irresistible impulse to drop a lot of money into upgrades. So, one's primary residence should be viewed primarily as a home, not as an asset.