A Minimal Win?
Given the substantial narrowing of the race (see
the 538 model
, for example) it increasingly looks like election night is going to be dramatic, and the final outcome close. Currently, it looks like a narrow Clinton win as the following possible map would outline.  Clinton could also lose
New Hampshire
or
Nevada
and still win (but not both)–losing NH is unlikely, but I have heard some media speculation about a possible Trump surge, so it was worth mentioning.  There are discussions about
Wisconsin
and
Pennsylvania
, although polling indicates that those states are pretty firmly in the Clinton column.  Although, speaking of Pennsylvania,
a transit strike in Philadelphia
could figure into the outcomes.
North Carolina and Florida are about as swing-y as swing states can be. For example, yesterday (Thursday 11/3) the 538 model had
Florida
as light red, but it was light blue in the evening and was back to light red this morning.  The odds in the model for the Sunshine State, as of my writing this, is 49.6% Clinton and 50.4% Trump.  There are similar number for
North Carolina
.  Trump needs both states.  Clinton can win without them (barring, of course, something like Clinton losing PA–but it seems rather unlikely that Clinton loses PA but wins NC, so wargaming that kind of outcome takes us to a different level of speculation).
On one level, this is what one might have predicted for the Generic Rep v. Generic Dem if one was predicting back before we knew who the candidates would be.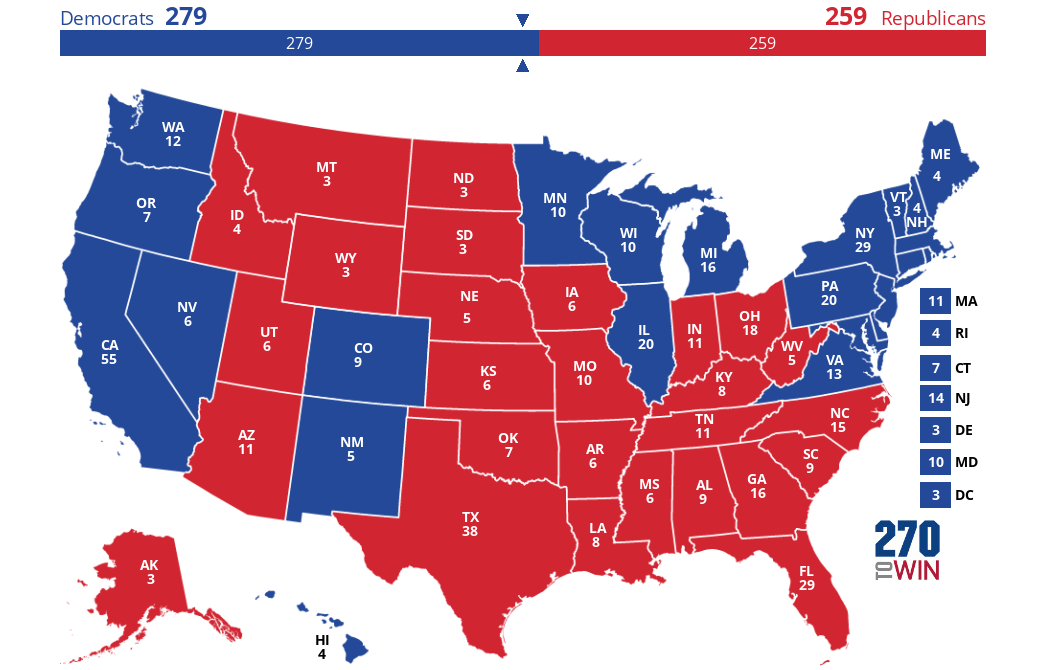 Click the map to create your own at
270toWin.com