A Record Day for US Covid Cases
Another unwelcome milestone that magical thinking won't fix.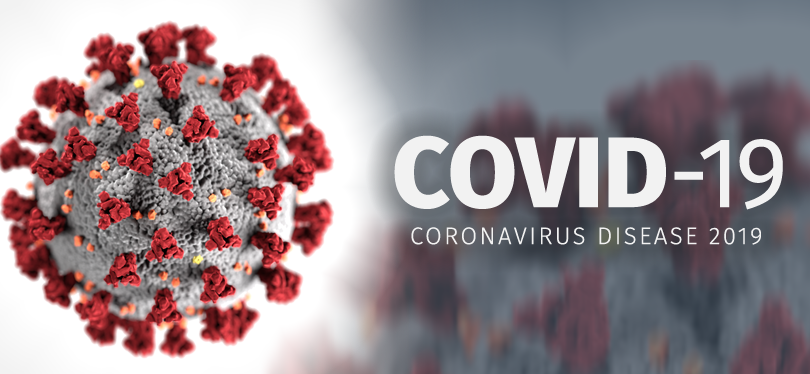 Via WaPo: America hits highest daily number of coronavirus cases since pandemic began.
America on Friday hit its highest daily number of coronavirus cases since the pandemic began, recording at least 82,900 new infections and surpassing the previous record set during the summertime surge of cases across the Sun Belt.

The rising numbers put the nation on the precipice of what could be its worst stretch to date in the pandemic with some hospitals in the West and Midwest already overwhelmed and death counts beginning to rise.
Additionally,
it's not simply a matter of increased testing identifying more cases. Covid-19 hospitalizations increased in 38 states over the past week. The number of deaths nationally has crested above 1,000 in recent days.
Here's the Worldometer graph: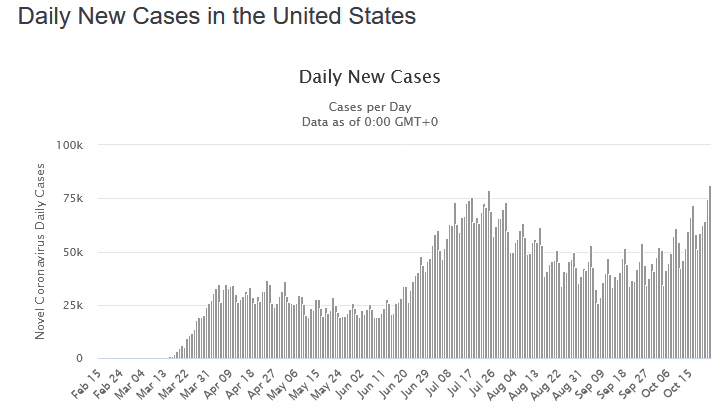 The trend is not encouraging.
Yet, back to Trump and the debate:
There is a spike. There was a spike in Florida, and it's now gone. There was a very big spike in Texas, it's now gone. There was a very big spike in Arizona, it's now gone. And there were some spikes and surges in other places. They will soon be gone.
It is true that all three states he named are down from their peaks. However, his definition of "gone" could use some work. Further, each state is starting to show growth in cases of late.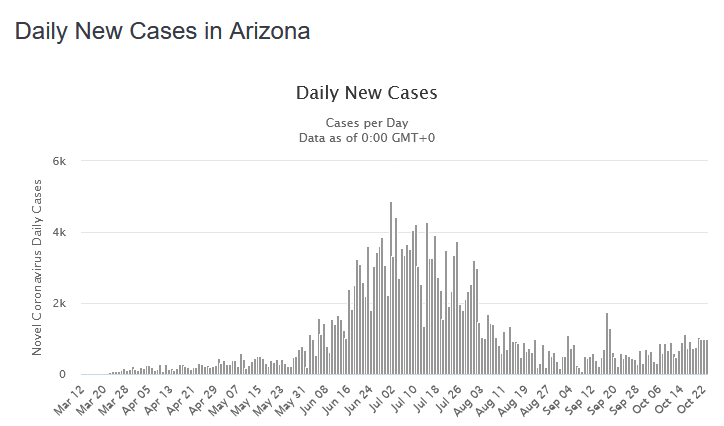 Texas is especially noteworthy because while it is clearly down from its peak in July, it never got back down to the pre-peak levels (which is true in FL and AZ, but not as dramatically as TX) .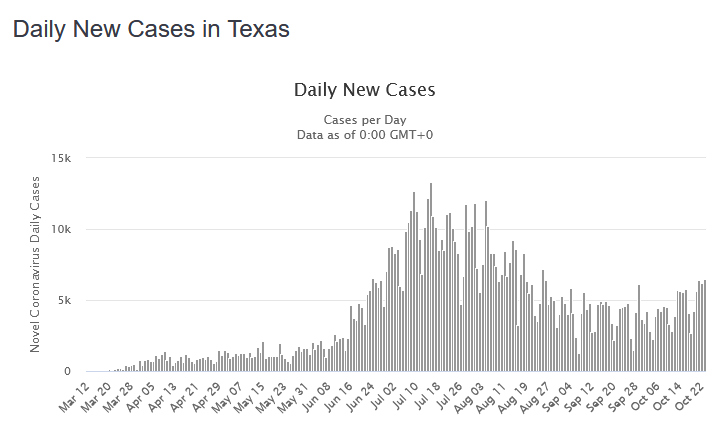 Back to Trump:
We have a vaccine that's coming, it's ready. It's going to be announced within weeks, and it's going to be delivered. We have Operation Warp Speed, which is the military, is going to distribute the vaccine. I can tell you from personal experience that I was in the hospital, I had it. And I got better and I will tell you that I had something that they gave me — a therapeutic, I guess they would call it. Some people could say it was a cure. But I was in for a short period of time and I got better very fast or I wouldn't be here tonight. And now they say I'm immune. Whether it's four months or a lifetime, nobody's been able to say that, but I'm immune. More and more people are getting better. We have a problem that's a worldwide problem. This is a worldwide problem, but I've been congratulated by the heads of many countries on what we've been able to do with the — if you take a look at what we've done in terms of goggles and masks and gowns and everything else, and in particular, ventilators. We're now making ventilators. All over the world, thousands and thousands a month, distributing them all over the world, it will go away and as I say, we're rounding the turn, we're rounding the corner, it's going away.
(Emphasis mine).
This is just delusional.
The only good news is that despite growing numbers of confirmed cases, daily deaths are down from peak back in April. And, as James noted earlier this week, we seem to be getting better at treating the disease.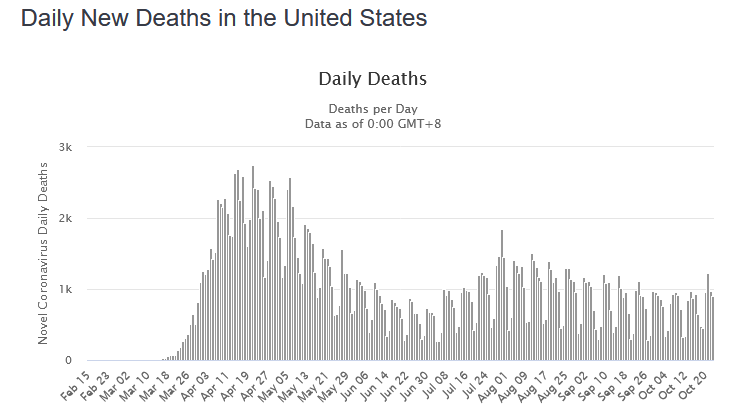 But, of course, it isn't like daily death has plummeted, either. The three-day average as of this writing is 1,034. And I will share again a graph I posted on Tuesday: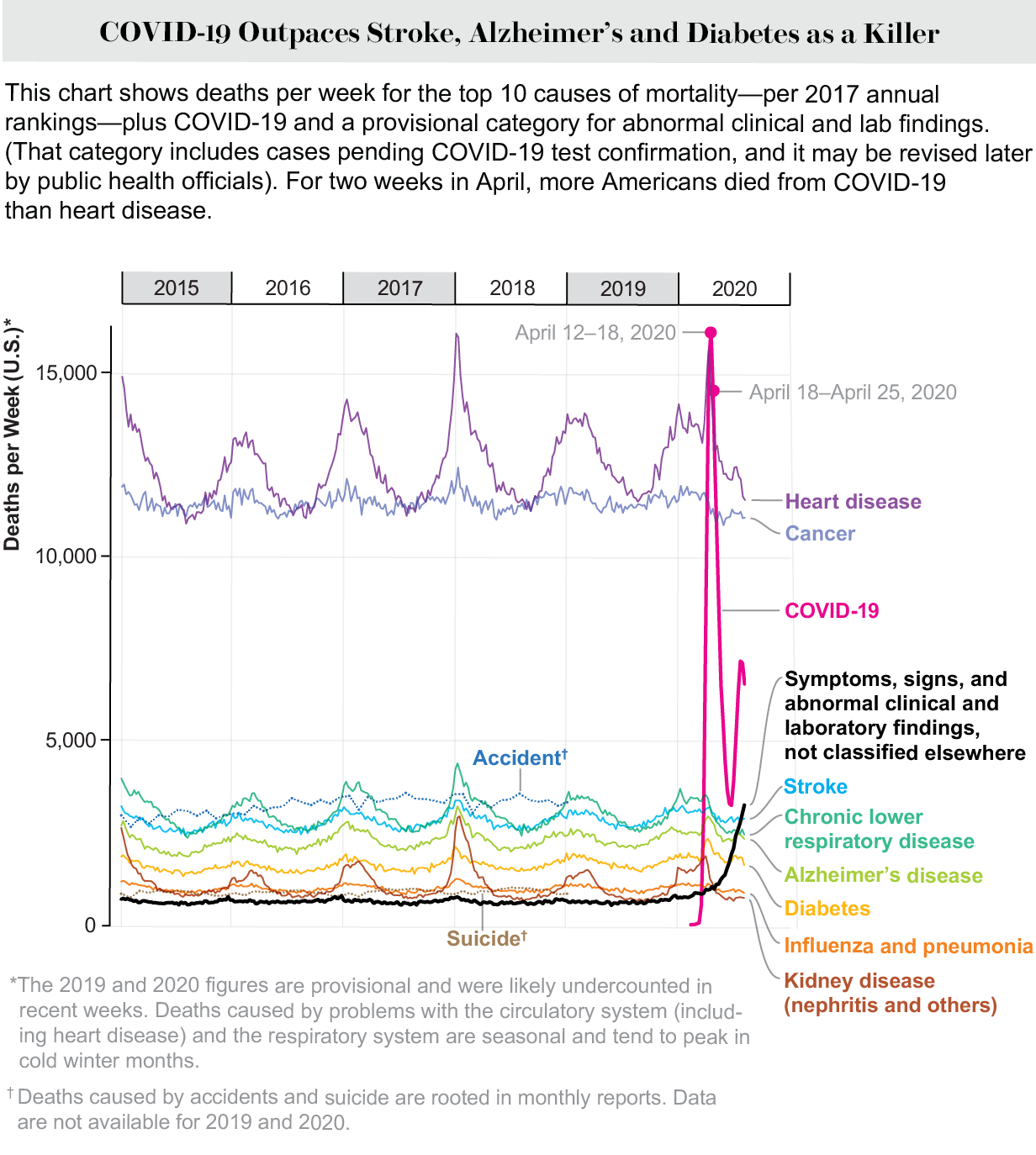 While the phrase "it will go away" is likely true (if anything, we know that the sun won't last forever, so everything on the planet is going to "go away" at some point), the reality of the situation is that a lot of people are dying from this disease and we need good public health policy to address that fact.
It should go without saying that magical thinking is not a policy.