A Webb Independent Run
Pure fantasy.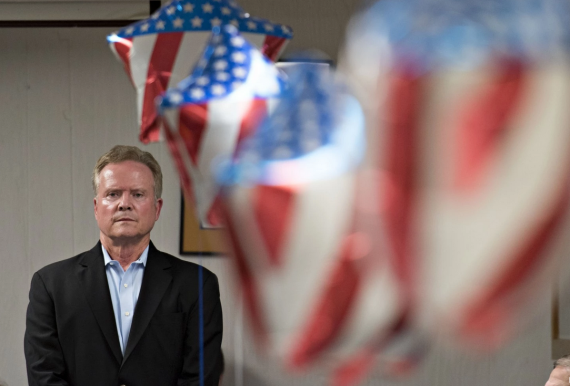 Via Dave Weigel at WaPo:  Jim Webb says he's open to independent presidential bid if 'financial support' arrives.
Let me start with "being open" and actually doing such a thing are two different issues, and the predicate about money is no small one.  I would note that a) he didn't appear to be engaging in a rigorous campaign for the Democratic nod, so I wonder as to his commitment to a full scale independent run for the presidency, and b) if he had a ready source of funding he would likely have stayed in the Democratic primary race for the time being even if he was pondering an independent run as it would have garnered him additional media attention.
Beyond that, there is this flawed thinking by Webb during a radio interview:
"If you look at the numbers, independents kind of top out at 20 percent. But the political landscape is so chaotic that if it looked like this could be done, and we could get the right financial support – done, meaning successful – then I think we'll take a shot."
As I have noted before, and as any political scientist familiar with this question at all will tell you:  just because someone identifies in a poll as "independent" or "moderate" does not mean that they are not consistently a partisan (a D or an R) when it comes to voting patterns.  And, further, it does not mean that their partisan loyalties are easily swung hither and yon.  Moreover, more voters understand (even if they don't sit around actively thinking about it) that our electoral system forces them to choose to between the top two candidates because a vote for a third party is a) unlikely to lead to that third party candidate winning, and b) it might well lead to one's least favorite preference winning (ask a bunch of Nader voters from Florida circa 2000 about this).
If we were to eliminate the electoral college and then go to a two-round absolute majority system or an instant run-off, these "independents" might behave a little differently in the first round (indeed, I expect they would), but they are going to overwhelmingly vote D or R in November 2016 under our current system.  Indeed, a brief history lesson:  one of the most successful third party candidacies of all time, Ross Perot's 1992 bid for the presidency, garnered about 19% of the popular vote and it won him zero (yes, zero) electoral votes.  Jim Webb is no Ross Perot, but even if he was (support-wise), he isn't going to 1600 Pennsylvania Avenue.  BTW:  the only candidate currently in the race who could come close to replicating Perot would be Trump if he goes against his pledge and runs as an independent.  Even then, he would not win 19% of the popular vote–although he would be more successful than the typical third party candidate.
The only interesting question about a Webb third party run (were it to happen) is: from where would he pull votes?  I think he is more likely to take votes away from the GOP candidate than he is from the Democrats.  (Either way, it will be a meager amount should the scenario come to pass, which I think it highly unlikely in any event.