After Shakeup, Romney And Palin Lead GOP Field
Gallup takes the first look at the GOP field after Huckabee, Trump, and Daniels dropped out.
Over the past two weeks three potential candidates for the GOP nomination in 2012 have bowed out of the race, and now Gallup is out with the first real snapshot of the new field:
Mitt Romney (17%) and Sarah Palin (15%) now lead a smaller field of potential Republican presidential candidates in rank-and-file Republicans' preferences for the party's 2012 nominee. Ron Paul, Newt Gingrich, and Herman Cain essentially tie for third, with Cain registering 8% support in his initial inclusion in Gallup "trial heat" polling. Notably, 22% of Republicans do not have a preference at this point.

The May 20-24 poll is the first update of Republican nomination preferences after a recent flurry of activity in the race for the 2012 nomination, with several formally declaring their presidential candidacies, including Paul, Gingrich, Tim Pawlenty, and Cain.Perhaps as significant were the decisions by Mike Huckabee, Donald Trump, and Mitch Daniels to forgo the race. In Gallup's April update, Huckabee and Trump were the co-leaders, with Huckabee placing first in the other Gallup updates this year.

Of the 10 candidates included in the newly reduced list, 7 have either officially announced their candidacies or established exploratory committees. Jon Huntsman and Michele Bachmann are nearing decisions and are expected to get in the race, while Palin's status as a candidate is less certain.
Here's the chart:
Some observations about these new numbers:
Before Huckabee and Trump dropped out, most polls showed three, or four, candidates in double digits. Now we've got three  (Romney, Palin, and Paul) with a bunch of guys bringing up the rear. To the extent the people who were responding Huckabee and Trump in previous polls chose anyone, they don't seem to be grouping behind a single candidate at this point in the race
Herman Cain, who was garnering no better than 3-4% in previous polls, is now up in the 8% range, which is likely a reflection of the bandwagon that has developed around him over the past several weeks among some conservative Republicans and Tea Party members. Momentum? Or just a blip? Time will tell
Tim Pawlenty, who desperately wants to be considered a top tier candidate like Romney and Palin, isn't getting close to there so far. He was a 3% in the previous Gallup Poll, and he's a 6% now. Progress, but not much.
Ron Paul is at 10% in a national poll of Republicans. I'd hardly call him a gadfly
With 22% undecided and many, many months to go, there are plenty of opportunities for candidates to change the state of the race between now and 2012.
Gallup also polled the race without Palin, whose intentions remain as opaque as ever: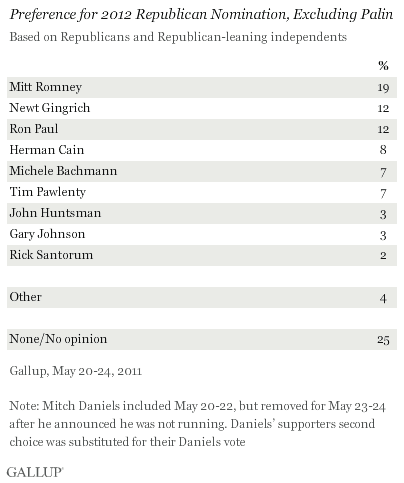 A few more observations:
Interestingly, at least at the moment, the biggest beneficiary of Palin not running would be Newt Gingrich. I don't see this as sustainable mostly because I think Gingrich has done enough to damage his own brand over the years that people are going to find it hard to pull the lever for him when the walk into the voting booth.
Other candidates that might be expected to benefit from Palin staying out — Herman Cain and Michele Bachmann — don't pick up as much support as you might expect, but that could be a reflection of their low name recognition at this point in time.
Tim Pawlenty still isn't exciting anyone
There's Ron Paul at 12%
And, 25% undecided? That means this race would be almost anyone's to win
Finally, it's interesting that, despite the fact that he is in many ways Public Enemy No. 1 among conservative and Tea Party activists, Mitt Romney remains at the top of the polls. Yes, a large part of it is likely due to name recognition and the GOP's habit of giving the nomination to the next person in line. However, it's also a reflection of the fact that the Republican electorate, at least nationally, is made up of more than just hard-core conservatives and Tea Party activists. If Romney ends up with a field where he's the dominant "regular" Republican and there are one or two (or more) candidates that appeal to the conservative base dividing up the rest of the vote, he may just end up with a clear path to the nomination.