After Threats From DOJ, Texas Lawmakers Shelve Bill To Ban TSA Grope Searches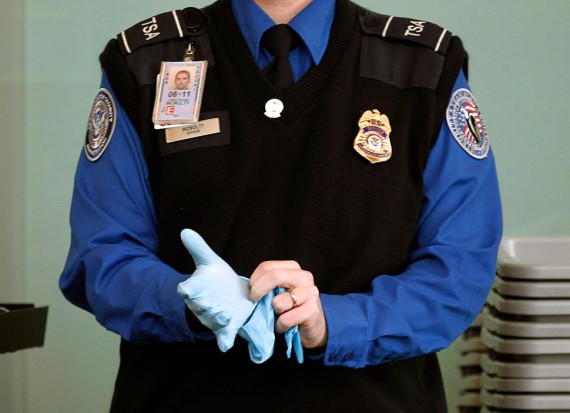 I noted last week that the Texas Legislature was considering a bill that would have made the Transportation Security Administration's intrusive body searches illegal. Well, after threats from the Department of Justice that such a law could jeopardize interstate air travel into the state, they've decided to shelve the bill:
Texas state lawmakers have shelved a bill to outlaw controversial airport pat-downs.

The legislation, which would have made it illegal for Transportation Security Administration agents to perform hand searches at airport security checkpoints unless there was probable cause, was approved by the Texas House.

But the U.S. attorney general's office threatened to cancel flights to Texas if the bill passed, the Fort Worth Star-Telegram reported this week, and that was enough to give Texas senators cold feet.

Under the proposed legislation, TSA agents would have been charged with a misdemeanor crime and received a $4,000 fine and one year in jail. If it had been approved and Texas Gov. Rick Perry had signed it, it would have been the first state law restricting TSA's security techniques.

TSA argued the proposed legislation was unconstitutional, and in a letter from U.S. District Attorney for Western Texas John Murphy to senators, the Department of Justice said the law could have unintended consequences.

"This office, as well as the Southern, Northern and Eastern District of Texas United States Attorneys, would like to advise you of the significant legal and practical problems that will be created if this bill becomes law," Murphy wrote in a letter dated May 24.

"If HR 1937 were enacted, the federal government would likely seek an emergency stay of the statute," Murphy's letter continued. "Unless or until such a stay were granted, TSA would likely be required to cancel any flight or a series of flights for which it could not ensure the safety of the passengers and crew."
As outrageous as the Federal Government sounds, I think it's fairly clear that they were on the right side of the legal argument here. The Supremacy Clause of the Constitution would, it seems to me, clearly bar the states from trying to regulate the behavior of Federal Government employees, especially when they are acting in accordance with their official duties and under a policy developed by a Federal Government agency. Had the bill become law, it most assuredly would have been the subject of an immediate Federal Court stay at the very least. The threat to cancel flights? Yea, that might have been a bit much.
Still, I applaud any effort to bring this atrocious policy to public attention. Now, if only Congress would act.