Alabama Beats Georgia, Back to Playoff
An epic but improbable win.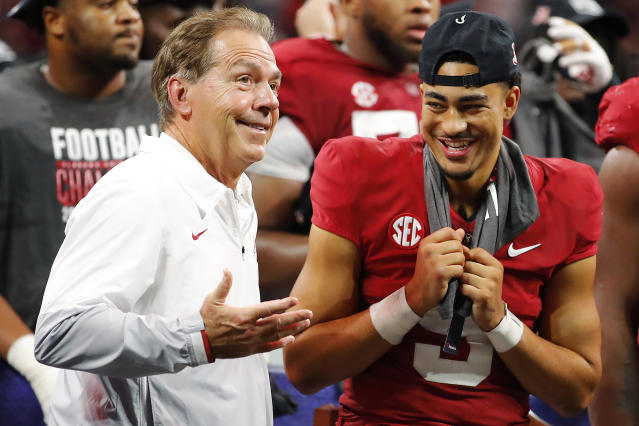 The 2020 Crimson Tide football team was one for the ages. Alabama won its 6th championship under Nick Saban, cementing his legacy as the greatest coach in college football history. In a pandemic-shortened season that probably shouldn't have happened, the team went undefeated through an all-SEC schedule and then dominated Notre Dame and Ohio State in the playoffs.
But that was a special collection of talent. DeVonta Smith, the second-best wide receiver on the roster at the start of the season, won the Heisman Trophy. His quarterback, Mac Jones, and running back Najee Harris were on the virtual stage with him. Those three and three others—the aforementioned better-than-the-Heisman winner wideout, Jaylen Waddle, who got injured early in the season, corner Patrick Surtain II, and offensive lineman Alex Leatherwood went in the first round of the NFL draft. Offensive lineman Landon Dickerson and defensive tackle Christian Barmore went early in the second. That's eight players in the first 38 picks of the draft.
While we had high hopes for this team, it's hard to replace that many stars, including the heart of the offense. But, after a dominating 44-13 over a highly-ranked Miami team in the opener, we thought we hadn't missed a beat. A close 31-29 win over Florida a couple weeks later gave us pause but they were a tough opponent. (They collapsed afterward, so much so that they fired their head coach.) And, after a 42-21 blowout over Lane Kiffin's Ole Miss team, we thought we were going to cruise to another title.
The next week, though, a tough road loss to Texas A&M brought us crashing to reality. While it ended 41-38, with the Aggies needing a last-second field goal to clinch the win, Bama had seemed lost most of the night. It ended a 100-game streak of wins over unranked opponents (although, ironically, they turned out to be a good–and ranked—team). It ended a ridiculously-long unblemished streak of Saban when facing teams coached by his former assistants. But, hey, maybe it was the wake-up call that the team needed to get into high gear.
Blowout 49-9 and 52-24 wins over Mississippi State and Tennessee followed, giving us the impression it had. Then, the team had a bye week before hosting an LSU Tigers team that had already fired its head coach. It took everything the team could muster to pull out a 20-14 victory, ending a ridiculously long string of games scoring 30 points or more. After blowing out a New Mexico State team we had no business playing, we limped to a 42-35 win against Arkansas and clinched the SEC West and a spot in the SEC Championship Game.
Then, Saban unleashed one of his epic rants. He called out "self-centered" fans for complaining about close wins. That this went against everything Saban had been preaching since arriving in Tuscaloosa—it's about the Process, not the scoreboard—was immaterial. He was sending a message to his players that he had their back and knew they were working their tails off to win.
The next week, it took a comeback for the ages and four overtimes to knock off in-state rival Auburn, 24-22.
That set up yesterday evening's game against Georgia, who was having its own magical season. Led by Kirby Smart, who was Alabama's defensive coordinator for the first three of its Saban-era championships, it had dominated opponents with the best defense college football had seen in years. And its offense had steadily improved.
I had been telling people for weeks that I thought Bama had "a puncher's chance" to win the game. But, if I'd had to bet my house on it, I'd have gone the other way. In a Zoom call yesterday morning with a gang of Alabama fans, I predicted a 27-24 win, but allowed it could easily go 27-24 the other way.
Instead, after falling behind 10-0 a play into the second quarter, Alabama put on a show. It completely dominated Georgia, putting up 41 points to the Bulldogs' 24. First-year quarterback Bryce Young set new SEC Championship Game records and almost certainly locked up a Heisman of his own.
The selection committee is meeting as I write and will announce the bracket for the four-team Playoff that kicks off on New Year's Eve at noon. Most expect Alabama to be the #1 seed and face #4 Cincinnati. Michigan and Georgia will likely be #2 and #3 but the order only determines which will be the nominal "home" team and select their jersey color. If that's the way it lines up, the odds strongly favor an Alabama-Georgia rematch for the national championship in Indianapolis on January 10. Beating Georgia twice with everything on the line will be daunting, indeed. But I'm definitely not counting Saban and company out.