AM Radio's Slow Demise
Car manufacturers are slowly removing an old format.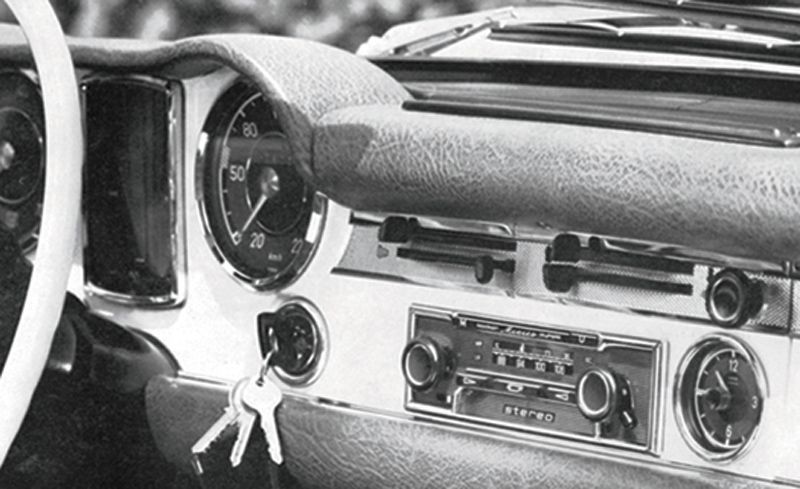 WaPo's Marc Fisher reports on the "End of a love affair: AM radio is being removed from many cars."
America's love affair between the automobile and AM radio — a century-long romance that provided the soundtrack for lovers' lanes, kept the lonely company with ballgames and chat shows, sparked family singalongs and defined road trips — is on the verge of collapse, a victim of galloping technological change and swiftly shifting consumer tastes.

The breakup is entirely one-sided, a move by major automakers to eliminate AM radios from new vehicles despite protests from station owners, listeners, first-responders and politicians from both major parties.

Automakers, such as BMW, Volkswagen, Mazda and Tesla, are removing AM radios from new electric vehicles because electric engines can interfere with the sound of AM stations. And Ford, one of the nation's top-three auto sellers, is taking a bigger step, eliminating AM from all of its vehicles, electric or gas-operated.

Some station owners and advertisers contend that losing access to the car dashboard will indeed be a death blow to many of the nation's 4,185 AM stations — the possible demise of a core element of the nation's delivery system for news, political talk (especially on the right), coverage of weather emergencies and foreign language programming.

"This is a tone-deaf display of complete ignorance about what AM radio means to Americans," said Michael Harrison, publisher of Talkers, a trade journal covering the talk radio industry. "It's not the end of the world for radio, but it is the loss of an iconic piece of American culture."

For the first hundred years of mass media, AM radio shaped American life: It was where Franklin D. Roosevelt delivered his fireside chats; where a young Ronald Reagan announced Chicago Cubs baseball games; where DJs such as Wolfman Jack along the U.S.-Mexico border, Larry Lujack in Chicago, Alan Freed in Cleveland, "Cousin Brucie" Morrow in New York City and Don Imus in California, Texas, Ohio and New York howled, growled and shouted out the latest pop hits.

Through the snap and crackle of distant lightning and the hum of overhead power lines, AM radio's sometimes-staticky signal dominated the country's soundscape. From the 1950s into the 1970s, Top 40 hit music stations in many big cities maintained astonishing shares of the audience, with 50 percent and more of listeners tuned to a single station, meaning that people could walk along a city sidewalk and hear one station continuously blasting out of transistor radios, boomboxes and, above all, car radios.

But technology moved on, and the silky smooth sound of FM radio and then the crystal digital clarity of streaming stations and podcasts narrowed AM's hold on the American imagination.
I would note that "into the 1970s" was half a century ago. Cars have had FM radio, which not only sounded better but doesn't cut out when you go through tunnels and underpasses, since the 1950s and the ability to play external media (8-tracks, cassettes, CDs, MP3s, etc.) since the 1960s.
It has been argued for decades that Rush Limbaugh, and the wave of imitators that followed, almost single-handedly saved AM radio. The talk format doesn't need the same level of sound quality and has the benefit, for long-haul truckers and the like, of staying in range for a very long time if the station's signal is strong.
But times change. Technologies adapt. It's been a while since auto companies installed 8-track players.
All of our cars have AM/FM players but I can't recall the last time I intentionally tuned into terrestrial radio. I listen almost exclusively to podcasts or music that I stream from my phone. So, the only time I "listen" to AM or FM radio is when the car has disconnected itself from the phone and I have to reestablish the Bluetooth link.
Regardless, folks are complaining.
[M]any AM stations don't offer alternative ways to listen to their shows. Even those that do say their audience, much of which is older, tends not to be adept at the technologies that let drivers stream anything they choose from their smartphones into their car's audio system. And despite the growing popularity of podcasts and streaming audio, a large majority of in-car listening remains old-fashioned broadcast radio, according to industry studies.

The removal of AM radio from cars — where about half of AM listening takes place — has sparked bipartisan protests. Some Democrats are fighting to save stations that often are the only live source of local information during extreme weather, as well as outlets that target immigrant audiences. Some Republicans, meanwhile, claim the elimination of AM radio is aimed at diminishing the reach of conservative talk radio, an AM mainstay from Sean Hannity to Glenn Beck to dozens of acolytes of the late Rush Limbaugh. Eight of the country's 10 most popular radio talk shows are conservative.

"The automobile is essential to liberty," right-wing talk show host Mark Levin told his listeners last month. "It's freedom. So the control of the automobile is about the control of your freedom. They finally figured out how to attack conservative talk radio."
Yes, Mark, Ford is conspiring to take you off the air.
The emergency weather argument is at least worthwhile:
One evening this spring, when severe thunderstorms rolled into Bryan, Tex., with tornadoes threatening parts of the area, Bill Oliver, the news director at WTAW, the area's century-old AM station, connected to the studio from home and stayed on the air deep into the night, giving listeners details on which neighborhoods and streets were in a twister's path.

Through most of the day, WTAW pumps out the same right-wing nationally syndicated talk that dominates the AM dial in much of the country — Hannity, Beck and Limbaugh's successors, Clay Travis and Buck Sexton. But the station's morning show is all local: It's three hours of news (the top story one day last week was the town's acquisition of three new firetrucks), talk (the mayor comes on every week to take calls from listeners) and community (the director of the local theater spent nine minutes talking about the shows she's staging this season).

"We may not be the first station you turn to, but when the weather's bad, when the game is on, when you need to know what's happening where you live, we're the only place," said Ben Downs, the owner and general manager of WTAW, which serves the twin cities of College Station and Bryan. "AM is where news and talk have gone to live. And in the great American Midwest, agricultural radio is on AM. Our audience has gotten older, but when something big happens, everyone in town knows where to turn."

Downs's company, Bryan Broadcasting, owns 15 stations in town, most on FM, but WTAW is his No. 1 revenue producer and the only one that employs news reporters and a meteorologist. That's a rarity on any commercial station these days, after waves of corporate consolidation and budget cutting over the past three decades stripped much of American radio of its local content.

But broadcasters say that in most markets, there's at least one station, usually on AM, that, like WTAW, stresses its local ties, covers weather emergencies and promotes community causes.
But are they sitting in their cars when they do so?