America Cramped By Defensiveness?
Is America's focus on defense weakening the country?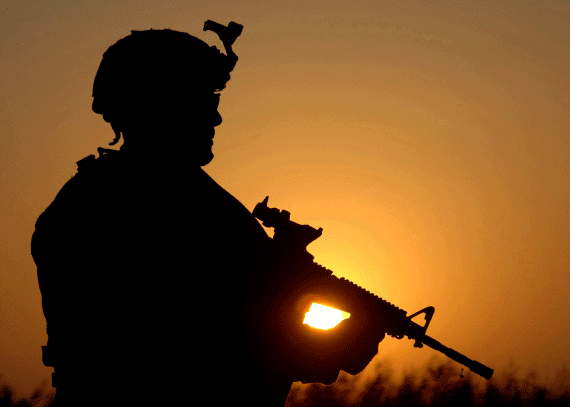 Peter Munson, a Marine major, author, and editor of Small Wars Journal, argues in the Washington Post that America's focus on defense is weakening the country.
Over time, as I listened to the squabbling, I realized that about the only thing Americans agree on these days is gratitude bordering on reverence for our military. It troubled me that the sum total of consensus in our discourse is deference toward the defenders of our nation.

Eventually, it dawned on me that the focus on defense was the root of our problem.

After the Sept. 11, 2001, attacks, the United States sent its military off to war and fretted about post-traumatic stress disorder — but paid little attention to the fact that America itself was traumatized. Americans became angry and withdrawn. We are fearful and paranoid because after a strike on our nation we chose to focus on defense rather than the resilience and vitality that made America great. In our defensive mind-set, we bristle at every change in a world undergoing an epochal transformation.

We have little reason to be so negative. Certainly the rest of the world is gaining on us, but this represents the success of explicit U.S. policies. After World War II, the United States sought to create a world of economic interdependence and prosperity, hoping to banish the malaise that helped precipitate a global conflict. The prospect of rapid growth in the developing world was not viewed as a threat but rather offered the promise of robust markets for American goods and ingenuity. We were confident and focused on the positive tasks of expanding our economy rather than fearing change.

Collectively, we have lost that positivity — what historian Louis Mumford called an "inner go." Mumford was referring to the Romans, who in their decline focused only on security and stability, losing the vitality to embrace change and take risks. In our increasingly paranoiac discourse, we too have lost focus on the positive, creative tasks that continuously remake American power, resilience and vitality. We cannot agree to invest in education for our children or in infrastructure for our commerce, to rationalize the regulations that underpin our markets or to act collectively to create value. Instead, we hunker in a defensive crouch.
Munson is right about the symptoms, although I'm doubtful that he's correctly identified the cause. While I agree with him—indeed, have written many times over the years—that the deification of military service is corrosive and that we spend far more on defense than is necessary to secure our global interests. Further, I agree that we've over-learned the lessons of the 9/11 attacks, seeing existential crises where mere annoyance be. And I think (I don't know whether Munson agrees) that we've sacrificed too much liberty in response to this paranoia over weak enemies. And, sure, spending $800 billion a year on the military crowds out spending on other things, at least to the extent that we're concerned about actually paying for the government we consume.
But I don't think the security state is the main reason for—or even a significant contributor to—our divisiveness or our lack of investment in infrastructure and human capital. Rather, we have a huge cultural and ideological divide on a whole host of issues. A large swath of the country sees advanced education and scientific research as a secular plot against their way of life. Such things as high-speed rail, commonplace in much of the advanced world, are a hard sell here. Partly, it's a function of our vast size and sparse population outside of a handful of urban centers. But many see public transit as a socialist plot to take away their freedom. Conversely, while there's a pretty general consensus on the value of roads, there's a significant and powerful group that sees investment in them as a subsidy to sprawl, pollution, and myriad social ills.
I'm even more skeptical of the close:
Defense is an act of negation. It brings no victory, instead making us fearful, paranoid, angry and uncooperative. Our negative, defensive outlook has colored our politics, hampered our economy and hamstrung our strategies. Individually, many Americans retain inner go — the unswerving view of our changing world as an endless fount of opportunity. Collectively, however, we must regain our lost focus on a positive vision for the future. We must exalt those who create value in our society: parents, teachers, workers, builders, entrepreneurs, innovators. We must go forth confident that we can lead a changing world by continuing to create, by working together and by living the sorts of fearless lives that our fallen lived.

A nation cannot survive on defense alone. Militaries and wars produce nothing. They only consume — time, lives, resources and hope. That day in the classroom in 2010, looking across the sea of young, diverse faces and hopeful eyes untainted by cynicism, I saw promise for a positive, creative America. When I decided to focus on that promise, the darkness lifted. It can lift for all of us. America, thank your military by building something worth defending. Banish the fear, paranoia and dissension. Lead again.
While they're public employees, military personnel are, in essence, service providers. We're likely over-providing that service. And it's quite arguable that the wars in Iraq and Afghanistan have had a horrible return on investment compared to alternative public works programs we could theoretically have funded instead. But while our security is not nearly as imperiled as some constantly claim, the fact of the matter is that America's ability to project power does provide a massive public good. The Navy's contribution to maintaining freedom of the seas is taken for granted because it's so seldom challenged; but its presence means that there are only nuisance threats to the flow of commerce. And there's a significant benefit to the deterrent provided by our capabilities.
Moreover, there's no evidence that our over-spending on defense has had an opportunity cost aside from added service to the debt. That is, if we had rationalized our spending over the past two decades—and even avoided the war in Iraq and kept the Afghanistan fight to a punitive expedition—we'd have saved a lot of money and lives. But we almost surely wouldn't have invested the money saved in education, training, science, and infrastructure.