American Exceptionalism in Choosing the Head of State
We are truly exceptional in how we choose the president.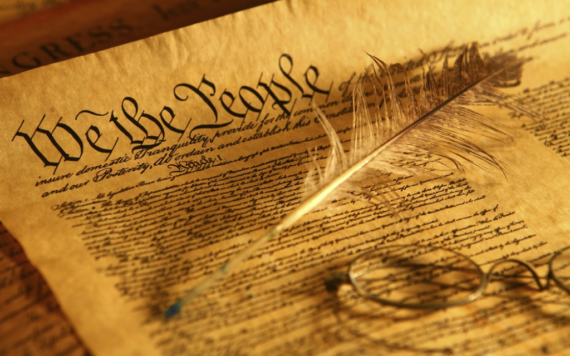 From the Pew Research Center's FactTank comes something we knew, but with cool graphics: Among democracies, U.S. stands out in how it chooses its head of state.
And: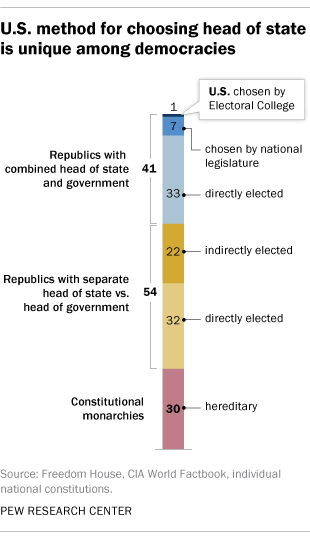 Note that in this context "republic" means that the head of state is not a monarch (which is true of other contexts as well, but people can get a bit weird about that word).
Note in republics with an elected, separate head of state, they often have only ceremonial powers (which is especially true in the cases with indirect election).
In regards to the other seven cases with indirectly elected heads of state who are also heads of government, they are as follows:
Besides the U.S, the only other democracies that indirectly elect a leader who combines the roles of head of state and head of government (as the U.S. president does) are Botswana, the Federated States of Micronesia, the Marshall Islands, Nauru, South Africa and Suriname. (The Swiss collective presidency also is elected indirectly, by that country's parliament.)
Basically in all cases, save the US, the indirectly selected head of both state and government is chosen in a way that gives legislative majorities the say (which should, in turn, reflect majority preference in their countries).
Of course, the populations of the Federated States of Micronesia (~105k), the Marshall Islands (~53k), and Nauru (~13k) are all too small to be useful for this kind of comparison. Even Suriname, which has a population of less than 600k, is a pretty different kind of state.
Botswana, South Africa, and Switzerland are all parliament-selected presidents. South Africa's can be removed by a vote of no-confidence, so it really is more like a Prime Minister. I am unsure as to whether this is true of Botswana's president.
Switzerland has a unique collective executive (the Federal Council), the head of which (for a one-year term) is the President.
The closest example to the United States was Argentina, which used an Electoral College under its 1853 constitution. While it was used for a number of elections, really the only two that could be classified as fully democratic were in 1983 and 1989. That system was replaced via constitutional reform in 1994.
The system was similar to the US in that there was some disproportional distribution of electors to the provinces (Argentina is a federal system): each province gets two senators and then get representatives based on population. A difference is that the number of electors was allocated by doubling the number of senates plus reps per province. This meant that the advantage for smaller provinces was diminished to a degree. Another major difference was that the provincial electoral vote was awarded proportionally (no unit rule, so if candidate X won 52% of the province-level vote, that candidate would get only 52% of the EV, rather than 100% of them, as is the case in the US).
On another comparative note, Rice Political Scientist Mark Jones noted, in a broader study of the issue of elected presidents noted that out of over 100 cases of elected presidents, most use processes that require an absolute majority:
Today, there are fewer than a dozen presidential electoral democracies
that continue to employ the plurality formula to elect their president, with the most prominent examples being Mexico, the Philippines, South Korea, and Taiwan.

Source: Mark P. Jones. 2018. "Presidential and Legislative Elections." The Oxford Handbooks of Electoral Systems.

And while uniqueness can mean something is superior, it is hard to make that argument here. None of these systems, as varied as they are, is like the US Electoral College. Importantly, none of them, even though they are indirect in their process, allow the minority to choose the president over the objection of the majority.
I think that last point needs underscoring: it is not just that a plurality can elect our president, or that we could have a minority government (such as happens in parliamentary systems at times), but we have a system wherein the minority of voters can select the president at the same time the same process tells us what a clear plurality of voters want.