American Political Violence Rare
While our politics are seldom violent, our violence is often politicized.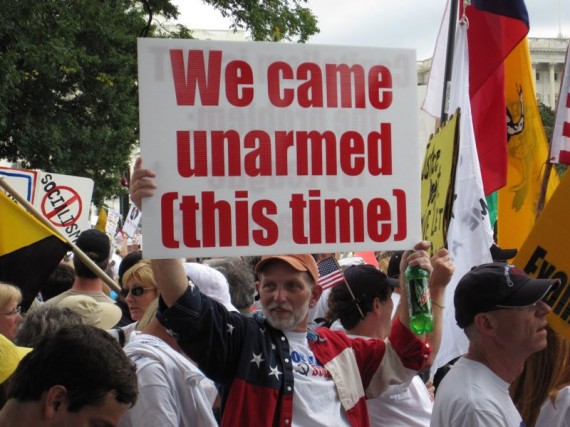 Responding to over-the-top statements by Ian Bremmer and other normally thoughtful observers about America's out-of-control politics, Dan Drezner rounds up the evidence showing "The rarity of American political violence."
I commend the piece to you in its entirety but want to draw especial attention to two pieces Dan mentions.
James Pethokoukis asks, "Is America growing politically unstable?" He answers, in part:
[P]olitical violence has been rare in the United States in recent years. That's despite the disputed 2000 presidential election, the unpopular Iraq war and the election of the first black president.  Indeed, the World Bank ranks America above the UK when it comes to "political stability and absence of violence." And the U.S. rank has actually been on the rise in recent years.

That ranking partly reflects the fact that even heated talk doesn't cause instability. But if the freedom to indulge in such rhetoric and to protest is curtailed, it can be a different story — one reason, perhaps, why China receives low marks from the World Bank. So it's disturbing that some in Congress are already working on new laws to limit political speech, in addition to ongoing attacks on talk radio. Those efforts, if they move toward limiting legitimate expression, should worry global investors far more than a one-off lunatic act, however shocking its results.
Adam Serwer adds:
Political violence in the United States has never been more illegitimate. There was a time when a member of Congress could walk into the Senate and beat a political rival senseless and walk away unmolested. The South was once a place of unrestrained terrorist violence conducted with the tacit approval of local authorities. Even when those authorities were brave or responsible enough to press charges, securing guilty verdicts would be difficult because of a local culture willing to accept crimes committed in service to white supremacy. We live in a time where no major political movement would be willing to openly justify such behavior.

This is why, in the aftermath of the incident, both the left and right began placing the blame on the other side. While liberals pointed to the tone or right-wing discourse, conservatives sought to "depoliticize" the incident by pointing to evidence of Loughner's mental illness.
Then again, he continues, while our politics are seldom violent, our violence is often politicized:
If the shooter had been a member of a Mexican drug cartel as some conservativesassumed, they would be calling for stricter immigration laws and blaming the White House for lax enforcement. If the shooter had been named "Mohammed," no amount of evidence of mental illness would have persuaded conservatives that Islam wasn't the culprit and that the administration's terrorism policies had failed. Instead, the shooter appears to have lurked on the extremist fringe of right-wing politics, much like Byron Williams and James von Brunn, and so conservatives are calling for a calm and reasoned assessment of the facts. The guilt is individual, rather than collective.

They're right; we should be careful not to let the heat of the moment push us into making rash decisions about how to respond to these kinds of incidents. It just isn't what they would have said had the circumstances been different.
And vice versa, of course.  Democrats immediately seized on the issue to score political points against the Right.  It's a perfectly natural tendency, if one I'd love to see restrained.