American Politics Has Become Horrible, Predictable, And Utterly Boring
Even for political junkies, the thrill seems to be gone.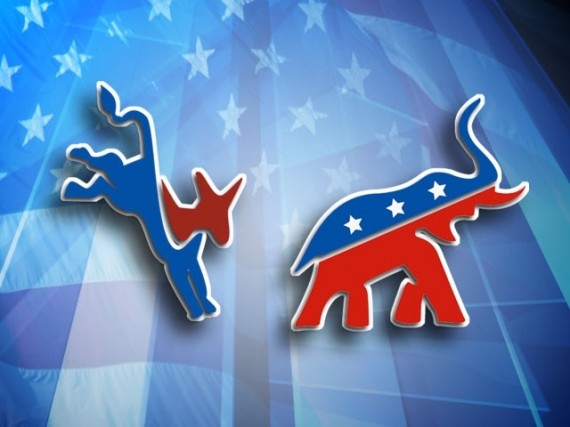 Last week, George Packer at The New Yorker came out, as a political journalist who isn't at all looking forward to the 2016 election:
It might not be wise for a sometime political journalist to admit this, but the 2016 campaign doesn't seem like fun to me. Watching Marco Rubio try to overcome his past support for immigration reform to win enough conservative votes to become the Mainstream Alternative to the Invisible Primary Leader—who, if there is one, will be a candidate named Bush—doesn't seem like fun. Nor does analyzing whether Chris Christie can become something more than the Factional Favorite of moderate Republicans, or whether Ted Cruz's impressive early fundraising will make him that rare thing, a Factional Favorite with an outside chance to win. If this is any kind of fun, it's the kind of fun I associate with reading about seventeenth-century French execution methods, or watching a YouTube video of a fight between a python and an alligator. Fun in small doses, as long as you're not too close.

American politics in general doesn't seem like fun these days. There's nothing very entertaining about super PACs, or Mike Huckabee's national announcement of an imminent national announcement of whether he will run for President again. Jeb Bush's ruthless approach to locking up the exclusive services of longstanding Republican political consultants and media professionals far ahead of the primaries doesn't quicken my pulse. Scott Walker's refusal to affirm Barack Obama's patriotism doesn't shock me into a state of alert indignation. A forthcoming book with revelations about the Clintons' use of their offices and influence to raise money for their foundation and grow rich from paid speeches neither surprises me nor gladdens my heart.

(…)

The reason is the stuckness of American politics. Especially in the years after 2008, the worst tendencies of American politics only hardened, while remaining in the same place. Beneath the surface froth and churn, we are paralyzed. You can sense it as soon as you step out of the train at Union Station in Washington, the instant you click on a Politico article about a candidates' forum in Iowa: miasma settles over your central nervous system and you start to go numb. What has happened is that the same things keep happening. The tidal wave of money keeps happening, the trivialization of coverage keeps happening, the extremism of the Republican Party keeps happening (Ted Cruz: abolish the I.R.S.; Rand Paul: the Common Core is "un-American"). The issues remain huge and urgent: inequality, global warming, immigration, poorly educated children, American decline, radical Islamism. But the language of politics stays the same, and it is a dead language. The notion that answers will come from Washington or the campaign trail is beyond far-fetched.
Ed Kilgore and Dylan Byers both pushed back against Packer's pessimissm, arguing that the 2016 election is likely to be consequential for one reason or another and that, from the perspective of the political journalist and/or junkie, things such as the race for the GOP nomination and the General Election itself are likely to be fun and interesting watch. Kevin Drum describes himself as being more disinterested in the day-to-day political game, but seems to largely agree with Packer:
As Packer says, American politics is stuck. It's paralyzed. Exhibit 1: We've just witnessed a historically unprecedented delay in confirming an Attorney General that everyone agrees is eminently qualified. Why? Because of a bit of clever Republican gameplaying over an abortion clause that was fundamentally trivial but great red meat for the base. When the Democratic base finally cottoned on to the game, they went predictably ballistic and everything stalled. It was all just dumb kabuki: gameplaying from Republicans, predictable outrage from Democrats, and all over a long accepted principle that bans federal funding of abortion. Two months of gridlock over trivial symbolism. And why not? Everyone knows there was nothing important that had any chance of getting done anyway.

So yeah: unless you're a horse race junkie by nature, it's pretty hard to get excited by the horse race when it has almost no chance of changing things except on the margins. This will change eventually, but probably no time soon.
More so than has been the case in any other recent election, I must say that I find myself largely agreeing with Packer's assessment of how the next eighteen months are likely to unfold. In terms of the "horse race" side of politics, the Democratic side of the aisle holds no real interest at all at this point. Barring some momentous development, it is blindingly obvious that Hillary Clinton is going to be the Democratic nominee for President. The only people who don't seem to be willing to publicly accept that are the few naive souls being Ready For Warren, Martin O'Malley, and conservatives who seem to think that talking down Hillary Clinton's chances in the Democratic race somehow helps the GOP in a General Election campaign that isn't going to start for another year. Things are more interesting on the Republican side, of course, and the plethora of candidates that are entering the race pretty much guarantees that will be no need to the gaffes, negative campaign ads, and pandering to the hard right of the party that make for great fun for political bloggers. At the same time, though, it's also blindingly obvious that the GOP race is not nearly as "open" as the number of candidates would lead one to believe. In the end, the race is going to come down to a handful of candidates, probably no more than three, that appeal to both the party base and the big money donors. The most likely candidates to make up this group are Jeb Bush, Marco Rubio, and Scott Walker. The other candidates? They'll make news, and they may even peak in the polls at some point, just like candidates like Michele Bachmann and Herman Cain did during the 2012 campaign, but none of them are going to last very long, and the way delegates are allocated in GOP primaries makes it unlikely that candidates that only appeal to one wing of the party, such as Ted Cruz and Rand Paul, will ever really be contenders. The only thing that would really make the GOP race interesting is if I turned out to be wrong about that and the GOP race really turned into something that mattered while Hillary Clinton had to deal with a serious challenge from a credible opponent. But that's not likely to happen.
Even if you're not much of a "horse race" person, though, the 2016 election doesn't give you much to look forward to. More so that ever in the past, we are going to see candidates and their supporters pushing out tightly crafted messages designed largely to appeal pander to the worst aspects of their base supporters Joining them will be the SuperPACs that will be pushing messages different from those of the campaigns themselves, and far more negative. This guarantees that there will be little serious discussion of the issues facing the nation, whether we're talking about the economy, immigration, entitlements, tax policy, federal spending, the relationship between Washington, D.C. and the states, social issues, and foreign policy. Instead, we'll get prepackaged slogans, exaggerated claims, over-the-top attacks on opponents, and of course stump speech after stump speech of meaningless flowery rhetoric. Both sides will argue that this is "the most important election ever" and that their opponent will bring doom and gloom to the nation. All of this will be covered breathlessly by the always-on political media, which now exists both on cable news networks and the Internet, to the point where it will be impossible for anyone to get away from it. It is enough to make one want to completely unplug, or perhaps retreat to a desert island.
Packer is also right that this is all largely a result of the political culture we live in. To a significant degree, we live in a nation that is almost equally divided between Republicans and Democrats, liberals and conservatives. One of the things this means is that even the most trivial differences between the two sides become exaggerated to the point where compromise becomes nearly impossible. Additionally, the fact that both sides generally spend most of their time sending messages to their own bases means that they feed into the hyperpartisanship that has been created by cable news, talk radio, and the Internet to the point where it all becomes a horrible, soul-sucking, self-sustaining entity. As long as that's the case, it hardly matters who wins one election or the other, or which party controls Congress by a handful of seats, because the way the system works guarantees that the battle will continue until…..well, that's really the point. The way we fight political battles today, the only way either side can be happy is if the other side is utterly destroyed. That's never going to happen, though. There will always be Republicans, Democrats, liberals, and conservatives. They used to be able to talk to each other, but now all they seem to do is yell at each other, and as a result we have a political system that is frustrating, annoying, tiresome, and so predictable that is utterly boring.