Poland Wants To Build 'Fort Trump,' We Should Just Say No
Last week, the Polish President floated the idea of a permanent U.S. military base in Poland. It's a bad idea no matter how you look at it.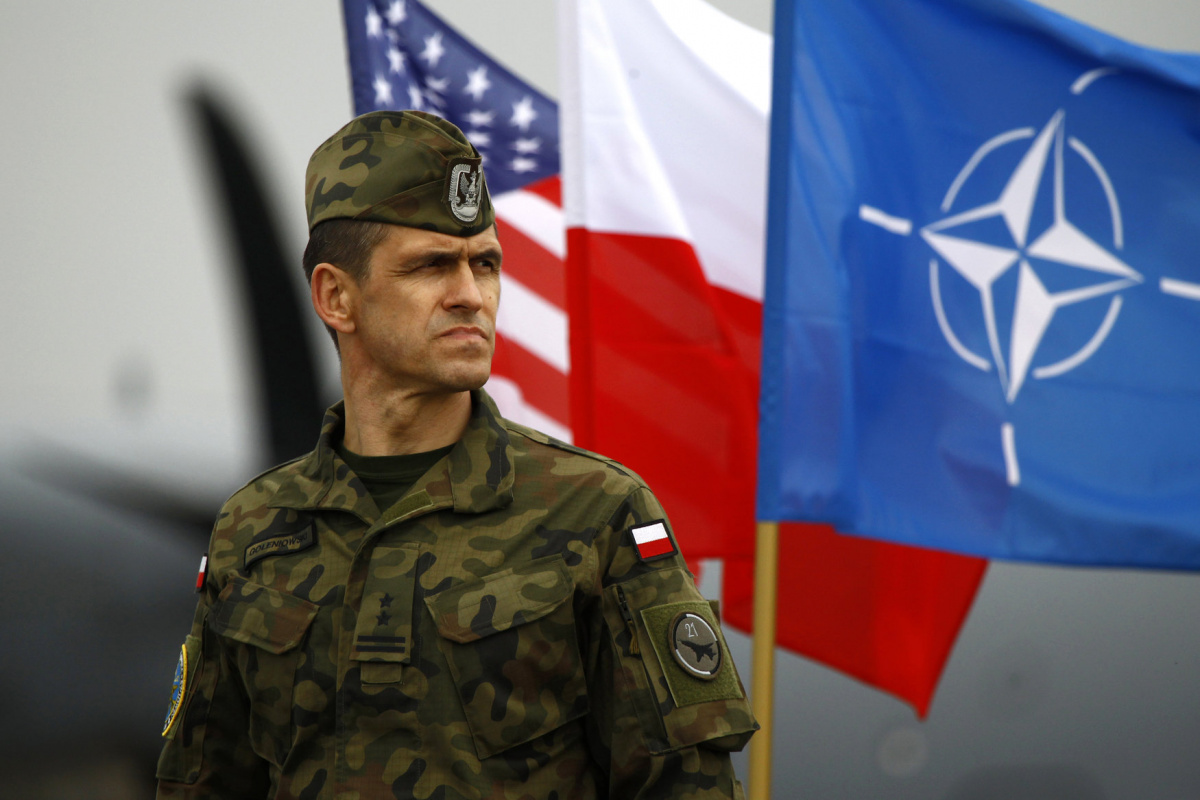 Last week, the President of Poland visited the White House and floated an idea guaranteed to stroke the ego of the incredibly vain President of the United States:
LONDON — As brand names for high-rise towers, hotels or golf courses go, it is hard to trump Trump. But what about Fort Trump, the supposedly tongue-in-cheek name President Andrzej Duda of Poland has proposed for an American military base in his country?

The Polish leader discussed that proposal with President Trump at the White House on Tuesday, trying to get traction for an idea his government has been pushing for months to deter any possible Russian aggression. The Polish government has even been willing to pay — to the tune of $2 billion.

Of course, Mr. Duda was not the first European leader to seek to curry favor with Mr. Trump by appealing to his sense of self — or by injecting an element of flattery into the geopolitics of the day.

Britain lured Mr. Trump this year with an invitation to have tea with Queen Elizabeth II. (The visit finally took place in July, but protests from Britons forced the organizers to offer a limited program that did not include the full panoply of a traditional state visit.)

President Emmanuel Macron of France invited Mr. Trump to be at his side last year during the annual July 14 parade along the Champs-Élysées in Paris — an event that so impressed the American leader that he ordered a similar parade in the United States for Veterans Day. In August, he canceled those plans, citing costs.

But Mr. Duda's comments in Washington seem to have brought little praise at home, where critics castigated him on Wednesday for what they depicted as craven behavior.

"President Duda decided to take advantage of Trump's vanity and came out with this Fort Trump," Barbara Zdrojewska, a Polish senator, said on Twitter. "Had he done it in a private conversation, jokingly, it would have been a crafty move, but blurting it out during a news conference in front of half of the world was pathetic. He humiliated himself, us and Trump."

Tomasz Siemoniak, a former defense minister who is now a senior member of the biggest opposition party, Civic Platform, also used Twitter to criticize the Polish leader: "What an embarrassment in front of the entire world! Even leaders of banana republics had more respect for themselves and their countries than President Duda does."

And Polish unhappiness over the matter only seemed to deepen with the publication of a photograph showing the two presidents, one (Polish) standing and smiling, the other (American) sitting and stern-faced.

"Didn't Poland's president deserve at least a chair in the White House in exchange for billions of dollars? Horrendous situation," Eugeniusz Smolar, an analyst at the Center for International Relations, said on Twitter.

While NATO has agreed to deploy troops in Poland, including some from the United States, the idea of a permanent American base in what was once a part of the Warsaw Pact alliance also seemed certain to annoy President Vladimir V. Putin of Russia.

The Russian leader has long chafed at Western encroachment in lands that Moscow viewed as part of its geopolitical bailiwick, including such places as Crimea, Georgia, Ukraine and the Baltic States.

But for Mr. Trump, the notion of a NATO ally paying for an American security guarantee dovetails with his campaign to redress what he has depicted as an unfair overreliance of some NATO allies on Washington's largess.

"It's one thing when we defend countries that can't defend themselves and their great people," Mr. Trump said at the news conference on Tuesday. "We should help them; we don't expect anything for that."

"But when we're defending immensely wealthy countries and they're not paying for the defense to the United States, they're only taking advantage of us," he continued. "And we get along with them very well, but it's not fair. That includes NATO."

Mr. Duda said: "I was smiling when talking to Mr. President. I said that I would very much like for us to set up permanent American bases in Poland, which we would call Fort Trump. And I firmly believe that this is possible."

It was not clear whether Mr. Trump had agreed to set up a base, and it appeared that he and the Polish leader had not finalized a price tag. Mr. Trump said Mr. Duda "offered us much more than $2 billion to do this, and so we're looking at it."

"We're looking at it from the standpoint of, number one, military protection for both countries, and also cost — a term you don't hear too often and you haven't heard too often over the last 25 years," Mr. Trump said. "But that's the way it has to be."
Lt General Ben Hodges, the recently retired former head of American forces in Europe made a strong case against the idea of a permanent base in Poland in an article in Politico back in June, as does Ted Galen Carpenter in a post at Cato@Liberty, and Daniel Larison pushes back against the idea that there needs to be a permanent base in Poland:
Putting a U.S. base in Poland isn't necessary for European security, and it would very likely create a rift within NATO. It would further antagonize Russia, and it would create one more overseas military installation that the U.S. doesn't need to have. Trump is often accused of wanting to "retreat" from the world, but his willingness to entertain this proposal shows that he doesn't care about stationing U.S. forces abroad so long as someone else is footing most of the bill.

(…)

Putting a new base in Poland doesn't make sense for the U.S., it adds nothing to NATO's security, and it would be yet another irritant in an already troubled relationship with Moscow. It's unnecessary and ill-advised, so it is more likely than not that the president will end up supporting it.
This isn't the first time that the idea of a permanent U.S./NATO base in Poland has been brought up. Earlier this year, Poland offered to pay as much as $2 billion toward the cost of an American/NATO base as an inducement. In one form or another, though, Polish governments have been lobbying American and NATO representatives for some evidence of a greater show of support from the west to counter what they believe to be a threat from Russia. Those calls became more vocal after Russia decided to seize the Crimean Peninsula from Ukraine in 2014 and began backing pro-Russian separatist forces.  In response to those subtle, and at times not-so-subtle threats, we have seen some action from the West. Just months after the Russians moved into Crimea, for example, NATO announced a plan to step up military patrols fell far short of establishing a permanent military presence close to the Russian border. This came at roughly the same time that a NATO Commander warned that continued Russian threats could result in the establishment of a permanent NATO presence in Eastern Europe, something the alliance has refrained from doing since completing its eastward expansion with the addition of Bulgaria, Estonia, Latvia, Lithuania, Romania, Slovakia, and Slovenia in 2004, Albania and Croatia in 2009, and Montenegro in 2017. One year later, it was announced that the alliance was considering pre-positioning equipment and supplies in Eastern Europe such that any future deployment could be easily supplied. In addition to all this, NATO has taken steps such as bolstering air defenses in the areas close to Russia, which the Russians have claimed crosses a "red line" of some sort. Additionally, the alliance has stepped up its training exercises in the east and the United States has expanded its military spending allocated toward Eastern and Central Europe.
Leaving aside the rather obvious effort to stroke the rather enormous ego of the President of the United States, there may be some valid military and foreign policy reasons to go forward with this idea. Michael Hunzeker and Alexander Lanoszka go through some of those arguments in an article posted this weekend at Defense One. Their first argument is that a permanent presence in Poland would enhance the deterrence against aggressive moves by Russia toward Poland, the Baltic states or any other other nations on NATO's eastern flanks. General Hodges does a good job of responding to this argument in the piece he wrote back in June, but the basic flaw in it seems to me to be the idea that it ignores the fact that establishing such a base is likely to make Russia more aggressive and belligerent, which is likely to lead to calls for an increased presence at this base, which is likely to further enhance Russian belligerence in what becomes a never-ending cycle of increasing tensions that serves utterly no purpose. Second, they argue that such a base would save American lives if a conflict broke out. This argument seems flawed both because any such conflict would likely be proceeded by a build-up of tensions that would give NATO more than enough time to rotate forces into Eastern Europe in a show of force, not unlike those noted above. Third, Hunzeker and Lanoszka argue that a permanent base "will signal that Washington is willing to sustain its focus on NATO's vulnerable northeastern flank." This isn't an unfair observation, but it strikes me that this objective can be achieved by less confrontational means than a permanent base. Finally, they argue that a base would tell other allies "that the United States helps allies that help themselves." Interestingly, this is an argument that would not have needed to be made in previous Administrations that made America's commitment to the NATO a primary part of our foreign policy. This President, on the other hand, has done everything possible to drive a wedge between the United States and its European allies, something that no doubt pleases Vladimir Putin. Taking all this into account, the argument in favor of a base is far less persuasive than Hunzeker and Lanoszka make it out to be.
Even if there were valid military and security reasons to consider a permanent military presence in Poland, it seems clear that the primary motivation for this idea is to stick a thumb in Vladimir Putin's eye. If that's the case, then this is an even worse idea than it appears to be on paper. NATO already has its hands full dealing with the increased threats that Russia appears to pose to longer standing member such as the Baltic states. Giving Russian President Vladimir Putin further reason to keep that pressure up doesn't seem to me to serve a legitimate purpose at this point in time. Even more dangerous are the proposals to add nations such as Georgia and Ukraine to the alliance. In both cases, we're dealing with nations that both sit right on the Russian border and have historic ties to Russia that should not be ignored. In Ukraine's case especially, adding that nation to NATO at the same time that pro-Russian guerrillas continue to fight in the eastern part of the country would make extending membership at this time extremely unwise and likely only to push the alliance and the United States into a confrontation with Moscow that would not be in anyone's interest. The eastward push of NATO has been widely questioned elsewhere in no small part because it arguably revives very old Russian fears about being encircled by enemies and potential adversaries. Adding to that by accepting this offer from Warsaw would be a step too far.
This isn't to say that either the United States or NATO should pander to Russian threats, of course. If there is a rational military reason for a permanent military presence in Poland or elsewhere then this could be a good opportunity to establish that. As things stand, though, it strikes me that our previously announced plans, such as pre-positioning supplies in the area and rotating troops into and out of the area for joint exercises with indigenous forces, combined with the idea that troops could easily be moved into the area if it became necessary, is a more than appropriate response for the time being. Needlessly inflaming the situation with a permanent troop presence further east in Europe than the United States or NATO have ever had such a thing could end up being more problematic than it's worth.