U.S. Poised To Store Military Equipment In Eastern Europe, Baltics
In what seems to be a clear signal to Russia, the U.S. is considering pre-positioning military equipment in nation's very close to Russian borders.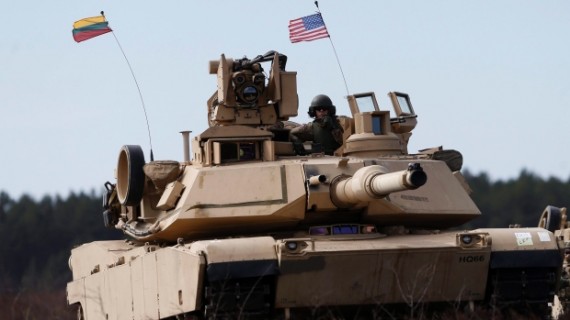 The United States is preparing to position military equipment in several Eastern European nations that are part of the NATO alliance in what clearly seems to be a signal to Russia about the alliances determination to respond to any further Russian threats against its neighbors:
RIGA, Latvia — In a significant move to deter possible Russian aggression in Europe, the Pentagon is poised to store battle tanks, infantry fighting vehicles and other heavy weapons for as many as 5,000 American troops in several Baltic and Eastern European countries, American and allied officials say.

The proposal, if approved, would represent the first time since the end of the Cold War that the United States has stationed heavy military equipment in the newer NATO member nations in Eastern Europe that had once been part of the Soviet sphere of influence. Russia's annexation of Crimea and the war in eastern Ukraine have caused alarm and prompted new military planning in NATO capitals.

It would be the most prominent of a series of moves the United States and NATO have taken to bolster forces in the region and send a clear message of resolve to allies and to Russia's president, Vladimir V. Putin, that the United States would defend the alliance's members closest to the Russian frontier.

After the expansion of NATO to include the Baltic nations in 2004, the United States and its allies avoided the permanent stationing of equipment or troops in the east as they sought varying forms of partnership with Russia.

"This is a very meaningful shift in policy," said James G. Stavridis, a retired admiral and the former supreme allied commander of NATO, who is now dean of the Fletcher School of Law and Diplomacy at Tufts University. "It provides a reasonable level of reassurance to jittery allies, although nothing is as good as troops stationed full-time on the ground, of course."

The amount of equipment included in the planning is small compared with what Russia could bring to bear against the NATO nations on or near its borders, but it would serve as a credible sign of American commitment, acting as a deterrent the way that the Berlin Brigade did after the Berlin Wall crisis in 1961.

"It's like taking NATO back to the future," said Julianne Smith, a former defense and White House official who is now a senior fellow at the Center for a New American Security and a vice president at the consulting firm Beacon Global Strategies.

The "prepositioned" stocks — to be stored on allied bases and enough to equip a brigade of 3,000 to 5,000 soldiers — also would be similar to what the United States maintained in Kuwait for more than a decade after Iraq invaded it in 1990 and was expelled by American and allied forces early the next year.

(…)

The current proposal falls short of permanently assigning United States troops to the Baltics — something that senior officials of those countries recently requested in a letter to NATO. Even so, officials in those countries say they welcome the proposal to ship at least the equipment forward.

"We need the prepositioned equipment because if something happens, we'll need additional armaments, equipment and ammunition," Raimonds Vejonis, Latvia's minister of defense, said in an interview at his office here last week.

"If something happens, we can't wait days or weeks for more equipment," said Mr. Vejonis, who will become Latvia's president in July. "We need to react immediately."

Mark Galeotti, a professor at New York University who has written extensively on Russia's military and security services, noted, "Tanks on the ground, even if they haven't people in them, make for a significant marker."

As the proposal stands now, a company's worth of equipment — enough for about 150 soldiers — would be stored in each of the three Baltic nations: Lithuania, Latvia and Estonia. Enough for a company or possibly a battalion — about 750 soldiers — would be located in Poland, Romania, Bulgaria and possibly Hungary, they said.
Along the same lines, The Wall Street Journal is reporting that the United States and Poland are in negotiations about stationing military equipment in that country:
WARSAW—Poland's government is discussing with the U.S. the placement of heavy weapons on Polish territory, Defense Minister Tomasz Siemoniak said Sunday, amid jitters over Russia's military moves in the region.

Since Russia's annexation of Crimea from Ukraine last year, Warsaw has sought a permanent presence of U.S. troops in Poland and other countries in the former Soviet bloc that are now part of the North Atlantic Treaty Organization.

"The U.S. is preparing a set of various measures, and among them the placement of heavy weaponry in Poland and other countries will be very important," Mr. Siemoniak said.

"It's relatively easy to move soldiers. It would be good, however, if the equipment was near the area of potential threat," Mr. Siemoniak said.

Mr. Siemoniak said a rotational presence of U.S. forces would be maintained at least until the end of 2016.

Pentagon spokesman Col. Steve Warren said the U.S. hasn't yet made a decision about the placement of its weaponry in the region.

"Over the last few years, the United States military has increased the prepositioning of equipment for training and exercises with our NATO allies and partners," Col. Warren said.

"The U.S. military continues to review the best location to store these materials in consultation with our allies. At this time, we have made no decision about if or when to move to this equipment," he said.

Such a move of heavy weaponry would form part of a broader campaign to counter possible Russian aggression throughout the region.

Russia has objected to any permanent presence of NATO troops in the bloc's newer members, saying it would violate tacit agreements reached in the 1990s and prompt it to put more military gear in its European exclave of Kaliningrad, bordering Poland and Lithuania.

It threatened to point its warheads at Polish targets if the U.S. puts missile interceptors in northern Poland, planned in 2018.

NATO's recent summit in Wales approved the creation of a rapid-reaction force, headquartered in Poland, that would allow the bloc to quickly move to an area of conflict if needed.

President Barack Obama said last year in Estonia that the U.S. remains committed to the defense of all of its allies, including the former Soviet satellites.

Many politicians in the region, including in Poland, have questioned whether NATO would come to the region's rescue if Russia attacked and threatened to use nuclear arms.
While much of this is being characterized as a logistical move designed to save time and resources used in moving equipment for training exercises, it's rather obvious that these moves are meant largely to send a message to Russian President Vladimir Putin. In the year since Russia turned it sights on Crimea and the Eastern Ukraine, we've also seen evidence of other threatening moves on the part of Russia in the area. The Russian press, for example, has carried stories about "concerns" over Russian ethnic minorities in Estonia and in a region of Moldova known as Transnistria. Both in the European theater and in the Far Pacific, Russia has resumed bomber patrols that had largely been suspended during the Cold War, and there have been several close call encounters between Russian fighter jets and NATO pilots in various parts of Europe. Much of this appears to be probing on Russia's part rather than an indication of a serious immediate threat, but part of that probing is arguably Russia determining just how NATO might respond to various moves. So far, at least, the alliance seems to be determined to send strong signals to Moscow. Last year, for example, American troops were sent to Poland and the Baltic States last year for military exercises, NATO began openly discussing new deployments in the area, and earlier this year a convoy of American troops made a tour of the region. Some of these, of course, were symbolic moves, but the decision to pre-position equipment is certainly a more concrete step designed at least in part to send a signal to Moscow that the alliance is prepared to increase its presence in the region if necessary.
In addition to sending a signal to Moscow, of course, moves like this seem rather obviously meant to send a signal to Poland, the Baltic States, and other NATO members in the region that their concerns about increased Russian aggressiveness. More than one observers has questioned just how willing the United States and Western Europe would be to take matters to the brink if necessary should Russia begin to threaten, say, Estonia in the same way that it did Ukraine in the run-up to the annexation of Crimea and the war in eastern Ukraine. There has been some moves by the West to reassure these nations but most of those moves have been largely symbolic. Pre-positioning equipment in the region is a more concrete step that shows that the alliance does take its commitments in Eastern Europe seriously.
It seems likely that these decisions by NATO will have their intended effect. Putin's moves of late have always seemed to me as though they were largely designed to try to drive a wedge between the western and eastern branches of the NATO alliance, but that seems to have largely failed. As long as that's the case, Putin would be stupid to make aggressive moves toward Poland or the Baltic States, and whatever else one might say about him, Vladimir Putin is not stupid. At the same time, though, it's worth keeping in mind the possibility that the situation in Europe could easily spin out of control very easily. Recently The National Interest ran two pieces, one by Dimitri Simes and Graham Allison and the other by Tom Nichols, that lay out various scenarios in which that could happen, and both of them seem like they are all too plausible. Whether this decision makes that sort of scenario more likely or not isn't clear. On the whole, I think the pre-positioning idea is a smart one that sends the right signals to the right parties. At the same time, though, we ought to be careful to make sure that the move-countermove scenario we seem to be engaged in right now doesn't spin out of control faster than we can imagine.