NATO Commander Warns Alliance May Send Troops To Eastern Europe
NATO may be preparing to send Russia a message.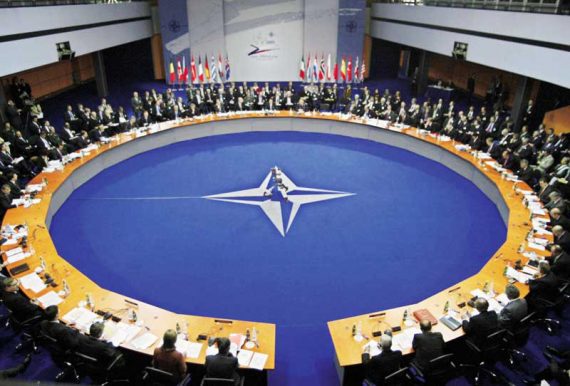 NATO's top military commander is sending an interesting message to Russia:
PARIS (AP) — NATO's top military commander in Europe, drafting countermoves to the Russian military threat against Ukraine, said Wednesday they could include deployment of American troops to alliance member states in Eastern Europe now feeling at risk.

U.S. Air Force Gen. Philip Breedlove told The Associated Press he wouldn't "write off involvement by any nation, to include the United States."

Foreign ministers of the 28-nation alliance have given Breedlove until Tuesday to propose steps to reassure NATO members nearest Russia that other alliance countries have their back.

"Essentially what we are looking at is a package of land, air and maritime measures that would build assurance for our easternmost allies," Breedlove told the AP. "I'm tasked to deliver this by next week. I fully intend to deliver it early."

Asked again if American soldiers might be sent to NATO's front-line states closest to Russia, the four-star U.S. general said, "I would not write off contributions from any nation.
These comments come while Russian forces near the border with Eastern Ukraine continue to maintain what analysts who have examined satellite photographs describe as a state more closely resembling combat readiness than the training exercises the Russians claim to be conducting. Additionally, the past week has seen an uptick in protests in large cities in eastern Ukraine such as Donetsk which have large ethnic Russian populations. Ukrainian police have cracked down on these protests as they have attempted to take control of government buildings, and in some cases succeeded. This led Russia to warn Ukraine not to crack down on protesters in an announcement that seems to have come without any sense of irony on the part of the Russians themselves.  As for Breedlove's comments, we'll have to wait to see exactly what moves NATO makes in the coming days, but sending even token forces to Eastern Europe would be the strongest signal yet to Russia that the West is not going to stand buy while it gobbles up more and more territory.
This isn't to say, of course, that we ought to push the Ukraine situation to the point where military threats are exchanged. However, it's exceedingly hard to determine exactly what game Vladimir Putin is playing here. The annexation of Crimea, after all, was based on the alleged desires of that area's Russian population and on Russia's supposed desire to protect their interests, but Crimea isn't the only part of Eastern Europe with significant ethnic Russian populations. We're already seen some Russian officials make similar comments about certain areas of Moldova, for example, and, perhaps most ominously, NATO member Estonia. How much of this is actual threat and how much of it is bluster is hard to tell, but it's worth remembering that one of the reasons that Putin made the moves in Crimea that he did is because he knew that, in the end, the West wouldn't take serious action to stop him. If he starts thinking that about other parts of Europe we could have problems on our hands that pose a far more serious threat to the interest of ourselves and our allies than the question of which flag flies over Crimea. Given that, it seems advisable to let Putin know that we're paying attention.