American Troops Posed With Taliban Corpses
The consequences of ten years of war?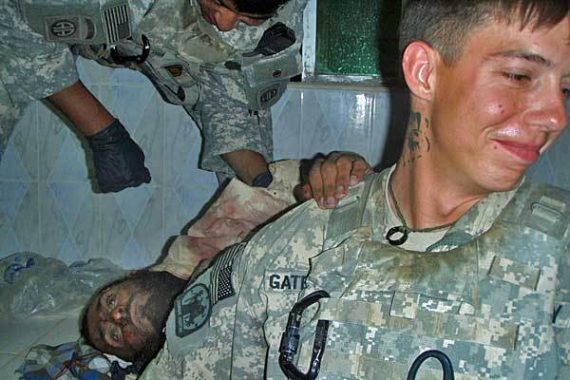 The L.A. Times is out today with another story about questionable behavior by American troops in Afghanistan that's likely to further inflame tensions between the U.S. and the Afghan population:
The paratroopers had their assignment: Check out reports that Afghan police had recovered the mangled remains of an insurgent suicide bomber. Try to get iris scans and fingerprints for identification.

The 82nd Airborne Division soldiers arrived at the police station in Afghanistan's Zabol province in February 2010. They inspected the body parts. Then the mission turned macabre: The paratroopers posed for photos next to Afghan police, grinning while some held — and others squatted beside — the corpse's severed legs.

A few months later, the same platoon was dispatched to investigate the remains of three insurgents who Afghan police said had accidentally blown themselves up. After obtaining a few fingerprints, they posed next to the remains, again grinning and mugging for photograph

Two soldiers  posed holding a dead man's hand with the middle finger raised. A soldier leaned over the bearded corpse while clutching the man's hand. Someone placed an unofficial platoon patch reading "Zombie Hunter" next to other remains and took a picture.

The Army launched a criminal investigation after the Los Angeles Times showed officials copies of the photos, which recently were given to the paper by a soldier from the division.

"It is a violation of Army standards to pose with corpses for photographs outside of officially sanctioned purposes," said George Wright, an Army spokesman. "Such actions fall short of what we expect of our uniformed service members in deployed areas."

Wright said that after the investigation, the Army would "take appropriate action" against those involved. Most of the soldiers in the photos have been identified, said Lt. Col. Margaret Kageleiry, an Army spokeswoman.

The photos have emerged at a particularly sensitive moment for U.S.-Afghan relations. In January, a video appeared on the Internet showing four U.S. Marines urinating on Afghan corpses. In February, the inadvertent burning of copies of the Koran at a U.S. base triggered riots that left 30 dead and led to the deaths of six Americans. In March, a U.S. Army sergeant went on a nighttime shooting rampage in two Afghan villages, killing 17.
We've seen incidents like this before, of course, and it is at least a good thing that once they've been brought to light the military has been fairly aggressive about prosecuting the offenders. At the same time, one has to wonder why it took some two years, and a solider willing to leak the photographs, for this to come to light. The crime is bad enough, obviously, but as we learned from Abu Gharib, the cover-up of activities that demean the statute of the military and endanger American troops is certainly not a good thing. So, in addition to identifying who was involved in these macabre photographs, it would be fairly interesting to find out who may have known about the photographs and chosen to hide them rather than bringing the offenders to justice.
The other question, of course, is what impact this will have in Afghanistan itself. We've already seen the nation erupt into riots this year over the burning of Korans by American troops, so it wouldn't be to far out of line to expect something to happen in retaliation for this action. At the same time, though, it's worth noting that we didn't really see any major retaliation for the massacre that took place last month, something that nearly everyone seemed to be expecting at the time. In any case, though, this episode, finally revealed after two years , does show us one thing. A decade at war has led to a disturbing ethos in some parts of the military, one that some in the upper echelons seemed to, if not endorse at least agree to keep quiet about. With Iraq over and Afghanistan winding down, I certainly hope that someone in Washington is thinking about what role this new wartime military will play in peacetime.