Americans Have Almost Totally Lost Faith In Government
Public faith in government institutions is at all all time low.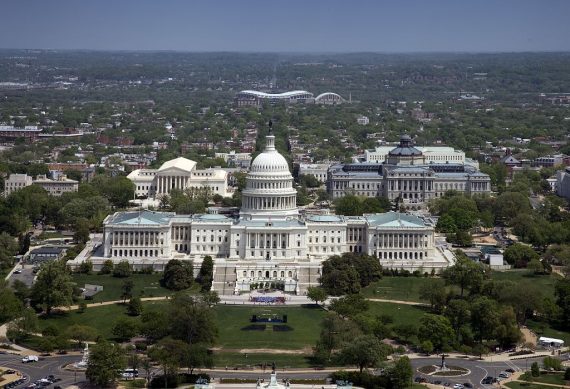 A new poll from Gallup shows that Americans' faith in the Federal Government at all levels continues to decline:
WASHINGTON, D.C. — Americans' confidence in all three branches of the U.S. government has fallen, reaching record lows for the Supreme Court (30%) and Congress (7%), and a six-year low for the presidency (29%). The presidency had the largest drop of the three branches this year, down seven percentage points from its previous rating of 36%.

These data come from a June 5-8 Gallup poll asking Americans about their confidence in 16 U.S. institutions — within government, business, and society — that they either read about or interact with.

While Gallup recently reported a historically low rating of Congress, Americans have always had less confidence in Congress than in the other two branches of government. The Supreme Court and the presidency have alternated being the most trusted branch of government since 1991, the first year Gallup began asking regularly about all three branches.

But on a relative basis, Americans' confidence in all three is eroding. Since June 2013, confidence has fallen seven points for the presidency, four points for the Supreme Court, and three points for Congress. Confidence in each of the three branches of government had already fallen from 2012 to 2013.

Confidence in the presidency is now the lowest it has been under President Barack Obama, as is confidence in Congress and the Supreme Court, given their historical lows. When Obama first took office in 2009, each of the three branches saw a jump in confidence from their dismally low ratings in George W. Bush's final two years in the White House.
Indeed, public faith in the Presidency has fallen faster under President Obama than it did under President Bush:
I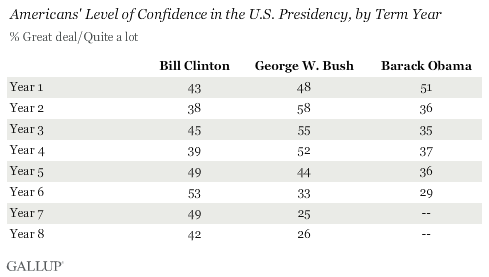 The decline in confidence in the last two decades can be seen most apparently in this chart: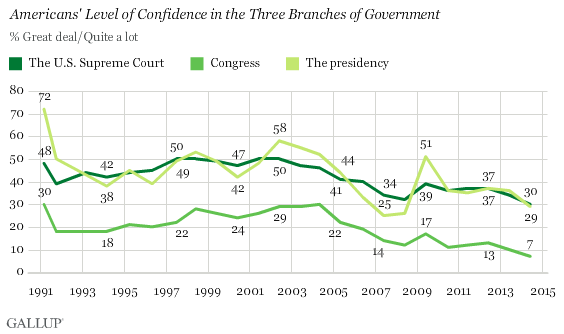 Chris Cillizza calls this the most depressing chart you will see today:
Numbers like these make clear that the "things have always been bad" storyline misses the mark.  It is absolutely true that Congress, especially, has never been a terribly confidence-inspiring institution. But the declining confidence in the Supreme Court and the presidency has combined to create a level of distrust with all levers of government that has never been seen before.

What does it mean? That anything coming out of Washington — from either party — is viewed skeptically by a public who have become less trustful of the government while, at the same time, growing more and more polarized along partisan lines. (Those two occurrences are, of course, related.) It also could open the door for candidates — from the presidential level on down — running hard against Washington.
There's really nothing new or earth shattering in this poll, of course. For some time now we have seen polls that ask people what they think about the job that government in general, and government at various levels, is doing. Consistently, those numbers have been on a sharp and steady decline ever since the later years of the Bush Administration after having risen to fairly high levels in the wake of the September 11th attacks. The reasons for the decline are obvious, of course. Disdain over the Iraq War, the declining economy, and a whole host of other factors contributed to the decline under President Bush, of course, but I'd suggest that what also played a role was the beginnings of the partisan war our political culture has now become. When President Obama took office, those numbers ticked up for a short period of time, no doubt in response to the general optimism in the country that surrounded his election and Inauguration. Fairly quickly, though, they started falling again due, I would suggest, to both the state of the economy and the world and the partistanship that has infected American politics If they continue their current trajectory, then the situation will be even more bleak with President Obama leaves office than it was when his predecessor left office.
The question is when, if ever, this bleak view that the public holds about government will change. Since it seems unlikely to do so while Barack Obama is President, perhaps we'll see a turnaround when a new President is elected. That turnaround will likely be brief though, especially if Hillary Clinton wins the White House as current polling seems to indicate she will. In that case, the return to partisanship will be swift and the public is likely to react negatively as they are now.