Americans Support Public Smoking Ban
A majority of Americans want to ban smoking in public; a fifth want to ban it even in private.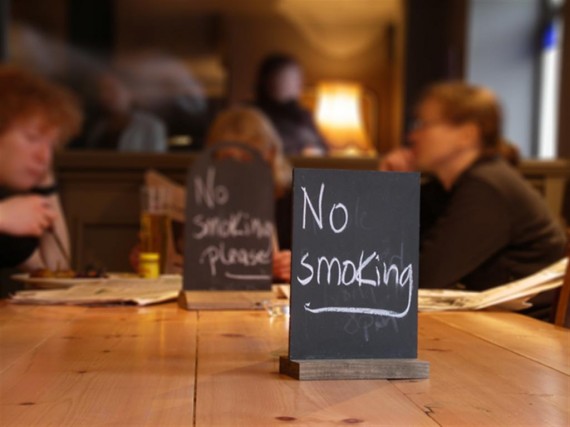 A majority of Americans want to ban smoking in public; a fifth want to ban it even in private.
Gallup ("For First Time, Majority in U.S. Supports Public Smoking Ban"):
A majority of Americans (59%) support a ban on smoking in all public places for the first time since Gallup initially asked the question in 2001. At the same time, fewer than 2 in 10 support the idea of making smoking totally illegal in this country.

According to the American Lung Association, 27 states plus the District of Columbia have passed comprehensive smoke-free laws. A New York City law bans smoking in virtually all public places, including outdoor plazas and beaches.

When Gallup first asked about a ban on public smoking in 2001, 39% were in favor, an attitude that stayed roughly the same through 2007, the last time Gallup asked the question until this year's July 7-10 survey.

Americans are much less supportive of the idea of a Prohibition-like law that would make smoking totally illegal within the United States. Nineteen percent support that option, not much different from the 14% who favored making smoking illegal in 1990, when Gallup first asked the question.
I'm in the mainstream on this issue, thinking smoking should be legal but that it should be confined to private settings. The negative externalities, in terms of both health risk to others and the sheer stench, justify a public ban.
Where I differ from current public policy is in how I define public and private. Few localities ban smoking in places that are actually public, like sidewalks. So, the ban in DC and most of Northern Virginia against smoking in public buildings  just creates huddles of smokers clogging up the sidewalks–including those outside restaurants with outdoor seating. At the same time, restaurants, which I would consider private spaces where smoking policy ought to be at the discretion of the owner, are considered public accommodations and controlled.
Then again, while I don't believe a ban on smoking in restaurants justified, I'm pleased with the result, which is a much more pleasant dining experiences for those of us who find smoking–and the lingering smell of smoke on our clothing–noxious.
Interestingly, the number of people who would ban smoking outright–which is to say, even in your own home–is almost exactly the same as the number of people who smoke.
Twenty-two percent of adult Americans in the July poll reported having smoked cigarettes within the last week, a percentage that is essentially unchanged over the last five years. On average, closer to 25% of American adults reported smoking between 1989 and 2007. Before that, Gallup surveys ranging back to World War II found the percentage who smoke in the 30% to 40% range. The highest smoking percentage as measured by Gallup was 45% in 1954.

Another 24% of Americans say they are former smokers, meaning 55% of the adult population has never smoked on a regular basis.
So, we're down to a very small minority who engage in a habit an overwhelming majority find disgusting. The public policy implication of that is clear: Further bans will be coming.
Indeed, North Carolina and Virginia, two states beholden to the tobacco industry, have banned smoking in public spaces in recent years. That in itself is something I never expected to see in my lifetime.