It's Now Illegal For Some Adults In Hawaii To Buy Tobacco
If you're under 21 in Hawaii, you're still technically an adult but you can't buy tobacco.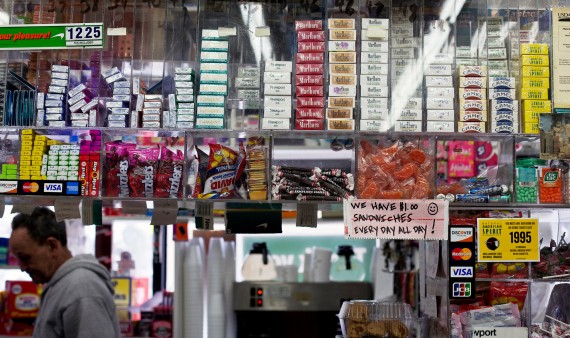 Hawaii has become the first state to ban the sale of tobacco products in any form to anyone under 21 years of age:
Hawaii's governor on Friday signed a bill raising the legal smoking age statewide to 21, the first U.S. state to do so.

The law takes effect on Jan. 1, 2016, and will also ban the sale, purchase or use of electronic cigarettes for those under the age of 21.

"Raising the minimum age as part of our comprehensive tobacco control efforts will help reduce tobacco use among our youth and increase the likelihood that our keiki (children) will grow up to be tobacco-free," Governor David Ige said in a statement.

Also on Friday, Ige signed a bill banning smoking and e-cigarette use at state parks and beaches, acts already banned in all city and county parks other than of Kaua'i County, according to his office.

Most U.S. states set the legal smoking age at 18, while a handful have set it higher at 19. Some cities and counties, including New York City and Hawaii County, have already raised the smoking age to 21.

Lawmakers in Washington state and California have also pushed to raise the legal smoking age to 21 in recent months.

Opponents of the bill have argued that it limits choice for people considered adults in other situations, like joining the military.

In Hawaii, roughly nine out of 10 smokers start before the age of 21 and many report receiving cigarettes from friends or relatives of legal age, according to the governor's office.

The Campaign for Tobacco Free Kids said that tobacco use kills 1,400 people and costs some $526 million in medical bills annually in Hawaii.
Jeff Guo summarizes many of the arguments that advocates of the law have made:
According to the state's department of public health, the number of Hawaii high school students who have ever used an e-cigarette tripled between 2011 and 2013, Nationwide, e-cigarettes have become more popular than regular cigarettes among high school students, the Centers for Disease Control and Prevention reported in April.

Public health advocates say these trends are troubling because nicotine is highly addictive and may be especially harmful to adolescent brains. Since smoking is such a hard habit to break (just ask President Obama), one of the best ways to quit is to never start.

"I've treated so many adults who are desperate — desperate — to get off tobacco. They all started as kids," CDC Director Tom Frieden told the Los Angeles Times last year. "I see the [e-cigarette] industry getting another generation of our kids addicted."

Research shows that nearly 90 percent of adult smokers began smoking before they were 18, typically by bumming smokes from older friends. Though every state bans cigarette sales to minors, many high school seniors are old enough to legally buy tobacco, which they can pass on to their classmates.

Raising the smoking age to 21 would put cigarettes out of reach of high-school social circles. Fewer teens trying tobacco would mean fewer adults addicted to smoking. The Institute of Medicine estimates that raising the smoking age to 21 would lead to a 12 percent decrease in the smoking rate by the time today's teens grew up.

Though the high-school smoking rate plummeted in the late 1990s, there hasn't been much change in the past four years, according to the CDC. Though cigarette and cigar smoking is down, e-cigarette and hookah use is way up.

All of these are ways to deliver the addictive drug nicotine. Yet, many regard e-cigarettes are cleaner and perhaps safer than regular cigarettes because nothing is burned. Instead of a smoke that has been demonstrated to cause cancer and lung disease, e-cigarettes put out a chemical mist.

But this vapor carries its own cancer-causing agents, in quantities that may pose health risks — there is still little information on the long-term health effects of e-cigarette use.
Largely prompted by the rise of e-cigarettes, which don't carry the same carcinogenic effects as cigarettes but allegedly have their own problems even though they are essentially little more than nicotine delivery devices that emit water vapor as "smoke," other states are also considering following Hawaii's lead in raising the age at which someone can buy tobacco products. New York City is actually the jurisdiction that has led the way on this, since it has been illegal for anyone under twenty-one to purchase tobacco for nearly two years now. The difference between New York City and Hawaii, of course, is that a 19 year-old in New York City is able to legally buy tobacco in either the neighboring counties in New York State that don't have this law, or across the river in New Jersey. The same would be true of residents of any of the other states in the Continental United States, although it would be a more difficult matter practically for people who don't live near legal boundaries. Hawaiians under the age of twenty one do not have this option unless they're really good swimmers. To that extent, Hawaii will either succeed in getting people under twenty -one to stop smoking tobacco, or they will create a black market in tobacco. Give the history of efforts such as this, it is far more likely to be the later than the former. Additionally, tobacco isn't the only product that is subjected to these kind of laws. Adults between the age of 18 and 21 have been forbidden to legally purchase or consume alcohol for roughly two decades now, and the Food and Drug Administration has reportedly considered the idea of banning certain kinds of caffeinated beverages for people of "inappropriate" ages.
Assuming for the sake of argument that all of studies about tobacco use that Guo cites above are true, that still doesn't strike me as a good enough reason to bar people who are legally adult in virtually every other respect from buying tobacco if they want to. When someone reaches the age of 18, they are considered an adult for virtually all purposes. They are allowed to vote, get married, enlist in the military, sign legally binding contracts, and be treated as an adult by the criminal justice system in all cases. The only legal exception to that outside of Hawaii's new law is alcohol, where they are forbidden to purchase alcohol until they turn 21, a change in the law that occurred some 30 years ago largely in response to the claim that raising the drinking age would lower risks to younger adults. According to many studies, though, the main effect of a higher drinking age has been the promotion of irresponsible, underground drinking on college campuses and elsewhere that has led to injury and even death from auto accidents and alcohol poisoning. For several years now, several Presidents of Colleges and Universities around the country have advocated the idea of lowering the drinking age back to 18 because of this. Earlier this year, S. Georgia Nugent, former President of Kenyon College, summarized the argument in The New York Times:
There are a number of arguments against the 21-year minimum age. Foremost, in my mind, is the dramatic rise in binge drinking among young people since the 1984 change — with its consequent danger to health and safety. When it is legal for an 18-year-old to drive, marry or serve in the military but illegal for him or her to drink a beer, the illogic of the situation is patent. As a result, the overwhelming response of young people has been, not compliance, but contempt for the law. By outlawing moderate use of alcohol in appropriate social contexts and with adult oversight, we have driven more drinking underground, where it has taken the very dangerous form of "pre-gaming." The "under-age" drinker, no longer permitted the occasional beer during a dance party, is now more likely to chug high-octane alcohol in dangerous quantities before heading off to that party. As a result, alcohol use has become more, not less, dangerous.

There are other negative consequences for our society as well. The ubiquity of non-compliance has led to a more generalized diffidence toward the law — both a sense that it may be selectively obeyed and a perception that one is powerless to change it. Evaluation of this 30-year legal experiment could and should be informed by research from cognitive science, physiology, anthropology and sociology, data on traffic accidents and automobile construction, etc. But powerful lobbies block dispassionate and informed debate on the topic.
Given the fact that raising the drinking age to twenty-one has been an abject failure that does little but restrict the liberty of people who are otherwise legal adults, there does not seem to me to be any rational basis for doing the same thing to tobacco. If you really don't think that people under 21 are intelligent enough to make choices for themselves about what they consume, then we need to raise everything to that age. Otherwise, the argument makes no sense and is just another example Nanny State nonsense.