New York City To Ban Tobacco Sales To Anyone Under 21
Under 21 in New York City? No more smokes for you!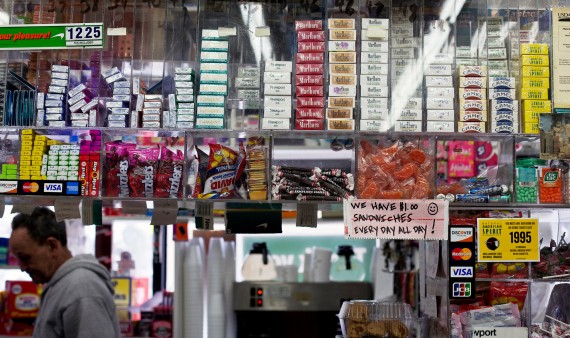 The New York City Council has voted to ban the sale of cigarettes or any other tobacco product to anyone under the age of 21, a move that appears to be a first for any major American jurisdiction:
Buying cigarettes in New York City is about to become a lot harder for young people, as lawmakers on Wednesday adopted the strictest limits on tobacco purchases of any major American city.

The legal age for buying tobacco, including cigarettes, electronic cigarettes, cigars and cigarillos will rise to 21, from 18, under a bill adopted by the City Council and which Mayor Michael R. Bloomberg has said he would sign. The new minimum age will take effect six months after signing.

The proposal provoked some protest among people who pointed out that New Yorkers under 21 can drive, vote and fight in wars, and should be considered mature enough to decide whether to buy cigarettes. But the Bloomberg administration's argument — that raising the age to buy cigarettes would discourage people from becoming addicted in the first place — won the day.

"This is literally legislation that will save lives," Christine C. Quinn, the Council speaker, said shortly before the bill passed 35 to 10.

In pushing the bill, city officials said that the earlier people began smoking, the more likely they were to become addicted. And they pointed out that while the youth smoking rate in the city has declined by more than half since the beginning of the mayor's administration, to 8.5 percent in 2007 from 17.6 percent in 2001, it has recently stalled.

Besides raising the age to buy cigarettes, the Council also approved various other antismoking measures, such as increased penalties for retailers who evade tobacco taxes, a prohibition on discounts for tobacco products, and a minimum price of $10.50 a pack for cigarettes and little cigars.

The new law is a capstone to more than a decade of efforts by Mr. Bloomberg, like banning smoking in most public places, that have given the city some of the toughest antismoking policies in the world.

In one concession to the cigarette industry, the administration dropped a proposal that would force retailers to keep cigarettes out of sight. City officials said they were doing it because they had not resolved how to deal with the new phenomenon of electronic cigarettes, but others worried that if the tobacco industry lodged a First Amendment challenge to the so-called display ban, it could have derailed the entire package.

The smoking age is 18 in most of the country, but some states have made it 19. Some counties have also adopted 19, including Nassau and Suffolk on Long Island. Needham, Mass., a suburb of Boston, raised the smoking age to 21 in 2005.

James Calvin, president of the New York Association of Convenience Stores, warned on Wednesday that thousands of retail jobs could be lost because the law would reduce traffic not just for tobacco, but also on incidental purchases like coffee or lottery tickets. He predicted that the law would do little to curb smoking, as it does not outlaw the possession of cigarettes by under-age smokers, only their purchase.

Just before the vote, Nicole Spencer, 16, was in Union Square in Manhattan with a cigarette wedged between her fingers.

"I don't think that's going to work," Nicole said when she heard about the plan to raise the age.

She said she began smoking when she was about 13, and had no trouble getting cigarettes. "I buy them off people or I bum them off people," she said.
I've never been a cigarette smoker myself. Oh, you'll be able to get me to light up a good cigar on occasion, although even those are far less common than they used to be, but cigarettes have never been my thing ever since I tried one at an age that, shall we say, was less than the 18 at the time. Smoking cigarettes made me kind of nauseous, so I avoided it. However, I knew plenty of people in my age group who did smoke — our High School even had a designated outdoor "smoking area" where students, many of them clearly younger than 16, and sometimes teachers would hang out getting their fix even on the coldest New Jersey winter day — and my experience at the time that most High School kids got their cigarettes exactly as the girl above describes them by getting them from someone else who was legally able to purchase them. Raising the legal age to purchase cigarettes would just seem to me to make this kind of practice more common, especially among people who are between 18 and 21. Additionally, the fact that jurisdictions around New York City won't be imposing a similar age limit on cigarette purchases also means that, in many cases, all people will need to do is take a trip across a political boundary line to a jurisdiction where they are legally able to purchase tobacco.  So, yes, it's possible that this will reduce the use of tobacco by some people under 21 (perhaps most probably by people under 18 who would now have to find someone 21 or older to get them cigarettes, something many already manage to do when it comes to alcohol), but the reductions aren't likely to be all that substantial.
Leaving aside whether the policy works on some level or not, this strikes me as yet another example of a group of people who are legally recognized as being adults being restricted in just how adult they can be "for their own good." Thirty or so years ago, we had this same debate over raising the drinking age to twenty-one and, thanks largely to a massive lobbying campaign and the power of the Federal Government, that change was enacted relatively quickly. As it turns out, though, alcohol use among people between 18-21 has not necessarily decreased from the levels it was at before the law changed and, measured by the rise of binge drinking on America's college campuses, may have actually increased over the years. In recent years, as a matter of fact, a large number of college and university leaders have come together in something called the Amethyst Initiative, which urges the reexamination of the decision to increase the drinking age to 21, with specific reference to the impact it has had at the college and university level. Other commentators have also questioned the wisdom of the higher drinking age and, while alcohol and tobacco are very different products with differing impacts on the human body, it seems clear that their arguments apply just as equally to what New York City is going to do here.
Fundamentally, though, laws such as this seem incompatible with the idea of individual liberty. The law tells us that someone who is eighteen is legally able to marry, enter into contracts, buy a home, pay taxes, enlist in the military, and engage in a whole host of other "adult" activities. There doesn't seem to me to be any rational justification for saying that such a person should not also be able to legally drink a beer and smoke a cigarette if that's what they want to do. Yes, there are health risks involved in both activities, but there are health risks involved in any number of activities that we allow people to engage in. What right should the City Council of New York or any other political entity have to tell an adult citizen of the United States that they can't enjoy a drink and a smoke if that's what they want to do? Nobody is saying you have to do either, of course, but if you're over 18 and you want to then the government shouldn't be telling you that you can't.