CVS To Stop Selling Tobacco Products
CVS makes a business decision that is earning it kudos for the most part.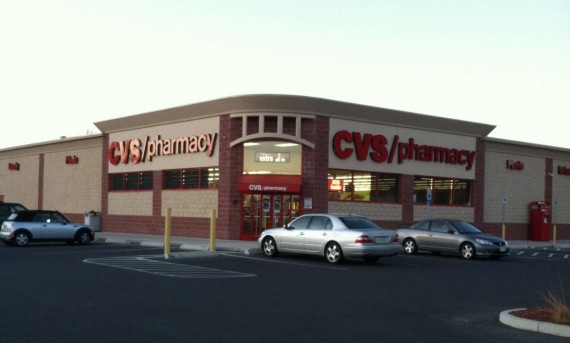 The big news of the morning is the announcement by CVS that it will stop selling all tobacco products in its stores this year, a decision that is being hailed by health groups:
CVS/Caremark, the country's largest drugstore chain, announced on Wednesday that it planned to stop selling cigarettes and other tobacco products by October.

The company's move was yet another sign of its metamorphosis into becoming more of a health care provider than a largely retail business, with its stores offering more miniclinics and health advice to aid customers visiting its pharmacies.

While the company's decision will cost it an estimated $2 billion in sales from tobacco buyers, that is a mere dent in its overall sales of $123 billion in 2012.

"We have about 26,000 pharmacists and nurse practitioners helping patients manage chronic problems like high cholesterol, high blood pressure and heart disease, all of which are linked to smoking," said Larry J. Merlo, chief executive of CVS. "We came to the decision that cigarettes and providing health care just don't go together in the same setting."

CVS does not sell electronic cigarettes, the highly popular but debated devices that deliver nicotine without tobacco and emit a rapidly vanishing vapor instead of smoke. It said it was waiting for guidance on the devices from the Food and Drug Administration, which has expressed interest in regulating e-cigarettes.

Some major retail stores like Walmart and convenience stores still sell cigarettes and other tobacco products, although antismoking groups and health care professionals will probably use CVS's decision to try to pressure others to consider doing so. Municipalities have also begun enacting legislation governing where cigarettes can be sold.

Kathleen Sebelius, secretary of Health and Human Services, said in a statement that the CVS decision was "an unprecedented step in the retail industry" and predicted it would have "considerable impact."

Ms. Sebelius said that each day, some 3,200 children under 18 will try a cigarette and 700 will go on to become daily smokers. That means, she said, that 5.6 million American children alive today will die premature due to diseases linked to smoking.

"Today's CVS/Caremark announcement helps bring our country closer to achieving a tobacco-free generation," she said. "I hope others will follow their lead in this important step to curtail tobacco use."
And the company doesn't seem all that concerned with the prospect that this is going to cost them business:
And as for driving away customers to competitors, Troyen A. Brennan, the executive vice president and chief medical officer for CVS, said: "It's obvious that the average person will just find somewhere else to buy cigarettes. What we're thinking about is if others want to emulate this business decision we've made, then over time that will make cigarettes less available — and scientific literature does suggest that a reduction in the availability of cigarettes reduces smoking."
There are, of course, plenty of locations that have pharmacies and/or sell health-related products that also sell tobacco products. Other national pharmacy chains like Walgreen's and Rite Aid come to mind, as do pretty much every grocery store chain, along with Wal-Mart. Although I shop there on a regular basis, I am unsure as to whether or not Target sells tobacco products, although I believe the answer is no. How many of these businesses are likely to follow CVS's decision remains to be seen. No doubt, many of them will sit back to see whether the decision itself has any real impact on the company's sales or store traffic. One estimate this morning stated that the decision is likely to cost CVS upwards of $2 billion per year, at least initially, however that number may end up being reduced if the company's decision to re-brand itself as more of a health-conscious company (a decision that ending tobacco sales is part of apparently) brings more people into the company's stores around the country. Walgreen's has already released a statement this morning saying that it is still considering its own position on the issue of tobacco sales, but so far none of the other companies has had any comment on the issue.
Practically, of course, this is not likely to have much of an impact on a consumer's ability to buy tobacco products. Just judging by my own immediate area, someone who has been in the habit of buying their cigarettes at the local CVS will easily be able to find what they want at by my count at least seven different locations within two miles of the CVS store ranging from grocery stores to gas stations to the local 7-11. The same, no doubt, is true of most of the areas where you're likely to find a CVS store. Nonetheless, there's a certain symbolism to the decision that no doubt played a role in the company's decision here. As I noted above, CVS has slowly been trying to rebrand itself as a health-care retailer of sorts, ending the sale of a product like tobacco only seems like a logical extension of that marketing strategy.
My guess is that CVS will end up reaping more benefits than losses from this decision, especially in the long term, and that we'll see other national companies make similar decisions, perhaps sooner than we might think. Whether we'll see the same thing from other retailers, though, remains to be seen. Wal-Mart in particular likely makes a lot of money from its tobacco sales, so I'd say its unlikely that they'll be taking the cigarettes out of there stores any time soon. The same goes for grocery stores. Eventually, though, it may well be the case that the only places where you'll be able to buy tobacco products will be gas stations, 7-11s and similar convenience stores, and tobacco stores. To a large degree, though, this is a reflection of the fact that smoking has become far less socially acceptable than it used to be, and that is only likely to continue.