Cigarette Ads Returning To Television
Thanks to those new electronic cigarettes, ads for cigarettes are back on television for the first time since the Nixon Administration.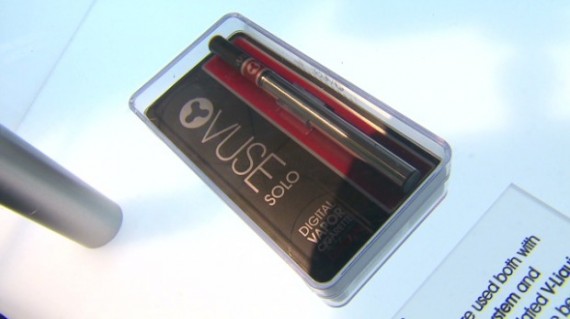 Unless you're old enough, you aren't going to remember the days when cigarettes were advertised on television. At the beginning of the television hour, indeed, tobacco companies not only ran ads, they sponsored entire television programs, and it was common to see actors on those program smoking up a storm. Just watch your average episode of I Love Lucy, and you'll see what I mean. That all changed forty-three years ago when the Federal Government banned television ads for cigarettes. From that day forward, the Marlboro Man was relegated to magazine ads and roadside billboards. Now, some four decades later, ads for a new kind of cigarette are returning to television:
Big Tobacco is back on the airwaves.

More than four decades on from the federal ban on cigarette ads for radio and television, some of the nation's major tobacco producers are back on TV with spots featuring e-cigarettes.

Blu eCigs, a subsidiary of Lorillard (LO), kicked off an ad campaign in October with television spots featuring actor Stephen Dorff. R.J. Reynolds is planning TV ads for its Vuse e-cigarette beginning in August.

"This is rather remarkable in that it hasn't happened in about 40 years," said Richard Smith, a spokesman for R.J. Reynolds.

The government banned radio and television ads for cigarettes in 1970. Ads for smokeless tobacco were later banned in 1986.

E-cigarettes are smoke-free electronic products that turn nicotine and other chemicals into vapor inhaled by the user. They've been pitched as an alternative to tobacco for long-time smokers, and are seen as a promising new revenue stream by some of the country's largest cigarette producers.

"Our marketing is aimed at switching adult smokers permanently to Vuse," Stephanie Cordisco, president of R.J. Reynolds Vapor Company, told CNNMoney.

Blu eCigs posted net first-quarter sales of $57 million, up 46% from the last three months of 2012. Reynolds is in the process of expanding Vuse distribution, and Altria  – formerly known as Philip Morris — plans to release an e-cigarette product later this year.

Overall, e-cigarette sales could exceed $1 billion this year, blu eCigs vice president of marketing Matt Coapman said, citing industry analysts.
Jake Tapper did a segment on the phenomenon on his CNN show The Lead yesterday:
At the moment, e-cigarettes are not regulated by the Food and Drug Administration and, since the product doesn't produce any smoke at all, they generally aren't covered by state and local public smoking bans, although there have been calls for both of course. As John Stossel notes, though, there really doesn't seem to be a rational basis for such calls, or for the rather obvious bias against e-cigarettes among anti-smoking groups:
E-cigarettes look like cigarettes, but instead of burning tobacco, they vaporize liquid nicotine when users puff on, or "vape," them. The resulting aerosol mist satisfies "smokers" without their inhaling tars and the most dangerous of tobacco's chemicals into their lungs.

What could be wrong with that? Well, the FDA says e-cigarettes contain trace chemicals that "may" be "toxic."

But most everything "may" be toxic. New York Times science columnist John Tierney writes: "The agency has never presented evidence that the trace amounts actually cause any harm, and it has neglected to mention that similar traces of these chemicals have been found in other FDA-approved products, including nicotine patches and gum. The agency's methodology and warnings have been lambasted in scientific journals."

Brad Rodu, a professor of medicine at the University of Louisville, concluded in the Harm Reduction Journal that the FDA results "are highly unlikely to have any possible significance to users" because it detected chemicals at "about 1 million times lower concentrations than are conceivably related to human health."

Moreover, Michael Siegel, a professor at the Boston University School of Public Health, told Tierney: "It boggles my mind why there is a bias against e-cigarettes among antismoking groups" such as the American Cancer Society and the American Heart Association.

It boggles my mind, too, because as Tierney points out, e-cigarettes not only pose merely a hypothetical risk compared to real "cigarettes containing thousands of chemicals, including dozens of carcinogens and hundreds of toxins," e-cigarettes also have been shown to be unusually successful in helping smokers quit. A new study from Italy found that after 24 weeks, half of all smokers using the e-cigarettes reduced their consumption of the real McCoy by 50 percent. A quarter gave up smoking altogether.

True, the cigarette substitutes are basically nicotine-delivery devices. But so what? Britain's Royal College of Physicians found that "if nicotine could be provided in a form that is acceptable and effective as a cigarette substitute, millions of lives could be saved."
If the goal is to help people quit smoking "real" cigarettes, as well as helping to eliminate the adverse public health effects of second hand smoke, then what could possibly be wrong with e-cigarettes or the fact that they're being advertised on television. Looking at the matter objectively, it seems pretty clear that there really isn't anything wrong with them. Yes, they are as Stossel mentions basically nicotine delivery devices, but so what? If people want to ingest nicotine into their system and they aren't polluting the air around them with secondhand smoke, and they're doing it in a far healthier manner than convention cigarettes, then what business is that of the government? Moreover, if making smokers more aware of this product via television ads will lead them to start cutting back on the real thing, and possibly even quite, isn't that a good thing? It certainly seems like it to me. If the FDA and other entities do actually try to ban or regulate e-cigarettes, they're likely to end up harming smokers rather than helping them, and that makes no sense whatsoever.
So, let the tobacco companies sell their e-cigarettes, and let them advertise the product on television. The American people are, I think, smart enough to figure out what it's all about.