Illinois To Solve Medicaid Deficit By Hoping People Smoke More
Illinois wants to solve its Medicaid problem by hoping its citizens smoke more cigarettes.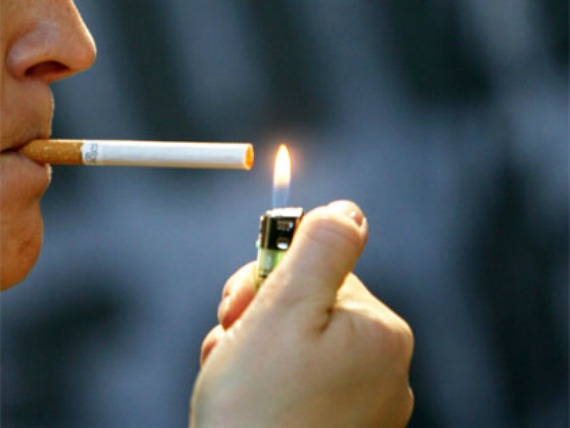 As most every state has over the past several years, Illinois is facing a serious shortfall in its Medicaid budget to the tune of some $2.7 billion, and Governor Pat Quinn has decided one of the best ways to fix the problem is to hope people smoke more cigarettes:
llinois' Medicaid program faces a $2.7 billion shortage that its governor has promised to deal with. So how does Gov. Pat Quinn propose to close the fiscal gap for his biggest budget item and largest health program? By relying on the state's smokers to keep puffing — and paying — away.

Quinn wants to shore up the fiscal health of Illinois' ailing Medicaid program by imposing a new per-pack tax on cigarettes, thus making the health coverage of millions of disabled and low-income individuals in the state directly dependent on keeping smoking rates up.

But if previous experiences with state smoking taxes are any indication, it won't work. In his February budget address, Quinn was blunt with state lawmakers. "Our rendezvous with reality has arrived," he said. He declared his intention to pass a $2.7 billion reform to the state's Medicaid system. Quinn's proposal, released in April, included a variety of cuts and payment reductions, as well a $1-per-pack cigarette tax that his office said would raise an estimated $337.5 million directly.
It sounds like a great idea doesn't it? Contribute to the cost of closing the deficit in a plan that provides health care for the poor by taxing people who engage in an activity that harms public health. There's kind of a poetic justice to it on some level. The only problem is that there's plenty of evidence to show that increasing sin taxes on items like cigarettes doesn't lead to the kind of revenue increases that politicians always optimistically predict:
There are two main reasons why cigarette taxes don't bring in the bucks their supporters promise. The first is that higher taxes encourage smuggling from nearby low-tax states. Minnesota, for example, has been ratcheting up its cigarette tax for decades — and now has one of the highest rates of cigarette smuggling in the country, according to the state's Department of Revenue. And after New York City hiked its cigarette tax by $1.42 per pack in 2002, a report by the city's Independent Budget Office found that more than a quarter of the city's smokers were avoiding the cigarette taxes. (Tax evasion cost the city an estimated $40 million in 2006.) This is a nationwide problem: Estimates indicate that states lose an estimated $5 billion tax revenue to tobacco smuggling each year.

The second issue is that smoking rates are falling rapidly — and revenues from taxes based on cigarette sales are thus in decline as well. In 2009, for example, California saw an 8.1 percent drop in smoking rates, and a concurring $74 million decline in cigarette tax revenue. One might think that would be unalloyed good news for public health advocates — except that California funds a variety of public health programs, including breast cancer research, with revenue generated by cigarette taxes.
These two factors are especially true now, when taxes on cigarettes and other items have already been raised several times over recent decades both as a suppose revenue enhancer and in an effort to lower smoking rates. When you think about it, actually, those two goals are in many ways mutually contradictory. Once the government becomes reliant upon the revenue from taxes on cigarettes, the extent to which those cigarette taxes contributed to a reduction in smoking actually harms the government interests. Perversely then, it actually ends up being in the short-term interests of states like California and Illinois that people smoke more even though the taxes that they implement result in people smoking less, or obtaining their cigarettes from black or grey market sources thus avoiding the taxes altogether.
Of course, this situation goes on far deeper than just cigarette taxes. As Peter Suderman points out in the linked article, Federal funding for Medicaid is provided on a matching fund basis, meaning that the state one dollar from the Feds for each dollar that they spend. In the past, this created the perverse incentive for states to allow their Medicaid system to become bloated and inefficient with little regard for actual costs. After all, if half the money is coming from Uncle Sugar, who cares how much it costs? Now that the fiscal chickens are coming home to roost, that some matching fund system incentives states to come up with unworkable tax schemes like the one Quinn is proposing in Illinois. If Federal Medicaid funds were block granted, as many in Washington have suggested in recent years, these incentives would be eliminated and states would be forced to work with a fixed amount of funds. That sounds like a far better system than one that had led states like Illinois and California to fund a health care program with the hope that people smoke more.
H/T: Jazz Shaw