Another Ho-Hum Jobs Report
January's Jobs Report wasn't much to write home about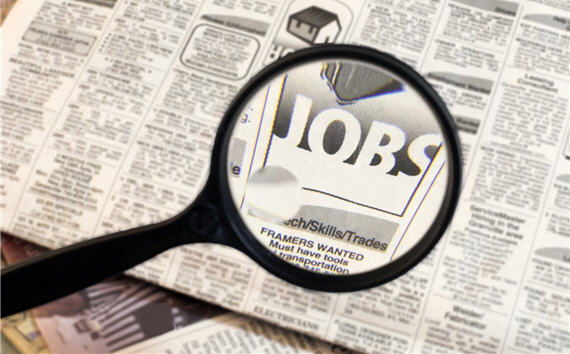 Going in the release of today's January jobs report, the consensus was that we'd see another fair to middling report, with job growth somewhere in the neighborhood of 150,000 net jobs created. As it turns out that's exactly what we got:
American employers added 157,000 jobs in January compared with a revised 196,000 jobs the previous month, the Labor Department reported on Friday. The unemployment rate was little changed at 7.9 percent, about where it has been stuck since September.

On the bright side, revised government data showed that the economy added 335,000 more jobs than originally estimated during all of 2012, including an additional 150,000 in the last quarter of the year. That was on top of the previously reported fourth-quarter job growth of 603,000 and 2012 growth of 2.2 million.

The higher revisions, in particular, encouraged traders on Wall Street, sending the Dow Jones industrial average over the 14,000-point mark for the first time since 2007.

Still, job growth has been modest compared with previous recoveries, and economists saw little in January's report to suggest that hiring would pick up soon.

"I think it's going to be a tough slog here," said Joshua Shapiro, chief United States economist for MFR Inc. "There are plenty of headwinds out there for the economy. The cost of hiring somebody is great, with benefit costs and everything, and unless companies really absolutely need someone, they're not going to hire."

Construction has been one of the more encouraging sectors, adding jobs each of the last four months. The hiring there was probably because of a combination of rebuilding from Hurricane Sandy, unseasonably warm weather that led to fewer work stoppages, and the nascent housing recovery, said Ian Shepherdson, chief economist at Pantheon Macroeconomic Advisors.

Retailing, health care and the wholesale trade also added positions in January, while the government again shed jobs. Government payrolls have been shrinking most months over the last four years.

The January jobs numbers were close to what economists had forecast, although many had hoped for an upside surprise. Recent weeks have brought a slew of gloomy economic data, showing that the nation's outputunexpectedly shrank at the end of 2012 and that consumers were becoming increasingly pessimistic about their finances and job prospects.

Dysfunction in Washington over the budget and higher tax rates that kicked in last month could further dampen consumer confidence and hiring early this year.

"The combination of eliminating the payroll-tax forgiveness along with continued stagnation in wages, I think, could be a real hit in terms of jobs," said Christine Owens, executive director at the National Employment Law Project, a labor advocacy and research group.  "If you add in sequestration" — the across-the-board cuts to federal spending currently scheduled for March 1 — "that paints a pretty bleak picture."

Friday's report was "a reminder of the importance of the need for Congress to act to avoid self-inflicted wounds to the economy," Alan B. Krueger, the chairman of President Obama's Council of Economic Advisers, said in a statement.

The revisions for the fourth quarter would seem to disprove accusations that the Obama administration had inflated job growth ahead of the November election, since the original estimates were recalculated to show there was even more growth.

Still, job growth has been steady but uninspiring in the last year, trudging along just barely fast enough to keep up with population growth but not nearly quickly enough to put a major dent in unemployment. A backlog of 12.3 million idle workers remains.
On the bright side, there were some significant revisions for both November and December, with a total of 127,000 additional new jobs added to the two month period. Additionally, after taking these revisions and other seasonal adjustments into account, 2012 did end up being a better year or jobs than we've seen for most of this recovery:
Job growth in 2012 averaged 181,000 a month, but not enough to significantly reduce unemployment. Economists say employment gains in excess of 250,000 a month over a sustained period are needed.

Though the unemployment rate dropped from a peak of 10 percent in October 2009, that was mostly because some unemployed Americans gave up the search for work because of weak job prospects.

The share of the working age population with a job has been below 60 percent for almost four years.

All the job gains in January were in the private sector, where hiring was as broad-based as it was in December and declines in public sector employment remained moderate.

Steady job gains could help the economy weather the headwinds of higher taxes and government spending cuts. A payroll tax cut expired on January 1 and big automatic spending cuts are set to take hold in March unless Congress acts.

The goods-producing sector showed a third month of solid gains, with manufacturing employment advancing for a fourth straight month. Construction payrolls increased 28,000, adding to December's healthy 30,000 gain.

Construction jobs are expected to rise further as the housing market recovery gains momentum. Housing is expected to support the economy this year, taking over the baton from manufacturing.

Within the vast private services sector, retail jobs increased by a solid 32,600 jobs after rising 11,200 in December. Retail employment has now risen for seven straight months.

Education and health payrolls added 25,000 jobs in January after employment grew by the most in 10 months in December.
So, we're doing better than we did in 2010 and 2011, but we're still moving at a pace that pretty much guarantees that the jobs recovery is going to take a long time to get us to the point where we were before the Great Recession began. Indeed, as Dave Schuler notes, our current rate of job creation isn't even sufficient to cut the number of unemployed people in half:
12.3 unemployed people/ 2 = 6.15 fewer unemployed people
4 years X 12 months per year = 48 months
6.15 fewer unemployed people / 48 months = 128,125 jobs per month

That's in addition to the something between 120,000 and 150,000 jobs per month that must be created to provide for the "natural increase". So something between 250,000 and 280,000 jobs must be created per month. Last month roughly 150,000 jobs were created.
Ezra Klein, meanwhile, points out that, even at the relatively decent rate of job creation we saw in 2012, it would take nearly a decade to make up for all of the Great Recession's job losses:
The jobs numbers have been crunched and re-crunched, and it turns out that the U.S. economy added an average of 181,000 jobs per month in 2012. That's a faster rate than in 2011 or 2010.

But it's also relatively sluggish, given the deep, deep hole the economy is still in. If the United States keeps adding 181,000 jobs per month, then it will take nine years and three months to get back to full employment, according to the Hamilton Project's jobs calculator….

Where does that number come from? Right now, there are 12.3 million unemployed Americans. When the economy was running at full blast at the end of 2007, there were just 7.7 million unemployed — in transition or switching between jobs, say. But on top of that, the population also keeps growing, currently adding about 88,000 new people to the labor force each month.

Put all that together, and it will take about 9 years to close the "jobs gap" — to get back to the ratio of payrolls to working-age population that prevailed back in December 2007.

With faster jobs growth, the country could get back to full employment even quicker. The Hamilton Project calculates that we could close the jobs gap entirely by the 2016 election if the economy added 321,000 jobs per month. The problem? That was the average rate for thebest single year of job creation during the 1990s dot-com boom. Hard to envision now.
This assumes that we don't dip into a recession any time in the next nine years, of course, and that's something that would be rather atypical given recent American history. Indeed, as I noted the other day, economic growth in the last quarter of 2012 was not only non-existent, but the economy shrank according to the first GDP growth estimate. If we were able to add 200,000 jobs per month, the jobs gap would close a few months sooner than it would under our current rate of growth. At 250,000 a month it would close somewhere around July 2018. At 280,000 per month, we'd close the jobs gap by sometime around October 2017.  Now, possibly we'll get up to that 250,000 to 280,000 trend at some point, but it's going to require much higher levels of economic growth than we've been experiencing lately. And, if we do happen to dip back into a recession at some point, than any progress that we've made on the job front will be in danger of being wiped away. In the meantime, those 12.3 million unemployed people will continue to wait for their recovery.