Another Reason to Dislike the Electoral College
"Red States" and "Blue State"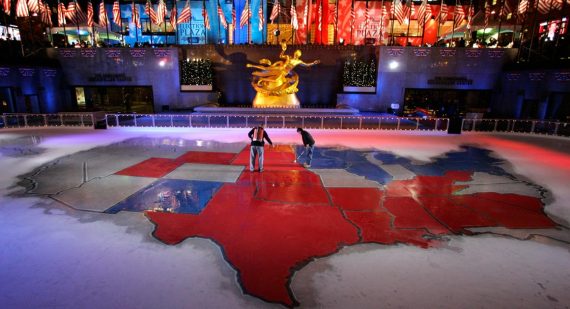 James Joyner's post about MTG's "national divorce" rhetoric makes me want to point out that the entire rhetoric over "red states" and "blue states" is almost entirely an artifact of the Electoral College. Indeed, it is specifically the marriage of choosing electors in plurality contests by state coupled with television that gives us the entire notion.
The fact that we elect the Electoral College in multi-seat districts (states) with plurality winners (with some variation in Maine and Nebraska) means that each state goes, as a unit, to one party or the other. It doesn't matter that over a third of voters in California in 2020 were Republican, the state turned blue on TV, so blue it is. So what if 49ish% of Pennsylvania are Republicans?
To me this underscores how institutional structures can shape the way we think about ourselves. I recognize the states as political units have a deep significance in US political development, but nothing makes us think in terms of states as uniform political units the way the Electoral College (as augmented by TV) does.
We allow the simplicity of the map to shape our thinking and to, in turn, make our political discourse more simplistic.
We allow the idea that a state is blue to erase all the Republicans from our minds and likewise the red ones ignore all the Democrats. This just makes polarization easier and more pernicious.
As is often noted, all states are really some shade of purple (if we must think in terms of colors). More importantly, as I frequently note, states are just lines on the map, and largely arbitrary ones at that. States are important because they contain people. And the focus on Red States and Blues States makes us forget that we are really talking about citizens, not real estate.
It worth noting that the notion that red meant Republican and blue meant Democrat only started as result of the 2000 election. Heck, the networks have only colored in the states since 1976. See this 2014 NPR piece for some background: The Color Of Politics: How Did Red And Blue States Come To Be?
Side note: the utter insanity of MTG's position is massive, but it is amusing to note that by the logic of the Electoral College, Georgia is currently a "blue state" and under her own "national divorce" scenario she would have to live in Wokeistan.