Anthony Weiner Strong In NYC Mayoral Poll, But Obstacles Remain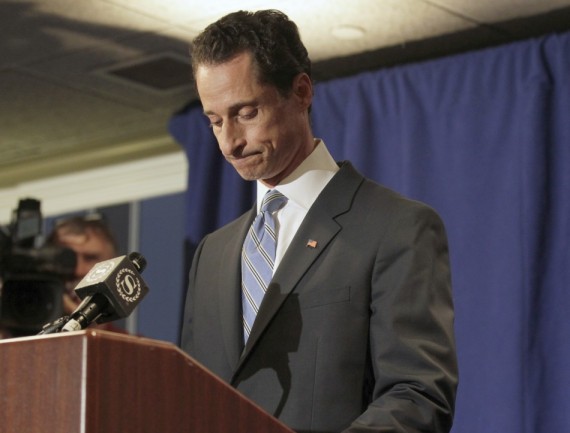 There have been several hints recently that former Congressman Anthony Weiner may be attempting a political comeback in this year's New York City Mayoral Race. Last month, we learned that Weiner had spent some $100,000 to conduct a poll of some kind. Earlier this month, Weiner and his wife say down for a tell-all interview with The New York Times Magazine. Then, just this week Weiner sat down for his first televised interview since resigning Congress. As improbable as it all sounds, all of this seems to indicate that the former Congressman it as least thinking about running for office again. Now, we have a new poll showing that, if he did throw his hat into the Mayoral race, he'd start out in a surprisingly strong position:
This evening, NBC New York and Marist College released the first major mayoral race poll that includes Weiner. It shows him in second place in a hypothetical Democratic primary, polling at 15 percent, behind City Council Speaker Christine Quinn with 26 percent.

In New York's Democratic mayoral primary, the two top vote-getters meet in a runoff if no candidate earns more than 40 percent of the vote. Weiner's poll numbers have him qualifying for a runoff faceoff against Quinn, which is remarkable since, in spite of months of signs he might enter the race, many of his potential rivals did not even bother including him in their internal polls.

One of Weiner's naysayers prior to the poll was George Arzt, a political consultant with over four decades of City Hall experience, who told TPM last week that Weiner had no shot at winning.

"If he gets ten to fifteen percent, I would call that a victory," Arzt said.

With Weiner debuting at that level, we asked Arzt Tuesday if he would change his tune. Arzt stuck by his guns.

"I don't believe that he can grow and I believe he's near his ceiling. I think the more people know about him the more they won't vote for him," said Arzt.

The poll showed City Comptroller John Liu in third place with 12 percent of the vote and a tie for fourth place at 11 percent between Public Advocate Bill de Blasio and the runner-up in the 2009 mayoral election, Bill Thompson. It also showed 22 percent of Democratic voters remain undecided.
Arzt may have a point, because the poll also suggests that 15% may be the ceiling of Weiner's support:
According to the poll, 37% of New Yorkers want Weiner to run for mayor, with 47% saying they don't want to see him become a candidate for mayor this year, and 16% undecided. But that's an improvement from last October, when a Marist poll indicated that only one in four citywide wanted Weiner to run.

Among registered Democrats, four in ten want Weiner to run, with 46% saying no and 14% undecided. The 40% of Democrats who want Weiner to launch a mayoral bid is up from 28% in the October poll.

The new poll also indicates that Weiner's favorable ratings have improved from last fall, with 45% of Democrats and 39% of all city voters holding a positive view of the former congressman, who launched but later dropped a bid for New York City mayor for the 2009 election.

Has Weiner changed as a person in the two years since the scandal that forced him to resign from Congress?

Thirty-seven percent of Democrats say yes, with 32% saying no and 31% unsure. Among all New York City voters, a third say Weiner's changed as a person, with an equal amount saying he has not and another third unsure.
At the moment, Christine Quinn is the prohibitive favorite to become the next Mayor of New York City. If Weiner enters the race, this poll indicates she'd have a fight on her hands but the question is whether the former Congressman can really convince voters that he's moved beyond the ethical and personal failures that forced him from office. If this poll is any indication, it would be a touch argument for him to make. However, it would be an exceedingly interesting campaign to watch.