Anti-Gay County Clerk Kim Davis Defeated In Re-Election Bid
Kim Davis, who became infamous for defying Court orders to issue marriage licenses to gay couples, was defeated in her re-election bid.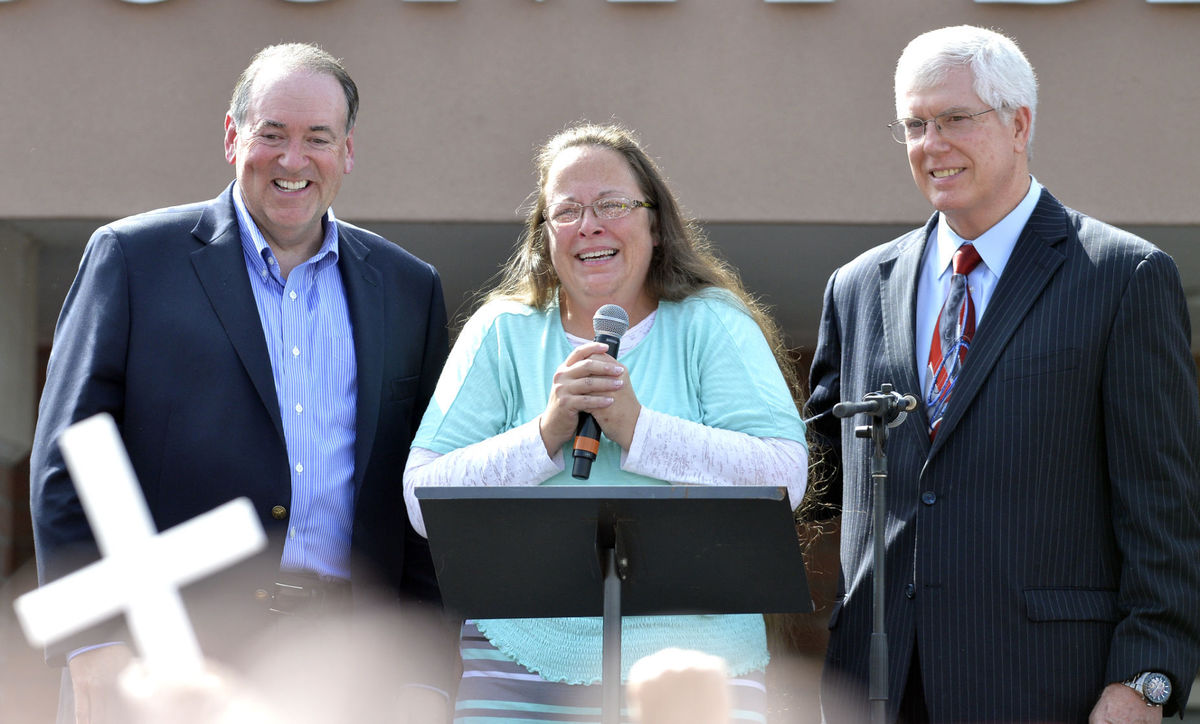 Kim Davis, the Kentucky County Clerk who became part of a national news story three years ago when she was held in contempt of court and jailed for her refusal to comply with the orders of a Federal Court to issue marriage licenses to same-sex couple in the wake of the Supreme Court's decision in Obergefell v. Hodges,  lost her bid for re-election on Tuesday:
Kim Davis, the Kentucky county clerk who defied the Supreme Court and was jailed in 2015 for her refusal to issue marriage licenses to same-sex couples, lost her re-election bid on Tuesday.

Ms. Davis, who emerged as a hero of the religious right and ran for re-election as a Republican, lost by fewer than 700 votes among nearly 7,800 cast.

Her Democratic opponent, Elwood Caudill Jr., bested her in the race for clerk of Rowan County, a rural patch of eastern Kentucky that voted for President Trump in 2016 but where Democrats typically win local office.

The race had once been billed as one of the biggest political showdowns in Kentucky because David Ermold, a gay man whose request for a marriage license Ms. Davis denied, announced he would run for her job. But then Mr. Ermold lost the Democratic primary to Mr. Caudill, chief deputy in the county property valuation office.

Mr. Caudill was a familiar local figure who represented a far less politically charged choice for a job that is mainly administrative.

Ms. Davis has held the office since January 2015, when she succeeded her mother, who had been the county clerk for 37 years. She ran as a Democrat, but quickly found herself steeped in conservative politics.

In 2015, after the Supreme Court issued its landmark ruling guaranteeing same-sex marriage rights nationwide, Ms. Davis refused to abide by the law, even after the Supreme Court rejected her request for a delay. She said same-sex marriage violated her Christian beliefs
.
A testy exchange with Mr. Ermold and his partner, David Moore, was caught on camera. Ms. Davis turned them away, saying that she would not issue any marriage licenses.

"Under whose authority?" Mr. Ermold asked."
Under God's authority," Ms. Davis replied

She spent five nights in jail for defying the federal order and later switched parties.

Since the summer of 2015, she has appeared in statewide Republican campaign ads, met the pope, campaigned against same-sex marriage in Romania, attended a State of the Union address and published a book: "Under God's Authority: The Kim Davis Story."
Davis, of course, became famous, or to put it better infamous, in the summer of 2015 when she refused to issue marriage license to same-sex couples notwithstanding the fact that the Supreme Court had handed down a ruling declaring the remaining laws against same-sex marriage, specifically including Kentucky's law since a case involving that law was at issue in one of the cases that were part of Obergefell v. Hodges. In any case, Davis was sued by several of the couples to whom she had denied licenses and ordered by a Federal Court Judge to allow her employees to issue licenses as required by the law. Davis refused to comply with the order and was eventually jailed several days for contempt of court. Eventually, she was released and a solution was found that allowed her office to issue licenses without her having to be involved. Additionally, Davis became something of a celebrity among Republicans seeking their party's nomination during the 2016 election cycle, as well as a hero to many on the so-called "religious right."
After the case had essentially ended, Davis became something of a star among social conservatives and began working with a group calling itself the "Alliance Defending Freedom" that continues to oppose equal rights for LGBT Americans and also spends resources around the world lobbying against marriage equality in nations where efforts are being made to change the law. Perhaps most significantly, Davis ended up having a rarely-granted private audience with Pope Francis when he visited the United States in 2015. At the time. the Catholic Church that the Pope's meeting with her, even though she is not a Catholic, was not meant as an endorsement, however, earlier this year another official made claims that called that official explanation into question.
In any case, I suppose the voters deserve some credit for giving this woman the boot.