Anti-Putin Backlash
The Russian leader may be looking over his shoulder after imposing a draft.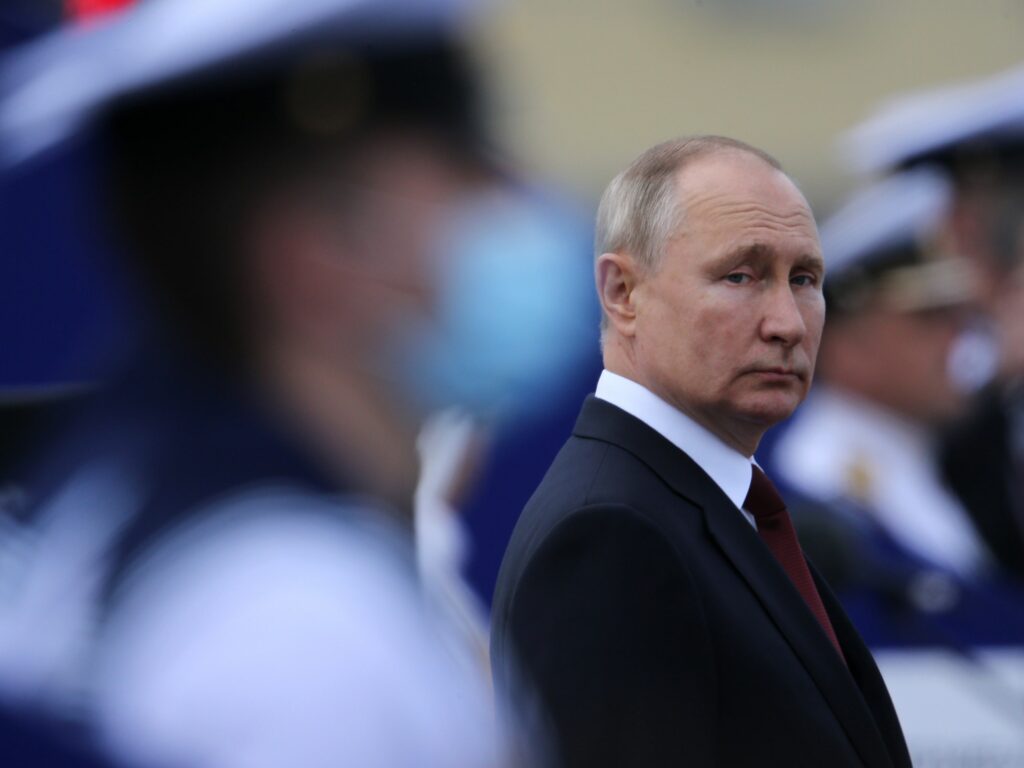 This report is sketchy but plausible:
Business Insider ("Putin has escaped to his secret palace in a forest amid anti-draft protests in Russian cities, report says"):
Russian President Vladimir Putin escaped to his secret palace near Gelendzhik, close to the Black Sea coast, amid anti-draft protests in Russia, MailOnline was first to report.

According to independent journalist Farida Rusamova, who cited three sources familiar with Putin's schedule, the Russian president traveled to his vacation home on Wednesday.

He has been resting his "body and soul" there, Rusamova said in a Telegram post, enjoying the facilities of the palace, which Putin publicly denies belongs to him.

[…]

Rusamova claimed that Putin intends to stay at the palace until at least next Thursday. The journalist also claimed that the president had pre-recorded several videos of meetings, which Russian state media intends to release sporadically throughout the week, to try and mask his absence from the public.
It follows another, better corroborated, BI report ("Seeking to avoid another major failure, Putin has become more hands-on with his commanders, refusing their requests to retreat from the last Ukrainian city under Russian control") from over the weekend:
As he loses his grasp in his unprovoked war against Ukraine, Russian President Vladimir Putin has moved to further embed himself into the war's strategic planning efforts — but his decision-making seems to contrast with those in the action.

Dismissing on-the-ground commanders' pleas for soldiers to retreat, Putin has decided to remain in Kherson, a major Southern city in Ukraine, the last in Russian control, The New York Times reported Saturday.

The Times report said that withdrawing from Kherson would save lives and equipment, but would also be another blow to Putin's waning plan to conquer the country. As such, the Russian president has immersed himself further into the strategic planning of the war, countering some of the wishes of Russian forces on the ground.

"In this war, there has been a consistent mismatch between Putin's political objectives and the military means to attain them," Michael Kofman, director of Russia studies at CNA, a defense research institute, told The Times. "At important decision points, Putin has procrastinated, refusing to recognize the reality, until the options turned from bad to worse."
The Daily Beast reports this morning ("Russian War Protester Shoots Commander Trying to Draft Citizens"):
While many Russians have opted to flee the country to dodge Vladimir Putin's desperate draft for the war in Ukraine, one man took his protest a little bit further and shot a recruitment commander.

Local authorities announced Monday's attack, which unfolded in the city of Ust-Ilimsk in the Irkutsk region of Siberia. A video of the incident inside an enlistment office appears to show the unidentified gunman dressed in military fatigues firing on the official at point-blank range, causing other potential draftees to flee the room.

The shooter identified himself in a video published on social media as 25-year-old Ruslan Zinin, Reuters reports. Writing on encrypted messaging app Telegram, Irkutsk regional governor Igor Kobzev said the draft officer was left fighting for his life and remained in a critical condition after the shooting. Kobzev added that the shooter had been detained and "will absolutely be punished."

A witness to the shooting said the gunman opened fire after the recruiting commander had delivered a "clumsy" pep talk for the men assembled in the office to go off to battle in Ukraine. "Nobody is going anywhere," the shooter said before beginning the assault, the witness told the Baikal People outlet, according to The Guardian.

The shooting is just the latest attack on Russian enlistment offices since Putin announced the mobilization of around 300,000 new troops last Wednesday, which has plunged the country into chaos. At least 17 administrative offices have been torched in arson attacks since the call-up was announced, according to the independent Mediazona news site, with many fearing that the initially limited mobilization will eventually expand to encompass much greater numbers than those touted by the Russian president.
FT ("Anti-mobilisation protests spread in Russia") reports on the wider protests:
Protests across Russia continued over the weekend against President Vladimir Putin's decision to mobilise the armed forces' reserves, in the starkest sign of popular discontent since he ordered the invasion of Ukraine in February.

Locals in Dagestan, an impoverished, mostly Muslim region in the mountainous North Caucasus, blocked off a highway and clashed with police as they chanted "No to war!", according to videos posted on social media by local activists.

The unrest, which comes as public opposition to the war has been outlawed and made punishable with up to 15 years in prison, points to widespread anger at Putin's decision to call up hundreds of thousands of men into the Russian army, its first military mobilisation since the second world war.

Arson attacks were reported at army recruitment offices in 16 Russian regions in the days following Putin's announcement on Wednesday — nearly as many incidents as in the war's first six months. More than 2,240 people have been arrested for protesting against the mobilisation decree, according to rights monitor OVD-Info.

Thousands of Russians have attempted to flee the country amid unconfirmed reports from independent outlets that the Kremlin is considering closing the borders for draft-eligible men. Almost all flights to the few remaining destinations available after western countries closed their airspace to Russia were sold out for days. Long lines of cars formed at Russia's land borders with Georgia, Finland, Kazakhstan and Mongolia, prompting some people to attempt to cross on bicycles or buy places in the line on social media.

The Kremlin has attempted to tame rising public anger at Putin's mobilisation decree, which has shattered a carefully maintained equilibrium that allowed most Russians to largely go on with their lives as normal since the start of Moscow's full-scale invasion of Ukraine.

[…]

Russia's two most senior lawmakers attempted to lay the blame on local officials, who are technically in charge of the hiring efforts and often used as scapegoats to shield Putin from unpopular decisions. "If mistakes are made, they must be corrected," wrote Viacheslav Volodin, speaker of the Duma. Valentina Matvienko, chair of Russia's senate, said "going overboard like this is absolutely unacceptable" and "is meeting an absolutely justifiably harsh reaction in society".
We've seen protests before under Putin's tenure and he's survived them. But we've never seen anything this large or this brazen. And the fact that senior politicians are defending the protestors, not Putin, is something new.