Are Republicans Going To Sacrifice The Senate To Rally Around Todd Akin?
Now that he is on the ballot for good, Republicans seem to be giving Todd Akin a second look. That seems unwise.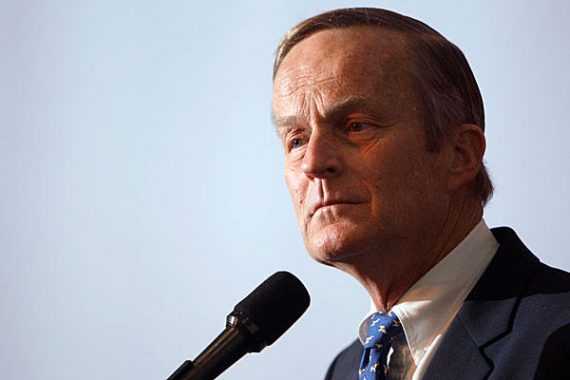 When Todd Akin made his despicable and ignorant comments about rape in August, Republicans were quick to abandon him in an effort to force him to get out of the race in favor of a more acceptable nominee. It was an understandable reaction given the fact that Claire McCaskill had been considered one of the most vulnerable Democrats in the Senate for the 2012 cycle for quite some time and Akin's comments were so outrageous that it was clear that he had placed a winnable seat in jeopardy to say the very least. In response to Akin's comments, prominent national Republicans urged him to drop out, as did every single living former Missouri Republican Senator, and the National Republican Senatorial Committee and the Republican National Committee said they would not assist Akin's campaign in any way. The initial August deadline that would have allowed the state party to replace Akin on the ballot easily passed and Akin refused to drop off the ballot, as did yesterday's final deadline for a judicially approved withdrawal and replacement strategy. In between that time, the polls showed McCaskill taking a lead, but not one that is prohibitive to a possible Akin victory in November.
Now that the final deadline has passed, we've seen signs of some Republicans coming back to Akin's corner. Newt Gingrich was one of the first, but he has been joined now by Jim DeMint and Rick Santorum, and even Senator Roy Blunt, who had previously called on Akin to drop out. Now, the NRSC, which had previously indicated it would not provide any funds to Akin, is hinting that it is reconsidering its position:
The National Republican Senatorial Committee, which essentially dropped Rep. Todd Akin, R-Mo., as a national party-approved candidate last month after his comments about "legitimate rape," sharply shifted its position on Wednesday, a day after the deadline for him to withdraw from the ballot had passed.

In a statement, Executive Director Rob Jesmer said that the committee hopes "Todd Akin wins in November, and we will continue to monitor this race closely in the days ahead.

"There is no question that for Missourians who believe we need to stop the reckless Washingtonspending, rein in the role of government in people's lives, and finally focus on growing jobs in this country, that Todd Akin is a far more preferable candidate than liberal Senator Claire McCaskill," Jesmer stated.
David Weigel comments:
"Monitor this race closely" is Washington-speak for "maybe spend money on it." Basically, Republicans bluffed and threatened Akin with a total cut-off because they wanted to replace him with a similar but less unpopular candidate. Akin, who owed national Republicans absolutely nothing — even Sarah Palin endorsed somebody else! — called the bluff. Now that the national spotlight has swung away, Republicans are looking for the least embarrassing way to help out Akin again, because it's tough to lose Missouri and win the Senate. Today's double-team Akin endorsement from Rick Santorum and Jim DeMint was part of that. So was Newt Gingrich's campaign swing. The margin between Akin and Claire McCaskill is only as big as a $500,000 Super PAC check from Foster Friess or Sheldon Adelson.
Here's the thing, though. If the GOP starts rallying around Akin after having so openly and vehemently repudiating him, you can bet the Democrats are going to take advantage of it not only in Missouri, but in other parts of the country. By whatever means necessary, Democratic candidates and the SuperPACs that support them are going to find a way to make sure voters are aware that a potential Republican majority in the Senate could include the guy who made the "legitimate rape" remark. Indeed, even without Todd Akin, I would say that the smartest thing that a Democratic Senate candidate in a close race with a Republican in a state that is typically Democratic (i.e., Connecticut and Massachusetts) could do is spend October hammering the message that voting for their opponent could potentially mean that Republicans like Jim DeMint and Todd Akin have control of the Senate. I could see the same argument working here in Virginia, especially among the suburban female voters in Northern Virginia.
That's one reason I find even the thought of the GOP backtracking on the denunciation of Akin puzzling. Leaving ideology aside, pure power politics would suggest to me that it would be in the best interests of the party to sacrifice the guy in favor of living to fight another day. For one thing, there are several other paths to a 51 seat majority that the party could pursue.  For another, even if the GOP falls short this year, they're going to have a fairly good shot at it in 2014. So, why sacrifice all of that for the sake of a guy who, in the end, is probably going to lose to a Democrat that should have been easily beatable while at the same time potentially causing harm to candidates that have a reasonable chance of victory?
I just don't get it.