Arguing the Unemployment Rate
If you are going to talk about the unemployment rate, at least talk about the whole picture.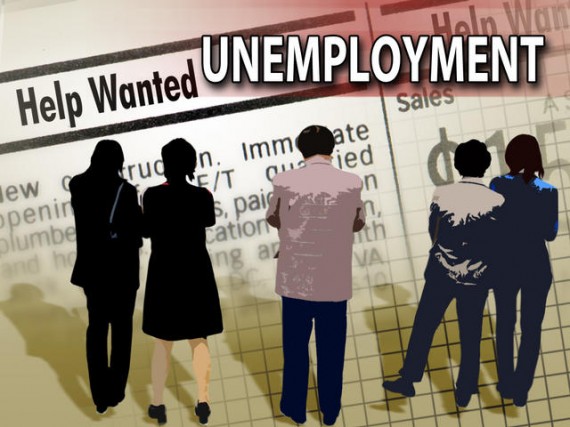 In the comment threads of a couple of posts here at OTB (here and here) a few commenters are making arguments about the political implications of the unemployment rate during the Obama administration (as well as policy/economics assertions).  Now, there is little doubt that the economy and jobs in particular will be a major issue in this year's presidential elections.However, if we are going to talk about the state of the economy, the efficacy of policy, and the like, let's at least be honest about we are talking about.
There are two main issues that anyone who values legitimate argument (as opposed to people who simply want to make cheap political points) have to deal with.  One is a general point:  if one is going to evaluate the effects of policies, one cannot pretend as if those policies go into effect immediately.  Any argument about policy effects cannot happen until after policies have been implemented.  This fact has to take into account a) that it takes time to even pass and implement policies, and b) that it takes time for a given policy to go into effect once passed and implemented.
The second issue is a specific one on the employment question:  if one is going to use the unemployment rate in an argument, one has to take into account the rate prior to a given point in time.  One cannot simply pick an arbitrary date and then make claims.
To wit, if we look at the last decade plus we find the following: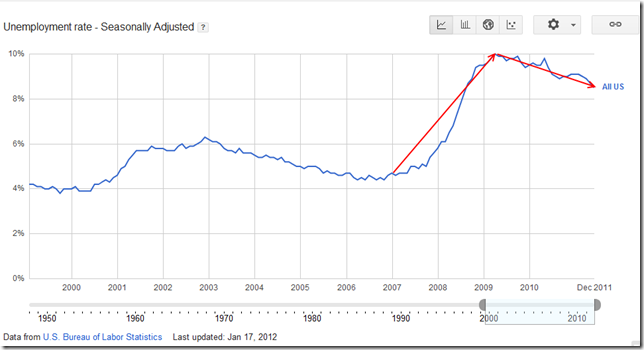 Setting aside any question of policy or credit/blame, the bottom line for any conversation about the current unemployment rate, or what was reasonable to expect over the last several years, one has to acknowledge that rather remarkable (and steep) climb in unemployment from 2007 to early 2009.   The trend (which I have highlighted with the red arrow) is pretty clear, as is the trend since the peak in mid 2009. Those trends matter and to pretend like all one needs to know to evaluate either economic health or the efficacy of policy is, as John Hinderaker asserted "that unemployment has increased on Obama's watch," is to be purposefully obtuse.  It is true that the unemployment rate in January of 2009 was 7.8% and was 8.5% at the end of 2011 (the chart above graphs the year on the X-axis at mid-year), however to select those two points in time as if they tell the whole story is dishonest.
The fact is that the jobs situation during the Obama administration is a clear improvement over that during the second Bush term.  One can argue that there were better policies that could have been pursued or one can ask questions about long-term unemployment as well as wondering about how to get unemployment down farther and faster.  What one cannot do, and also be honest about the actual state of the economy, is to pretend like Obama policies were directly responsible for the trend prior to his assumption of office and before he was able to start implementing policies.  Even if one hates those policies and thinks that they failed, one cannot ascribes time-travelling abilities to their effects.
What one needs to do if one thinks that the Obama policies were in error, is to demonstrate how other policies would have resulted in a better post-peak trend.  This is, I will allow, difficult, because it is the realm of the counterfactual (and is, of course, why people like Hinderaker attempt the arguments that they do).
In short:  any argument about economic policy that focuses solely on where we are without taking into full account where we came from is utterly disingenuous.  Such an observation, by the way, is not about blaming Bush or about crediting Obama (a lens through which too many people peer).  No, such an observation is about a call for honest discourse.
Update:  a better graph here (with thanks to a friend's e-mail).