Andrew Sullivan: What Obama's Critics On The Left And Right Are Missing
Conservatives are rejecting Andrew Sullivan's Newsweek essay out of hand, but they ought to pay attention to what he's saying.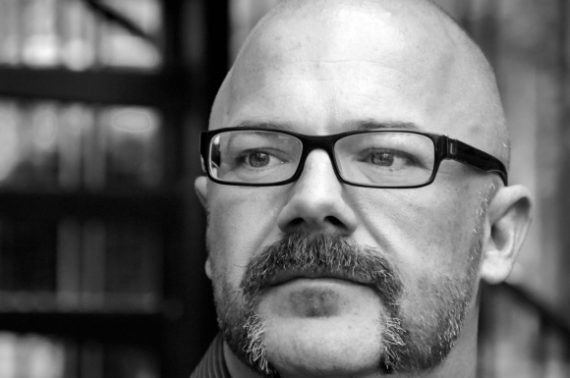 Even before it was published on the web this morning, Andrew Sullivan's Newsweek cover story was garnering attention from conservatives, and none of it positive. The fact that it was Sullivan, who has been the bane of many on the right ever since the days of Sarah Palin's comedic campaign for the Vice-Presidency, who wrote the article was probably bad enough for most of them. Rubbing salt in the wound, though, was the way Newsweek's editors chose to highlight the story on their cover page: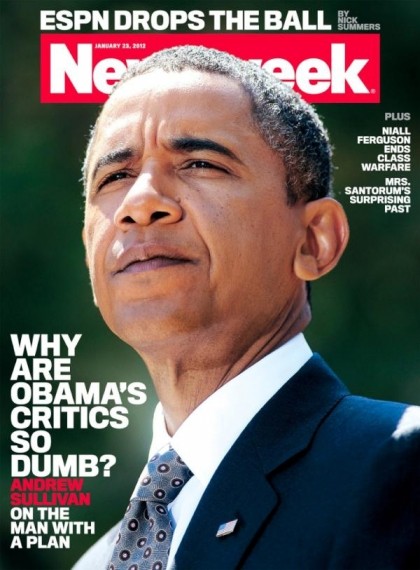 John Hinderaker summed up quite well the general reaction to the cover story that I saw from conservatives on Twitter and in the blogosphere in a post last night:
Well, sure. We who are unhappy that unemployment has increased on Obama's watch, that over-regulation has stymied economic growth, that our children now owe a $15 trillion debt that we can't pay-hey, we're just dumb! We obviously aren't smart enough to understand how devastating our economy, unemploying millions of Americans and burdening our children with trillions of dollars in debt is really a great idea.

If that's what you think, you are a liberal and you may take Newsweek seriously
This was all before the story was available for anyone to read, so it's somewhat understandable that you'd see a reaction like that from the right. It's a provocative title, after all, and it certainly leads one to think that what it's advertising is an article talking about how stupid conservatives are for not realizing how great a President Obama truly is. Last night I noted on Twitter, though, that perhaps it was advisable to wait and see what the article actually said, to not judge a magazine article by its cover headline. Needless to say that suggestion wasn't really all that well received. Undoubtedly the combination of the cover shot and the fact that Sullivan wrote the piece were enough for many to simply reject it out of hand. Even now that the article is posted some, such as Ann Althouse, say that they don't even want to read it.
That is their right, of course, but perhaps it might be worthwhile to take a look at the article itself.  Having read through the entire 3,000-or-so word article I can say that at no point does Sullivan call conservatives stupid, in fact the word doesn't appear a single time in the entire article.  For his part, Sullivan says he had nothing to do with the headline on the cover, which makes sense considering he's not an editor at Newsweek. What Sullivan argues in this piece, at least from my reading, is that Obama's critics on both the left and the right are missing the entire point of his governing philosophy and very likely the reason why he has a good shot at getting re-elected in the fall. With respect to conservatives, for example, he points out the extent to which the right has fallen into the trap of believing that the President is some sort of radical with designs to "transform" America into something resembling a European social welfare state:
The right's core case is that Obama has governed as a radical leftist attempting a "fundamental transformation" of the American way of life. Mitt Romney accuses the president of making the recession worse, of wanting to turn America into a European welfare state, of not believing in opportunity or free enterprise, of having no understanding of the real economy, and of apologizing for America and appeasing our enemies. According to Romney, Obama is a mortal threat to "the soul" of America and an empty suit who couldn't run a business, let alone a country.

Leave aside the internal incoherence—how could such an incompetent be a threat to anyone? None of this is even faintly connected to reality—and the record proves it.
This is a point I've made before myself, most recently just this past weekend. The GOP, especially its most conservative elements, has let itself be convinced of the idea that Barack Obama is some kind of radical socialist who wants to ruin America, that his foreign policy involves little more than appeasing our enemies and apologizing for America, and that he has engaged in policies that are radically different from anything any previous President has done or any mainstream politician has even proposed.  None of this could be further from the truth. Disagree with the wisdom of the President's policies all you want, and I do in many respects. Point out the extent to which he has been an ineffective leader, something I've done several times and do again later on in this post. Suggesting, however, that Barack Obama is at his core any different in his policy positions from any other mainstream Democrat, and until not too recently quite a few Republicans, is to simply ignore history and reality.
It wasn't Barack Obama who bailed out the banks, for example, that was George W. Bush.  It wasn't Barack Obama who took the first steps to bail out General Motors and Chrysler either, that too was George W. Bush. The 2009 Stimulus Bill was a huge expenditure, and one can argue (as many have) that it was not the appropriate means by which to try to pull the nation of an economic downturn, but it wasn't all that different in principle from the stimulus packages passed under President Bush in 2007 and 2008. The Affordable Care Act included elements that had been proposed by conservative public policy organizations since the 1990s and was most assuredly less radical than the single payer option that many of President Obama's more liberal supporters were wishing he would push through Congress. And when it comes to foreign policy, the differences between the Obama Administration and the Bush Administration on the core issues are so minimal as to be essentially non-existent. Yes, Barack Obama is a Democrat, everyone who voted for or against him in 2008 knew that. He's no radical, though, and anyone who has even a high school understanding of the English language should know that he sure as heck has not governed as a socialist.
Sullivan points out, though, that it isn't just the right that seems to have a distorted picture of the President:
But the right isn't alone in getting Obama wrong. While the left is less unhinged in its critique, it is just as likely to miss the screen for the pixels. From the start, liberals projected onto Obama absurd notions of what a president can actually do in a polarized country, where anything requires 60 Senate votes even to stand a chance of making it into law. They have described him as a hapless tool of Wall Street, a continuation of Bush in civil liberties, a cloistered elitist unable to grasp the populist moment that is his historic opportunity. They rail against his attempts to reach a Grand Bargain on entitlement reform. They decry his too-small stimulus, his too-weak financial reform, and his too-cautious approach to gay civil rights. They despair that he reacts to rabid Republican assaults with lofty appeals to unity and compromise.

(…)

What liberals have never understood about Obama is that he practices a show-don't-tell, long-game form of domestic politics. What matters to him is what he can get done, not what he can immediately take credit for. And so I railed against him for the better part of two years for dragging his feet on gay issues. But what he was doing was getting his Republican defense secretary and the chairman of the Joint Chiefs to move before he did. The man who made the case for repeal of "don't ask, don't tell" was, in the end, Adm. Mike Mullen. This took time—as did his painstaking change in the rule barring HIV-positive immigrants and tourists—but the slow and deliberate and unprovocative manner in which it was accomplished made the changes more durable. Not for the first time, I realized that to understand Obama, you have to take the long view. Because he does.
Much like the conservatives still trying to make their peace with Mitt Romney, I have no doubt that the perfectionist caucus on the left to which Sullivan refers will fall in line come Election Day. I'm not sure that this group has a distorted view of the President, though, so much as they are so invested in their political ideology that anything less than perfection is simply unacceptable to them. Sullivan is right, though, to point out to liberals that notwithstanding the imperfections there is much for them to like about President Obama. One could say much the same thing to conservatives about Romney.
Having said all of that, I tend to disagree with Sullivan's rosy view of the President's leadership and his alleged skills as a domestic policy strategist. From my perspective, the President erred from the beginning when he allowed far too much of his domestic agenda to be hijacked by the Congressional leadership. The stimulus bill, for example, ended up becoming a "Christmas Tree" bill for a decades worth of Democratic pet projects that had little connection to growing the economy.  Perhaps that was inevitable, Congress is the stronger branch of Government in domestic politics and the Congressional leadership in 2009 had been around Capitol Hill far longer than Obama, in some cases far longer than the length of Obama's entire political career. Those people weren't simply going to sit back and let this green kid from Chicago run the whole show no matter what his title is.
Whether he was outsmarted or not, though, the President has spent three years letting his domestic agenda spin recklessly and making little effort to bring it under control. He and his supports complain, rightly in some cases, that the Republicans have eschewed compromise in the name of partisan advantage, but at the same time it was nearly two years before the President sat down with the Senate Minority Leader, who is arguably the most powerful person on Capitol Hill due to the control he exercises over his caucus. If you're not going to talk to your opponents then you're going to find it next to impossible to work with them too.
Perhaps the President's biggest domestic policy blunder, though, occurred in December 2010 when he caved in completely to Republicans demands to raise the Bush Tax Cuts. As I noted at the time, given the state of the economy at the time there was little choice in the matter, however the manner in which he struck the bargain was completely nonsensical. It was a lame duck session, and the Democrats still controlled both Houses of Congress. Rather than drive a bargain, though, the President essentially gave the GOP everything they wanted, much to the annoyance of the Democrats in the House and Senate. There are any number of other ways that could have gone. Why not try to get the GOP to agree on a debt ceiling increase back then instead of waiting six months? Obama walked into those negotiations as a guy holding a Full House and negotiated like a guy holding a pair of deuces. That's neither leadership nor the sign of a viable domestic policy strategy.
Sullivan is an Obama fan, no doubt, and he pretty much says in the essay that he's backing the President's re-election. That's not entirely surprising. Nonetheless, the article does raise some good points that conservatives, and liberals, would do well to take to heart. Yes the Newsweek cover was provocative and perhaps over the top, but sometimes it pays to look past the cover and see what's inside.