Arizona's War Against Unacceptable Accents
Should it matter if a teacher has an accent?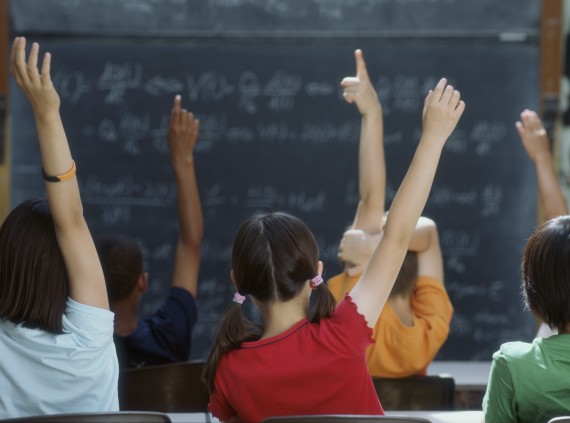 The State of Arizona has apparently gotten into the practice determining what is and isn't an acceptable accent for a school teacher to have:
PHOENIX — When Guadalupe V. Aguayo puts her hand to her heart, faces the American flag in the corner of her classroom and leads her second-graders in the Pledge of Allegiance, she says some of the words — like allegiance, republic and indivisible — with a noticeable accent.

When she tells her mostly Latino students to finish their breakfasts, quiet down, pull out their homework or capitalize the first letter in a sentence, the same accent can be heard.

Ms. Aguayo is a veteran teacher in the Creighton Elementary School District in central Phoenix as well an immigrant from northern Mexico who learned English as an adult and taught it as a second language. Confronted about her accent by her school principal several years ago, Ms. Aguayo took a college acting class, saw a speech pathologist and consulted with an accent reduction specialist, none of which transformed her speech.

As Ms. Aguayo has struggled, though, something else has changed. Arizona, after almost a decade of sending monitors to classrooms across the state to check on teachers' articulation, recently made a sharp about-face on the issue. A federal investigation of possible civil rights violations prompted the state to call off its accent police.

"To my knowledge, we have not seen policies like this in other states," Russlynn H. Ali, the assistant federal secretary of education for civil rights, said in an interview. She called it "good news" that Arizona had altered its policy.

Silverio Garcia Jr., who runs a barebones organization called the Civil Rights Center out of his Phoenix-area home to challenge discrimination, was the one who pressed the accent issue. In May 2010, he filed a class-action complaint with the federal Department of Education alleging that teachers had been unfairly transferred and students denied educations with those teachers. The Justice Department joined the inquiry, but federal investigators closed Mr. Garcia's complaint in late August after the state agreed to alter its policies.

"This was one culture telling another culture that you're not speaking correctly," Mr. Garcia said.

The state says its teacher reviews were in line with the decade-old federal No Child Left Behind Act, which requires that only instructors fluent in English teach students who are learning English. State education officials say that accents were never the focus of their monitoring.

"It was a repeated pattern of misuse of the language or mispronunciation of the language that we were looking for," said Andrew LeFevre, a spokesman for the State Department of Education. "It's critically important that teachers act as models when it comes to language."

But the federal review found that the state had written up teachers for pronouncing "the" as "da," "another" as "anuder" and "lives here" as "leeves here."
This strikes me as ridiculous on a number of levels. First of all, while regional variations are becoming less prominent as we become a more mobile society, what is a a "normal" accent often depends on what part of the country you're in. A teacher in South Boston may have an accent that some might find distracting, but in their part of the country it sounds perfectly normal. The same goes for a teacher from Jackson, Mississippi or from the Cajun-influenced areas of Louisiana. Unless the NCLB regulations are going to require that all our school teachers speak The King's English (which has its own accent of course) it seems ridiculous to me to say that any variation from "normal English," what ever that might be. Second, the fact that this particular teacher had a class full of largely Latino students suggests to me that her accent is likely far less of a problem for them than it is for the bureaucrats in the school system and the contractors selling them on training in "American English," one of whom is quoted in the linked article.If the students aren't haven't a problem understanding her, then what's the problem?
I don't think it's hard to figure out part of what's going on here. Arizona has been at the forefront of several battles in recent years related to immigration and related issues, and Hispanics are the fastest growing population in the state. Clearly, there is a cultural battle going on between whites and Latinos and language is at the forefront of that battle. Eleven years ago, for example, Arizona voters approved a referendum that required all classes to be taught in English just as the state had started hiring teachers from Latin America to teach the children entering their schools who were primarily Spanish speakers. Now, there may be a valid educational reason for teaching students in this matter, but that's a pedagogical issue not one that really ought to be decided by voters. The referendum, quite obviously, was an expression of the culture clash that was already happening in that state. Given that,  I have to wonder if that teacher from South Boston would be treated the same way if she moved to Tucson.
None of this is to suggest that a teacher who is clearly too difficult for students to understand shouldn't be required to undergo some kind of retraining, but it's worth noting that a teacher with an accent isn't necessarily a bad teacher. Back when I was in middle school I went through a series of math teachers, all of whom spoke the accent-free suburban American English that Arizona seems to prefer. Despite that, they were bad teachers. For the second half of Algebra II, I had a teacher who had come to the United States from Cuba after Castro's revolution. She spoke English with a pretty strong Spanish accent, but nobody ever had any trouble understanding her, and she was the best math teacher I'd had in two years. In Arizona, they probably would've said her accent was unacceptable, but then her students would've been deprived of an excellent teacher. That makes no sense at all.
H/T: Rod Dreher