Attacking Obama's "Radical Past" Won't Work
Some Republicans seem intent on repeating the mistakes of 2008.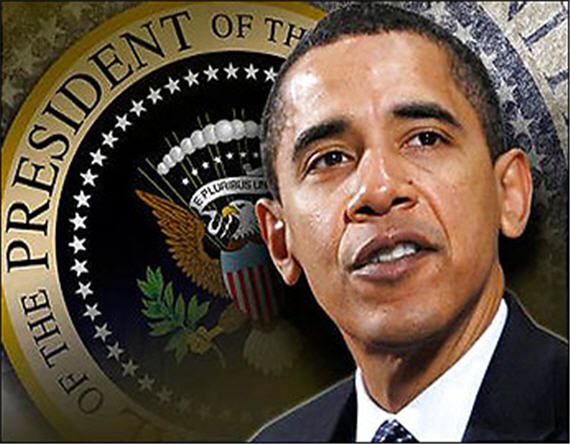 As I noted last week, the folks at the late Andrew Breitbart's websites have uncovered a video from Barack Obama's days at Harvard Law School in which he speaks glowingly about Harvard Law Professor Derrick Bell. The video includes a shot of Obama hugging Bell at the end of his speech, which took place amidst a student protest inspired by Bell's own protest about faculty hiring practices at Harvard Law School. Despite the fact that it is rather underwhelming in terms of its content, many on the right have spent the last several days trying to hype this as another example of the President's so-called "radical past" by citing the fact that Bell himself was a proponent of something called Critical Race Theory. Depending on who you listen to, CRT is either an admittedly left wing way of looking at the law through the prism of America's racial history, or it's the vanguard of Marxism. Guess which interpretation (some) conservatives have adopted. (My only observation about CRT is that, like much else that it taught in America's law schools it has next to nothing to do with the actual practice of law, but that's a completely different issue.) Despite the fact that there's no evidence that Obama and Bell ever crossed paths again after Obama graduated law school, these conservatives have been pushing the meme that Obama is somehow a disciple of Bell's, just like they tried to do with Jeremiah Wright and Bill Ayers in 2008.
Well, not all conservatives are pushing this meme.  John Hinderaker at Power Line happens to have been a student of Bell's, and finds the Breitbart tape to be much ado about very little:
So, is the video a dud? Frankly, from the buildup I expected more. The video shows that when he was a law student, Obama was an admirer of Derrick Bell. To the extent that people know who Bell was, that adds one more radical association from Obama's early years. But I doubt whether most people will find that very significant. Despite the media's efforts to keep the lid on, I think pretty much all voters know that Obama has had a series of unsavory associations with radical figures. Pretty much everyone knows about Jeremiah Wright and Bill Ayers. Adding Derrick Bell to the list isn't likely to change anyone's mind about Obama's fitness to be president.

(…)

I actually knew Derrick Bell. He was my criminal law professor as a first-year law student. This was one of his first years at Harvard. He was obviously more liberal than most professors there – the law school was not a left-wing institution at that time – and I think it was some years later when he came out as, in my characterization, a racist neo-Marxist. He was a nice guy and a reasonably good teacher. His ideas, as he later developed them, were reprehensible. But one of the sad and twisted aspects of our public culture is that bright young African-Americans like Barack Obama and Michelle Robinson are expected to align themselves with such poisonous creeds. Our establishment rewards them for doing so, and tends to punish them if they don't. (Think Thomas Sowell and Clarence Thomas.)

So, will many voters consider the fact that Obama delivered a warm endorsement of Derrick Bell a bombshell? I doubt it.
Don Surber picks up on Hinderaker's post, and notes that conservatives seem to be making the same mistakes they made in 2008, and to some extent have continued to make since Barack Obama took office:
One truism from the Internet is doing the same thing over and over again and expecting different results is the definition of crazy. Unfortunately, many conservatives are driving themselves crazy over Barack Obama's past. This did not work in 2008 and it will not in 2012.

In 2008, there was more and better ammo against Barack Obama. If his association with the Weather Underground and Jeremiah Wright could not sell him as a radical how can a video that shows him hugging a college professor prove that he is some sort of Manchurian Candidate for the Black Panthers now that he is in the fourth year of his presidency?

This won't work. Derrick Bell did not throw bombs, not even verbal ones. He was a college professor with wild ideas. Einstein was a college professor with wild ideas, too. Shouldn't colleges teem with college professor with wild ideas? The purpose of college is to expose young people to ideas — and the crazy people who have them.

(…)

This is birtherism again. This is a loser issue. Even if you prove your point that beyond a shadow of a doubt that Barack Obama is a communist Muslim who is ineligible to be president, so what? He has been president for 3+ years. The question this year is not "is Obama a communist Muslim who is ineligible to be president" but rather "is Obama doing a good job — even if Obama were a communist Muslim who is ineligible to be president?"

That's it.
This is a debate that goes back to the 2008 campaign itself. Despite the urging of many prominent conservatives and, according to Game Change, Sarah Palin herself, the McCain campaign declined to emphasize things such as the Jeremiah Wright and Bill Ayers story during the campaign against Barack Obama. Of course, that didn't stop conservative talk radio and television from bringing up both issues constantly and, on more than one occasion, Sarah Palin herself who said that Obama "pals around with terrorists." It didn't work. Not only didn't these attacks from the right have any demonstrable impact on the President-to-be, but as October 2008 wore on, the gap between Obama/Biden and McCain/Palin steadily increased and states that were formerly considered solidly Republican began to drift into Obama's column. For the most part, of course, this was because of the state of the economy and McCain's pathetic response to the same, but one cannot help but wonder if this constant drumbeat of negativity didn't also help turn voters off to the Republican ticket. The low point of the entire month came, I think, when John McCain was forced to explain to one woman at a town hall event that  no Obama wasn't a Muslim who wants to destroy America. The fact that his running mate and his supposed allies in the conservative movement were insinuating something entirely different makes one wonder if he realized just what he had signed up for.
Despite the fact that it didn't work before, and clearly won't work again if the best that they can come up with is stuff like this Derrick Bell video,  some conservatives seem intent on repeating the mistakes of 2008 all over again. Perhaps it's because, like the nonsense about teleprompters, it reinforces their own preconceived notions about the President. Perhaps it's because they have become so used to living inside the talk radio/Fox News bubble that they don't realize that not everybody views things the way they do. Not everyone, in fact most Americans I would say, don't see Barack Obama as some crypto-Marxist out to destroy America. They see him as the President in a time when the economy is still pretty bad and the price of everything from gasoline to a loaf of bread is rising and they're worrying about paying their bills.
As the poll I cited yesterday and the one James Joyner wrote about today make clear, there is certainly an argument to be made to these people against the President. However, you're not going to do it by dragging out 21 year old videos from Harvard Law School and recycling the nonsensical words of Jeremiah Wright.I think most mainline "establishment" Republicans know this, which is why they'd just like to get the party to rally behind Mitt Romney and get this primary race over with already. The base, however, is stuck in a world where Barack Obama is not just a bad President, but an enemy that must be destroyed. For them, stuff like the Breitbart video is gold. What they don't realize, though, is that it's Fool's Gold.