Gas Prices Hurting Obama In The Polls, But Will It Matter In November?
Rising fuel prices are starting to hurt the President in the polls, but it's unclear what that means for November.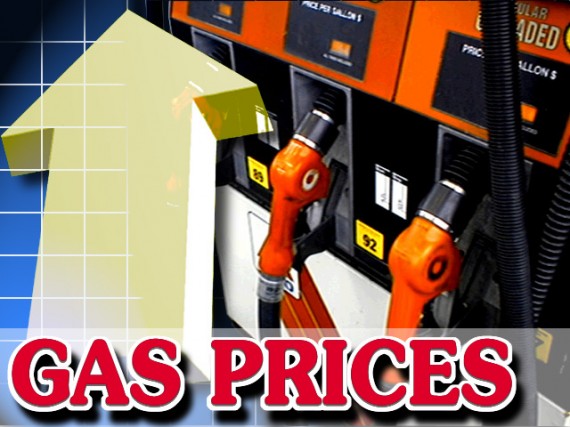 As I've noted here before, the price of gasoline has been skyrocketing lately and the American people are starting to notice. A survey released over the weekend, for example, found that the average price for self-serve unleaded had risen twelve percent in two weeks to a high of $3.81 per gallon (a number that makes the $3.69/gal I paid this morning just a bit more palatable by the way). Now, the rising cost of fuel seems to be hitting the President where it hurts, in the poll numbers:
Disapproval of President Obama's handling of the economy is heading higher — alongside gasoline prices — as a record number of Americans now give the president "strongly" negative reviews on the 2012 presidential campaign's most important issue, according to a new Washington Post-ABC News poll.

Increasingly pessimistic views of Obama's performance on the economy — and on the federal budget deficit — come despite a steadily brightening employment picture and other signs of economic improvement, and they highlight the political sensitivity of rising gas prices.

The potential political con­sequences are clear, with the ­rising public disapproval reversing some of the gains the president had made in hypothetical general-election matchups against possible Republican rivals for the White House. Former Massachusetts governor Mitt Romney and former senator Rick Santorum (Pa.) now both run about evenly with Obama. The findings come just five weeks after Obama appeared to be getting a boost from the improving economy.

Gas prices are a main culprit: Nearly two-thirds of Americans say they disapprove of the way the president is handling the situation at the pump, where rising prices have already hit hard. Just 26 percent approve of his work on the issue, his lowest rating in the poll. Most Americans say higher prices are already taking a toll on family finances, and nearly half say they think that prices will continue to rise, and stay high.

Friday's employment report showed a gain of 227,000 jobs in the past month, continuing an upward trend and offering the White House something positive to point to. Still, the survey — conducted Wednesday through Saturday — finds 59 percent of Americans giving Obama negative ratings on the economy, up from early last month. Now, 50 percent give him intensely low marks, the most yet in a Post-ABC News poll, and a jump of nine percentage points.

The negative movement has also stalled what had been a gradual increase since the fall in the president's overall approval rating. In the new poll, 46 percent approve of the way Obama is handling his job; 50 percent disapprove. That's a mirror image of his 50 to 46 positive split in early February. The downshift is particularly notable among independents — 57 percent of whom now disapprove — and among white people without college degrees, with disapproval among this group now topping approval by a ratio of more than 2 to 1, at 66 versus 28 percent.

These groups are also the ones whose shifting support has re-shuffled prospective general-election matchups. Among registered voters, Obama is now on par with Romney (47 percent for the president, 49 percent for Romney) and Santorum (49 to 46 percent). Previously, Obama held significant advantages over both.

The Republican presidential race is now a contest between Romney and Santorum. Among Republicans and GOP-leaning independent voters, 33 percent favor Romney for the nomination; 29 percent prefer Santorum. This is the first Post-ABC poll after Santorum's emergence as a top-tier candidate. Trailing the top two are former House speaker Newt Gingrich (Ga.) at 14 percent and Rep. Ron Paul (R-Tex.) at 12 percent.

The poll offers some conflicting evidence about the president and the still flagging national economy. In addition to low ratings on his handling of gasoline prices, Obama's approval rating on the deficit hit an all-time low, with a slender 32 percent giving him positive marks. Among independents, 70 percent disapprove here, also a new high.

Even on foreign policy — a onetime strong point — Obama's ratings look worse. For the first time in nearly a year, as many Americans disapprove as approve of his handling of the war in Afghanistan. On Iran, a slim majority now disapproves of how he is dealing with the possibility of the country obtaining nuclear weapons.

On energy issues generally, almost half the country gives Obama negative marks. Republican candidates have hammered the president on this, arguing that his policies have contributed to the rise in gasoline prices. Fifty percent of Americans see the Obama administration as having the power to do something about the cost of a gallon of gasoline; 45 percent say the administration has no such control.
This isn't entirely surprising, of course. As I noted in a post last month, there is at least some correlation between the price of gas and Presidential job approval numbers although there's not entirely convincing evidence of how closely those two numbers track each other or what they mean for an incumbent's re-election chances. At the very least, of course, one can say that sustained high energy prices do tend to slow down economic growth and there is clearly a relationship between the state of the economy in general and the odds that a President will be re-elected. In the case of this year in particular, a sharp and sustained spike in energy prices has the potential to severely curtail the economic recovery and job growth, both of which would likely have a negative impact on the President in November.
There are, however, a number of caveats worth taking into account here.
First of all, we've been down this road before. It was just about a year ago that gasoline prices were also starting to spike, and some were predicting that the price of gas would hit $5.00 per gallon by summer. In that case, unlike now, the spike in gas prices was accompanied by a spike in oil prices. By April, polls were starting to show that the President's job approval numbers were being impacted by energy prices  although other polls showed that Americans weren't necessarily blaming the President for the rise in energy prices. Then, gas prices started to drop dramatically and the summer of $5.00 gas never arrived. Now there were several factors at play in 2011 that played a unique role in the ups and downs energy prices that year. Economic growth meant that worldwide demand for oil and gas was moving up, which was a major contributor to the increase in the prices of both commodities. Libya slipped into civil war in February and that nation's oil was essentially pulled off the market for the rest of the year, thus decreasing supply while demand was increasing. On the other side of the ledger, the Japanese earthquake an tsumani tended to reduce demand for petroleum in Japan as the nation's economy tended to slow down for several months at least. The point is that the fact that gas prices were going up in March and April of 2011 didn't mean they would continue going up as projected. In fact they didn't. It's entirely possible that something similar will happen this year.
Second, there's not a lot of evidence that gas prices have a significant impact on the outcome of Presidential election:
It's hard to rule anything out, but evidence remains thin that gasoline will be a determining factor in November. While Americans love to grumble about expensive gasoline — and with good reason — political science research suggests that it's not the main thing that shifts votes. Nate Silver, for one, has found that "there's not a lot of evidence that oil prices are all that important" a factor in presidential elections. Nor do gasoline prices necessarily dictate the public's view of the White House: Back during George W. Bush's presidency, there was a much-linked graph showing his approval ratings climbing and dipping in lockstep with gas prices. But subsequent analysis by political scientist Brendan Nyhan showedthat the correlation was just a "statistical artifact."

The more severe worry for Obama, at this point, is that soaring gas prices could stomp on the nascent economic recovery. The way this typically happens is that pricey gasoline starts crimping the checkbooks of U.S. consumers, who then have less money to spend on other things. (In the Post-ABC poll, most respondents said they were already feeling the pinch.) That leads to slower growth. And slower growth, political scientists agree, really can sink a presidency. As Silver puts it, "higher gas prices are important to the extent that they affect things like G.D.P., inflation and unemployment. But there isn't evidence that they matter above and beyond that."
There's also a good possibility that rising energy prices won't necessarily impact the economy all that severely, at least not as measured by the official numbers. However, Dave Schuler makes a very good point in this regard over at his own site today when he notes that voters don't necessarily care about the state of the economy so much as they care about their own personal economic condition. Ronald Reagan didn't win election in 1980 by asking "Is the economy better off than it was four years ago?" he won, in part, by asking a far more personal question. To the extent they contribute to an overall sense of uncertainty about the future, gas prices may very well play a role in how voters decide to handle the question of whether or not President Obama deserves a second term, but you could say the same thing about food prices (which have also risen sharply recently as a trip to the grocery store will tell you).