Rising Gas Prices And The 2012 Elections
Rising prices at the pump could lead to problems at the voting booth.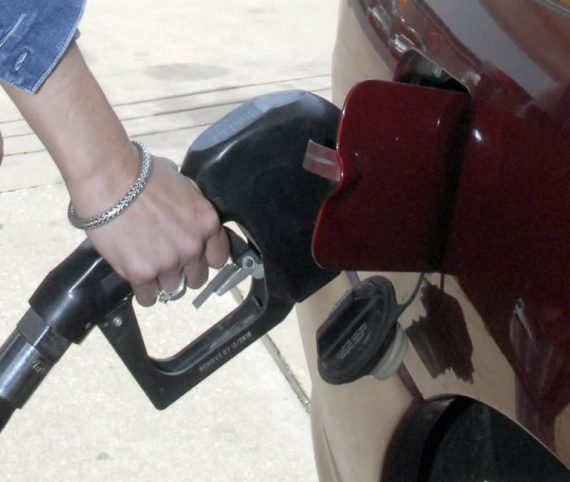 There's yet more evidence today for something that I noted a month ago, an imminent rise in the price of gasoline to levels we haven't seen in a year which could end up having a serious impact on the economy and the 2012 elections:
Gasoline prices could soon hit $4 a gallon, a threshold they haven't flirted with since last spring.

The average price paid by U.S. drivers for a gallon of regular now stands at $3.52, according to the U.S. Energy Information Administration, which released its latest figures this afternoon. That price represents an increase of 0.04 percent from a week ago and 0.38 percent from a year ago.

Experts expect prices to spike another 60 cents or more, with the $4 mark being touched—or exceeded—sometime this summer, probably by Memorial Day weekend, the peak of the summer driving season. The last time the U.S. saw $4 gasoline was back in the summer of 2008.

"I think it's going to be a chaotic spring," says Tom Kloza of the Oil Price Information Service. He expects average prices to peak at $4.05, though he and other industry trackers say prices could be sharply higher in some markets.

Historically, $4 a gallon has been the upper limit of what consumers have been willing to pay. Last April, national prices peaked at about $3.98 a gallon before receding. "It's going to be tough to sustain that level," thinks Brian Milne of energy tracker Televent DTN. "People will drive less."
There are several factors driving up prices in the short term, none of which is really within anyone's control, although there's one thing we could do to help the situation:
U.S. inventories have been rising. Demand has fallen as U.S. consumers have adjusted to driving less. The reason prices aren't falling comes down to increased uncertainty.

Prices, he says, are being buoyed by home-grown uncertainties as well. The market is waiting to see if Sunoco will shut down its Philadelphia refinery, which, if it happens, would be the third refinery closure in Pennsylvania in the last six months. "If you're in the northeast," he says, "You need to be concerned, especially if you're in the Philadelphia region."

(…)

What would lower U.S. gas prices, he says, is the ability to pipe crude from newly discovered fields in North Dakota to refineries on the Gulf of Mexico, home to 40 percent of U.S. refining capacity. That increase in domestic gasoline production would lessen U.S. dependency on more expensive imported fuel. By the end of this year, North Dakota will be producing more oil than Alaska. But the pipeline, for now, remains, he says, "a political football."
The pipeline referred to, of course, is Keystone XL, currently the subject of a dispute between the White House and Republicans in Congress. Of course, even if that dispute is resolved it will take several years for the pipeline to be completed, meaning that any real impact on prices will be in the long-term, not the immediate term, and that rising gas prices are likely to become a political football in the coming months.
Not surprisingly, there seems to be some correlation between the price of gas and Presidential job approval, as this chart posted by James Pethokoukis shows rather clearly: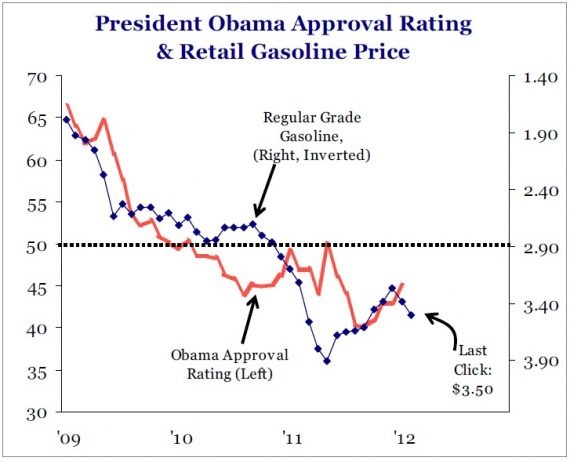 Larry Sabato discussed the relationship in a post last year:
On the one hand, it is clearly true that high gas prices often coincide with lower presidential approval ratings. As political scientists have long demonstrated, these approval ratings are a strong indicator of a president's reelection chances. As we have seen, though, gas prices alone certainly are not a perfect predictor of approval ratings or, indirectly, reelection. While continually rising gas prices would likely weaken Obama's reelection standing, it would be just one of many factors voters consider when evaluating his first term.
Of course, gas prices by themselves are only one economic indicator. As we've seen before, higher energy prices tend to have an impact on the economy as a whole as businesses and consumers cut back spending in one area to cover the cost of rising fuel prices, which are a necessary expense for most business and largely non-discretionary for consumers. So, if rising energy prices this spring lead to slower economic growth and job growth, those are also factors that are likely to have an impact on the election. At the very least, though, we can expect rising energy prices to mean that issues like oil drilling and Keystone XL will play a larger role in the election than they might have otherwise. We might even see a return of such silly ideas as the gas tax holiday that John McCain and Hillary Clinton were both pushing during the 2008 election.
More importantly, though, even if gas prices by themselves aren't directly responsible for election outcomes, it seems quite apparent that voters paying between $4 and $5 per gallon at the pump aren't going to be in a very good mood when they get to the voting booth. Which is why it's still a good idea for the White House to be nervous about all the events beyond their control that could occur between now and Election Day.